Photo Gallery
Raucous crowd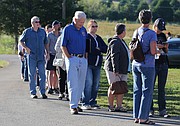 If tar and feathers had been available, an angry and raucous crowd may have used them on the folks who tried to sell them on the idea of a sewage plant in their neighborhood Thursday night.
It was the first of several public meetings to be held by the Hamilton County Water and Wastewater Treatment Authority, which has chosen a site at 7800 Mahan Gap Road as the most cost-efficient location for a 10-million-gallon, $45 million treatment plant that would open up the north end of the county for development and reduce demands on Chattanooga's Moccasin Bend plant.
Hundreds of people packed into the Highway 58 Volunteer Fire Department training center and a large overflow crowd listened on speakers set up outside as WWTA Executive Director Mark Harrison and engineer David Kiefer made their pitch: The general area has been identified as the best location since an EPA study in 1971; the topology would require the least amount of land grading, and it would be able to make maximum use of gravity rather than expensive electric pumps to collect and treat waste and return clean water to the Tennessee River.
In