Photo Gallery
GPS May Day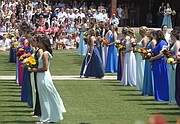 Editor's note: This is part of an ongoing series commemorating the 150th anniversary of the Chattanooga Times Free Press. To read more, visit timesfreepress.com/150years.
Only a fraction of the thousands of Chattanoogans heading into downtown Wednesday morning might consider the day's events at Girls Preparatory School as they pass the school.
Most likely, they know GPS is a private all-girls prep school and that the school has been around Chattanooga for a bit.
Few will have ever attended May Day.
* * *
Charlotte Vance will be among the 83 seniors who will take part in this week's May Day.
The Auburn-bound Vance plans to study computer science and applied math in hopes of being on the analytics staff of a pro basketball team before she is 30.
Vance will watch her friend, Myra Brock, follow a long line of young women elected May Queen.
Brock, also bound for Auburn, was elected by the 585 members of the student body at the middle-high school. She and five classmates on her court will preside over four hours of dances, formals and the traditional wrapping of the May Day pole.
GPS didn't invent May Day, but it's a school tradition that began in 1913 and connects classes across generations.
It's more than just having fun.
"It's such an awesome celebration of character, because at GPS, it's easy to just focus on the academics or the athletics," said Vance, who will take part in her seventh May Day. "Sometimes, it's easy to dismiss how people are acting, their character. I love the May Day queen and the court because of their character."
Both Brock and Vance say seniors look at graduation as a celebration of academic achievement and May Day as a celebration of character with friends, family and alumni. The May Queen in 1926 was chosen because she had the longest hair, which is not the case for Brock.
"It's not about academics or athletics," Brock said. "We have all grown together, and May Day is a time to dress up with your friends and celebrate."
* * *
GPS was founded by Eula Jarnagin, Tommie Duffy and Grace McCallie in 1906, 14 years before women had the right to vote.
Since opening, GPS has been covered by the Chattanooga Times, the Chattanooga News-Free Press and the Chattanooga Times Free Press, including when the school moved to its current location at 205 Island Ave.
On Aug. 29, 1947, the school laid the cornerstone at the new facility. Included was a copy of the Chattanooga Times.
The News-Free Press (5 cents) reported the event on Page 3 in a "People You Know" feature.
The report said: "A school atop a hill overlooking the river is the dream that came true Friday afternoon for Miss Eula Jarnagin as she laid the cornerstone, the final piece of masonry, of the new Girls Preparatory School building in North Chattanooga."
Here are a few other things printed in the May 29, 1947, Chattanooga Daily Times (5 cents) placed in the cornerstone:
* The Senate passed a $4 billion tax cut for American taxpayers. The report said the average taxpayer would see a 20-30 percent reduction in their federal income tax.
* Two died and two were injured when two planes collided near an airfield in Cleveland, Tennessee.
* "White House Aid Reported for Hollywood Communists" was the headline in the middle of A1
* A B2 Cadet Box Camera cost $3.95 at Violet Studio-Camera Shop
* A picture on Page 8 of award winners from GPS' graduation ceremonies. A story on the ceremonies appeared on Page 20.
* Eckerd pharmacy was offering curlers for a "cold wave permanent" for $1.49
* At the bottom of the eight-column front page that contained 16 stories was this headline: "Whistling Beer Bottle Frightens Away Moles." The reporting from Ionia, Michigan, said, "Moles object to whistling, Charles Blades has discovered after extensive research. Now he has found a way to use this idiosyncrasy to drive the burrowing vermin from his lawn. Blades took several beer bottles, emptied them in an appropriate place and sank them in the ground with only their necks sticking out. The breeze, blowing across the mouth of each bottle, makes a whistling sound. The moles, Blades reported, have vanished."
On Sept. 13, 2006, the cornerstone was opened to mark the 100th anniversary of the school.
The Times Free Press (50 cents) carried a three-column picture of 700 GPS students walking across the Veteran's Bridge on their way to a ceremony at Memorial Auditorium. A story on the centennial was on the third page of the Metro & Region section.
"This exemplary institution provides an uncommonly superior education," said Randy Tucker, GPS headmaster for 26 years who was killed in a car wreck in 2014 after retiring in 2013.
* * *
Olivia Evans will join Brock and Vance on Wednesday.
She is bound for Mississippi State University and then on to veterinarian school.
She knows her next four years will be filled with every course ending in "ology" but is undeterred when it comes to her ultimate goal.
"My dream would be to move to a different country and work as a vet," she said. "I have always had a dream to go to New Zealand. I think that would be the coolest thing, to work there or be like nurses without borders and do that with vets in different countries."
She is ready for the challenge, she said, because of the preparation she received at GPS. School data compiled to measure how its graduating classes from 2011-2014 compared against national averages in a variety of areas show:
* 90% of GPS students from the 2011-2014 classes graduated from college within six years or fewer; the national average for women is 60%.
* 79% of GPS students from the 2011-2014 classes completed college from original institution (did not transfer); the national average for women is 48%.
* 38% of GPS students from the 2011-2014 classes who graduated college obtained degrees in STEM fields; the national average for women is 7%.
"You don't build a ship out at sea; you build a ship in port," said Michal Howick, associate director of communications and marketing at GPS.
The ship is about to sail for Brock, Evans and Vance, but not before one more May Day.
"I think May Day is such a long-lasting tradition that you can meet an alum or someone who has graduated, and you immediately have something to talk about," Vance said. "It is something that connects the generations."
Contact Davis Lundy at davislundy@aol.com.