Gerald Harris stood at the top of a set of concrete bleachers overlooking the school's track and football field, his back to the white and red concession stand.
Despite peeling paint and sagging wooden walls, the stand still showcases signs commemorating historic victories - the 1997 football state championship and the 2013 and 2014 girls track and field state wins.
Harris, principal and alumnus of Tyner Academy, scanned the field, brown from December rains and winter weather. Then he spread his arms wide and said, "Imagine what this place could look like. Imagine what we could do here."
Sports facilities don't make a school; Harris and educators like him know. And it's common in a school district with 74 school buildings for some projects to get shuttered while others take priority.
Hamilton County Schools has spent $93 million on a backlog of maintenance and facilities improvements in the past decade. Nineteen of its school buildings are considered poor or unsatisfactory facilities, according to a preliminary report presented by MGT Consulting to the Board of Education and Hamilton County Commission this summer.
It isn't only Tyner's ballfields that are failing its students - so are its classrooms, according to the consultants.
For several months this spring, MGT assessors walked every school and evaluated the physical conditions of the buildings and grounds, the suitability of existing classrooms and resources for the education programs the building is meant to provide, and the technology readiness of each building, according to Dan Schmidt, director of MGT's Education Consulting Group.
The preliminary report has identified more than $1.36 billion in capital needs across 74 schools. It also recommends renovating 11 schools, adding to 10 schools, erecting new buildings for three schools and closing 15 school facilities.
The district's chief of staff, Nakia Towns Edwards, has said it's "a facilities crisis."
District officials say it will take months to finalize a recommendation and even longer to figure out if there is funding for any solution deemed viable.
But school leaders also say that many community members only know what their school looks like - the one they attended decades ago or the one their children or grandchildren attend. Many don't understand the realities, said Krystal Scarbrough, principal of Chattanooga School for the Liberal Arts.
The Times Free Press toured more than a dozen schools in December. Reporters talked with principals, school leaders and veteran teachers.
Here is a glimpse inside some of the worst school facilities in Hamilton County based on the report.
ABOUT THIS SERIES
In July 2019, MGT Consulting Group unveiled a preliminary facilities report to the Hamilton County Commission and Board of Education that identified $1.36 billion in deferred maintenance across 74 school facilities. The report recommended an $855 million plan to renovate and rebuild facilities.The Times Free Press toured more than a dozen schools in December. Reporters and photographers talked with principals, school leaders and veteran teachers who know what takes place within the wall of these schools. We visited classrooms, playgrounds, sports facilities, cafeterias, even bathrooms.We also attended three of five community forums hosted by MGT across the district to gather input and feedback from the community about its initial recommendation. The following stories shares what we found and what we heard.- Search by school: What the Hamilton County Schools' preliminary facilities report could mean for your school- Tell us what you think: What do you think are the biggest issues with Hamilton County Schools facilities?
Tyner Academy - Built in 1938. Score: 58/100. Recommended to be torn down.
There are five science labs on the second floor of Tyner Academy, the high school that sits across Tyner Road from the middle school. Each lab looks a little different thanks to small-scale renovations that have occurred over the years "when there was some money," said Joey Gaby, the school's chemistry teacher.
Gaby has taught at the school for 21 years, in the same classroom. She loves her room. She has space for student desks for group lessons, as well as lab tables. She also has her own thermostat; her room is heated and cooled by the school's centralized system.
But down the hall, most of the classrooms have portable window units. Most are smaller, with large, antiquated, hexagon-shaped desks that are immobile. Teachers and students work around them.
Gaby is thankful though. When the school became a magnet school in 1999 and annexed the old Academy of Math, Science and Technology, it got to keep a storage room as a place to safely house lab equipment and chemicals.
Down the road at East Ridge High School, not every class can even perform experiments - the lab settings don't all have the safety measures required to use chemicals. Sinks don't work and neither does the gas line, thanks to a leak.
MGT's preliminary facilities report recommends that Tyner Academy be torn down. District officials and community members have been discussing and debating the report for months.
According to MGT, the high school building is one of the county's worst. It received a 57 out of 100 on overall building condition - it has open spaces that present security concerns, small classrooms that physically prevent adding additional students, water leaks and dilapidated lockers. It earned a 70 out of 100 for technology suitability and even less - a 34 - for grounds conditions.
MGT recommends combining the 520-student school with the 470-student school to form a grades 6-12 school on the same site. But that was already the plan - supposedly.
In 2017, thanks to more than $100 million in bond funds from the county for capital projects, Tyner was set to be merged and Chattanooga School for the Liberal Arts was to be moved into the old middle school building.
But the plan was put on hold after MGT - which was hired by the school board for more than $500,000 in December 2018 - released its report.
The money is still there, but the decision about what to do with the three schools is on hold.
Photo Gallery
Tyner Academy facilities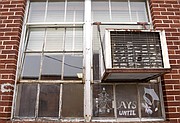 Chattanooga School for the Liberal Arts - Built in 1949. Score: 54/100. Recommended to be torn down.
Students moved independently, darting to lunch or to the restroom, as Krystal Scarbrough made her way down the hallways of CSLA, one of Hamilton County's original K-8 magnet schools.
She paused and pointed to a crack that zigzagged up a brick wall.
"We have a foundation that is shifting," she said. The nearly 100-year-old building is settling, its foundation along with it.
The signs are seen on the third floor, where lockers are no longer flush with their neighbors or the wall. Or in a bathroom on the second floor, where a wall leans over, braced by a barrier of tiles that serve as its baseboard.
Scarbrough has been principal at the school, which currently has about 450 students, for 11 years and said it looks about the same. She gives Hamilton County Schools' maintenance team credit for doing what they can.
On the day the Times Free Press toured the school, maintenance team members were working in the school's library to find the source of a water leak that had sprung up over Thanksgiving break. Water pooled behind shelves and in the corner. Furniture was pushed across the room to allow for large dryers.
The school's librarian, Jennifer Fields, sat in the hallway making corn-husk dolls for a lesson.
Maintenance team members often respond to the school for water leaks but also to repair the decades-old air conditioning window units, or to try and seal cracks around doors and windows that let in the winter air - and rodents. Some of the windows don't close, some are taped shut.
Most teachers decorate them and make do with their spaces. For example, two teams of first grade teachers share a large double classroom and divide the room so 40 little ones spread between them don't get distracted by the class on the other side.
Physical education teacher Drew White demonstrated how to swing a golf club in the school's tiny gym. It was comfortable in there that day temperature-wise because air and heat window units were added just a few summers ago. But gym supplies are still stored in a nearby boy's bathroom, and it's hard to throw a basketball back in bounds thanks to tight court space.
"It's hard for me to balance that your kids are safe and secure because the building looks like a disaster zone," Scarbrough said of her efforts to reassure anxious parents.
When the $28 million plan to merge Tyner's middle and high schools and move CSLA into the old middle school building was put on hold, parents weren't surprised.
They'd been promised a new building before. In 2013, dozens of parents campaigned for a new building on the site. In a 1999 facilities review, CSLA was identified as the fifth worst school facility in the district and was slated to be closed and rebuilt.
But still the building stands.
Taxpayers need to understand what schools truly look like, Scarbrough said. Taxpayers need to decide what is acceptable for children.
Photo Gallery
Chattanooga School for the Liberal Arts facilities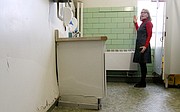 East Ridge High School - Built in 1958. Score: 64/100. Recommended to be renovated.
The walls rain bricks onto unlucky staff members who park between the high school and the middle school. Two science labs have to turn off their gas because of a leak and only have one chemical safety hood between them. The gymnasium is stained with old water leaks, and its high windows seep in heavy rains.
But unlike CSLA, at least East Ridge has an elevator.
In 1999, 15 of the 82 schools evaluated didn't have one but needed one. Americans with Disabilities Act (ADA) compliance, safety windows, elevator installations and asbestos abatement were the most frequent recommendations in the facilities report, completed by an external committee of 15 community members for the school board.
Tim James, teacher and head football coach at East Ridge High School, said student athletes notice the difference in facilities across the district. They see and use other gyms, courts, fields and locker rooms. They note the difference between their facilities and those of other public and private schools against whom they compete.
James said schools will often lose several good players every year, especially after middle school, when they are drawn to some of the high-quality athletic programs and facilities at area private schools like McCallie School and Baylor School.
The coach said East Ridge's gym is a great facility. It got new bleachers recently and has had fresh coats of paint over the years.
"One of the biggest problems though is with leaks," James said of the gym's ceiling. "It's really a design issue."
In the 1990s, air conditioning was added to the facility, which is actually the "new gym" built in 1986, but the retrofitted heating, ventilation and air conditioning system has led to water damage across the gym's ceiling. Water comes not only from the sky, but from the ground, as well. Last summer, district maintenance crews had to battle groundwater seeping into the storage closets at the far end of the gym, where equipment like cheerleading mats are stored.
As of December 2019, despite a drier floor and fresh paint, the closets still carry the musty scent of mold.
East Ridge, with an enrollment of about 1,000 students, is about 81% utilized based on MGT's capacity projections - within the ideal 85% range that allows for flexible scheduling and prevents overcrowding.
Chief of Operations Justin Robertson told the Times Free Press while touring the school that "the bones are good" at East Ridge, making it an ideal place for renovations, rather than a complete rebuild. The school's location in the growing East Ridge area would also allow it to take on more students who might be moved out of overcrowded schools like Howard or Tyner in the future.
Photo Gallery
East Ridge High School facilities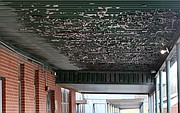 Barger Academy of Fine Arts - Built in 1954. Score: 54/100. Recommended to be torn down.
About 350 students attend Barger Academy. Most of them come from the surrounding neighborhoods in Brainerd. Most are students of color, many from low-income households.
The students at the district's only zoned fine arts magnet school have access to something that most of the 45,300 students in Hamilton County do not have access to every day: an art class.
Students at Barger attend a visual arts, music, dance or theater class every day of the week.
They play recorders or Orff instruments in Michael Mitchell's music class, located in a portable behind the school's main building.
They practice dance routines - or just shake out the wiggles - in the school's small dance studio, swaying across a floor covered in a dark pad. Dance teacher Felicion McMillion-Diakhate stretches out the pad herself, working out the wrinkles and tapping it back to the floor. It's needed for safety, and the school can't afford a true dance floor.
Students act out skits or use puppets to perform in their very own black box theater, one of just a few in Chattanooga.
Amy Burton, the school's drama teacher, has taught at Barger for more than 20 years.
"This school and this program is amazing, and it's important to keep it going," Burton said. "It's unique. It's so unique you won't find another school like it in a 200-mile radius."
But the school is overcapacity at 115%, according to MGT.
Photo Gallery
Barger Academy facilities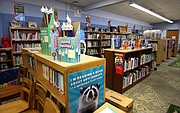 Third grade classrooms fill some of the school's six portables and the music class makes due with another small portable. The building itself received a score of 48 out of 100. MGT identified the school as the worst elementary school facility in the district.
In classrooms, portable window units roar and drip. Teachers have to turn them off when it gets too hot in the winter, and even more often have to bring in fans to supplement the dismal cooling they provide in the summer. The windows lack blinds and students have to travel outside alone to portable classrooms.
Safety is a concern for Principal Roxanne Anthony, and school security is a top priority for the school district. Schools have increased security at front entrances and in parking lots, but at schools like Barger, often students have to move between separate buildings to get to class.
The school's cafeteria serves as a lunch room, a physical education classroom, a gym and its auditorium.
Barger's fine arts facilitator, Juana Wilson-Roberts, scoffs at the idea of a fine arts school without an auditorium.
The cafeteria manager has to put up and pull down sets of tables at least twice a day to make room for all the activities that might take place in the room in between breakfast and lunch.
Barger is slated to be closed, under MGT's preliminary recommendations. Its students would be rezoned to Woodmore and Bess T. Shepard elementary schools.
But school staff say no. They turned up at community meetings across the district to question MGT officials, to remind them about what happens inside Barger's walls.
Our teachers make do, Anthony said. They do a lot with a little.
"Breaking up the team we have here would crush me," Anthony said.
There is nowhere like Barger in Hamilton County, Anthony and Wilson-Roberts told the Times Free Press. We have the land, we have the site, we have the team that makes the school what it is. Build us a new school, they argue.
Mostly they ask, if Barger is torn down, what will happen to the neighborhood?
What will happen to the students?
Contact Meghan Mangrum at mmangrum@timesfreepress.com or 423-757-6592. Follow her on Twitter @memangrum.