Photo Gallery
Conservation project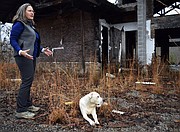 A perfect collision of forces - an anonymous donor looking for a tax write-off, a failed subdivision that turned out to be a $40 million mortgage-fraud scheme, and strategic purchases by conservationists to protect area caves - paved the way for one of the biggest nonprofit conservation projects in the region.
Nearly 2,400 acres on Lookout Mountain and into Johnson's Crook in Dade County, Georgia, have been preserved and will be managed by the Southeastern Cave Conservancy Inc. as the new Charles B. Henson Preserve at Johnson's Crook.
"This is just the beginning," SCCi Executive Director Ray Knott said.
The conservancy is now seeking help from other groups in the area to turn the preserve into a major recreation and conservation area.