The long-awaited report on Hamilton County's school buildings includes preliminary recommendations calling for sweeping school closures and renovations.
The preliminary report, unveiled Tuesday to the Hamilton County Commission and the Board of Education by MGT Consulting Group, identified more than $1.36 billion in capital needs across 74 district schools.
Ultimately, MGT recommends renovating 11 schools, adding to 10 schools, building new buildings for three schools, and closing 15 school buildings.
Auditors walked every school this spring and evaluated the physical conditions of the buildings and grounds, the suitability of existing classrooms and resources for the education programs the building is meant to provide, and the technology readiness of each building, according to Dan Schmidt, director of MGT's Education Consulting Group.
Their findings resulted in a recommended $855 million 10-year plan for consolidation and renovation.
Photo Gallery
Preliminary facilities report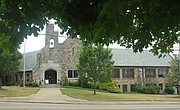 Of those 15 potential school closures, some would be relocated, such as Normal Park's Upper and Lower schools and magnet schools Chattanooga School for the Arts and Sciences and Chattanooga School for Liberal Arts, but other schools would permanently close and students would be rezoned.
Schools that would be closed and students rezoned include Brainerd High School, Barger Academy, Clifton Hills Elementary, Dalewood Middle, Daisy Elementary, Lakeside Elementary, Lookout Mountain Elementary, Rivermont Elementary and Tyner Middle, among other possibilities.
Some of those school buildings might be renovated and repurposed, though - the report recommends that the Daisy Elementary site be renovated and reconfigured to house Soddy-Daisy Middle School and relocate the district's vocational programs to a new building at the current site of Barger Academy.
But the report is not final and hasn't been officially recommended to the school board. The board would have to approve it before any real decisions are made.
Board members characterized the report as a "starting point."
"This is how we start this discussion of where to start with our buildings and how to come up with a building plan," said school board member Kathy Lennon, of District 2. "We have been talking about this for a long time and it's a step in the right direction."
Lennon said she didn't agree with every recommendation, but she is looking forward to hearing input from the community.
Other board members echoed that they are aware of how the community will react to some of the recommendations, especially the closing of several neighborhood schools.
"A lot of things make really good sense financially, but don't make community sense," said District 9 board member Steve Highlander.
District 5 board member Karitsa Mosley Jones said the possibility of closing and moving students from schools such as Brainerd High School or Dalewood Middle School would have a significant impact on those communities.
"They're going to feel once again disenfranchised," Jones said during Tuesday's joint meeting of the school board and commission. "The school wasn't good enough for our kids, but it's good enough to bring a magnet school in? That's a struggle for us. Those schools have been under the microscope for forever and we have fought to prevent them from being taken over by the state, but, let's just close them anyways? That's been the biggest fear of the community. It's just, it's going to kill our community."
The district has recommended massive renovations and closures of schools before. In 2008, the board approved a facilities plan that included closing more than a dozen schools and major renovations to another 12, but many of those plans were never carried out.
Lookout Mountain Elementary, CSLA, Dalewood Middle, Orchard Knob Middle, Hillcrest Elementary, Woodmore Elementary, Alpine Crest Elementary and East Ridge Elementary were among schools that were once on the chopping block but have remained open.
CSLA has actually been highlighted for closure or consolidation since the district's last facilities audit conducted by external auditors - in 1999.
"Some of the things he brought up are things we've wanted to do before, but we haven't had the money," District 1 school board member Rhonda Thurman said after Tuesday's presentation from MGT. "We don't have one penny to do one thing. It's just such a massive building plan, I don't even know where we would start. I can't even get a football field at Sale Creek, and we're talking about closing schools and moving schools."
Superintendent Bryan Johnson said it takes resources to maintain school buildings.
"We've had 20 to 30 years of facilities reports and the needs have continued to balloon," Johnson said. 'The district has done nothing but been able to be reactive due to lack of resources. There has to be a commitment; the reality is if we want to pursue excellence, we have to have the resources we need in order to be excellent."
The school board approved a $337,915 bid from MGT to conduct the audit of the district's buildings and their maintenance needs and a $149,930 bid to study and predict future growth and capacity last December.
MGT predicts that the district will see a 7% increase in student enrollment in the next decade, a slight increase from the 5% increase Hamilton County has seen in the past decade.
The southeast corner of the county will see the highest levels of population growth, according to the report, with growth in the northern area happening slower due to infrastructure needs.
The district also approved $33,500 last December for local firm Franklin Architects to assess and design safer entrances at many of the district's schools where visitors now can openly access the facility and its students without first encountering a front office or an adult.
Director of Facilities Justin Witt said some of the work recommended to improve safety at district schools might still continue, regardless of whether MGT's final recommendations are adopted.
Though several county commissioners have cited the facilities audit as a reason for voting down a 34-cent property tax rate increase to provide additional operating funds for the district in the county's fiscal year 2020 budget, there was no talk of the budget at the joint meeting.
School board members are slated to vote on a revised budget proposal Thursday.
As for the facilities audit, Schmidt said that in the coming months, MGT will conduct community meetings and meet with local officials and stakeholders to learn more about how individual schools fit into the fabric or needs of the community.
A final, more comprehensive report is expected to be recommended to the board in December.
Contact Meghan Mangrum at mmangrum@timesfreepress.com or 423-757-6592. Follow her on Twitter @memangrum.