Photo Gallery
Hamilton County budget meeting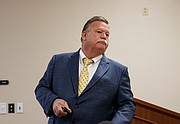 Saying he's "100% in" on local education, Hamilton County Mayor Jim Coppinger said he is seeking a 34-cent property tax rate increase as part of the county's proposed fiscal year 2020 budget.
The announcement Tuesday followed weeks of speculation that the increase would be larger at 49 cents and came as the Hamilton County Commission got its first glimpse of the $819 million budget, which is up $65 million from this year's budget, or 8.7%.
The school district's $443 million proposed general purpose budget reflects a $60 million increase over this year, or a 13.6% boost. The $60 million increase includes $34 million from the county that would be funded by a 34-cent property tax hike. The remainder of the $60 million increase comes from federal and state funding.
Though the proposed county budget is up 8.7% overall from this year's budget, Coppinger said it reflects about $13.5 million in cuts to prioritize public education as well as Hamilton County Sheriff Jim Hammond's $59 million budget to improve public safety.
Coppinger said his request would require commissioners to do some "soul-searching."
COST FOR YOU
What will the effect of Mayor Jim Coppinger's proposed 34 cent property tax rate increase be on your property taxes?› Property value of $100,000: additional $7.08 a month/$85 per year› Property value of $150,000: additional $10.63 a month/$127.50 per year› Property value of $200,000: additional $14.17 a month/$170.00 per year› Property value of $250,000: additional $17.71 a month/$212.50 per year› Property value of $300,000: additional $21.25 a month/$255.00 per year› Property value of $350,000: additional $24.79 a month/$297.50 per year› Property value of $400,000: additional $28.33 a month/$340 per year
"I'm a person who thinks that taxes should be the absolute last resort," he said. "But in all sincerity, when you start looking at what the needs are, we always have to ask ourselves the question in these budgets: Are we where we want to be? Are we proud of our county general government? Are we proud of education?"
WHAT IS THE BUDGET FUNDING FOR SCHOOLS?
With funding for Hamilton County's schools making up more than 61% of the overall budget, Coppinger said it's time for the community to make clear where it stands on education.
And despite significant changes since his initial budget workshops, education remains a top priority for 2020, which also includes granting Superintendent Bryan Johnson's request for additional operations funding; adding paramedics, EMTs, law enforcement officers and school resource officers, among other public safety priorities; and maintaining the county's triple-A bond rating.
Johnson said the district has not received an operational increase since 2005 other than annual growth money from increased tax revenues and funding from the state. This year's request comes on top of nearly $9 million in growth to fund a 5% raise for teachers, about 350 additional positions, one-to-one technology for students in schools and increase early post-secondary opportunities such as dual enrollment, AP and IB classes.
Additional positions, most of which district leaders say are school-based employees, include: 14 school counselors, 15 social workers, 15 truancy officers (or "attendance specialists"), 11 art teachers, 10 special education teachers and 32 special education assistants.
This personnel increase is an 8% increase and includes 42 general classroom teachers, as well.
Johnson's proposed budget includes only small allocations toward capital maintenance, despite initial speculation that Coppinger might request additional funding for debt service for school building projects. The lack of funding for capital outlay carries over into Coppinger's general budget request as well with $4.8 million in capital outlay projects not being granted in his final budget.
Instead, the schools budget includes $3 million toward capital maintenance that has historically been budgeted each year and an additional $15 million from the district's fund balance to go toward basic maintenance-type projects.
The district has received funding for capital projects in recent years, though. In 2017, the county gave the district $110 million for capital building projects, which was funded by maintaining the millage rate for property taxes, a de facto tax increase for residents. The school district asked for an additional $24 million that same year, but the budget that passed 8-1 did not include such an increase.
"It would be very disappointing if this budget was not passed," Johnson told the Times Free Press on Tuesday. He said the budget was not unreasonable.
"Tell me what you think is not right in the budget. Do you think it's not right for our children to not be post-secondary prepared? Or do you think it's not right that we provide special education services? Or do you think it's not right that we don't provide more counseling supports?"
MONEY FOR PUBLIC SAFETY
While education is Coppinger's top priority, public safety is a clear runner-up, accounting for 14% of the overall budget, including a more than $3.5 million, or 6.4%, increase for the sheriff's office over the 2019 operating budget.
10 THINGS TO KNOW
10 things to know about Hamilton County's proposed 2020 budget:1. Mayor Jim Coppinger is asking for a 34-cent property tax rate increase to fund an increase for public education.2. The tax hike does not pay for increases for general county government services or other agencies.3. The tax rate increase is a 13% increase for property owners.4. The $819 million budget is a $65 million or 8.7% increase over 2019's budget.5. Of that $65 million, the majority of the request is for Hamilton County Schools.6. The Hamilton County Sheriff's Office will also see an increase of more than $5 million.7. Many Hamilton County employees, including law enforcement officers and school district employees, will get pay raises, ranging from 2.5% to 5%.8. Capital projects took the biggest hit, with a $4.8 million cut.9. Other agencies outside of the sheriff's office and the school district also had unfulfilled requests or cuts.10. The county commission will have at least 21 days to consider the budget, with a vote expected on June 26.
Coppinger joked Tuesday that Hammond had "won the lottery" in the budget request.
"Sheriff is the biggest increase [other than schools]," Coppinger said. "We have made it a goal to make our pay, especially starting pay, competitive with the city, and we're still going to do that by moving some stuff around."
The sheriff department's $59 million budget includes:
» $404,000 for six new positions (two patrol officers, two corrections officers and two school resource officers)
» $380,000 for the FUSE mental health program
» $854,000 for a 5% pay raise to all sworn personnel
» $1.9 million in additional compensation to raise the salaries of more tenured personnel to balance wages
"Public education and public safety are our main focus," Coppinger told the Times Free Press. "We wanted to make that clear, but that means that we can't give everyone else everything they asked for."
WHAT'S GETTING CUT?
The initial 49-cent tax rate increase floated allocated 34 cents to Hamilton County Schools and 15 cents to general county government.
But on Tuesday, Coppinger told commissioners: "We have totally backed off the other 15 cents that have been talked about. This budget is really about education."
In all, Coppinger and his team cut $13.5 million from the budget since the initial proposal, in large part by rejecting requested increases from county departments or agencies.
One of the largest cuts made since the previous workshops was to capital outlay projects, including elevator upgrades, a new EMS training facility and renovations to the health department. With cuts, the capital outlay budget is down $4.8 million since the beginning of the budget process.
The county also made up significant ground by cutting $2.5 million from general government employee (non-sheriff or school) raises, which went down to 2.5% from the 5% proposed initially.
Most of the remaining cuts were to general fund expenditure requests such as the mental health court's request of nearly $500,000; $350,000 requested by supported agencies like ArtsBuild, CARTA and the Enterprise Center; and an additional $1.5 million cut from the public works department's initial request.
LOCAL LEADERS WEIGH IN
School board members have said "the time is now" for a tax increase. They approved Johnson's proposal in a 7-2 vote in May.
That stance hasn't changed, said the district's Chief Business Officer Brent Goldberg.
On Tuesday, several commissioners spoke favorably about Coppinger's proposed budget Tuesday, despite several who have spoken out against a tax hike.
Chairwoman Sabrena Smedley, of District 7, praised the mayor.
"Thank you again for all the time that went into this process, good job," she said.
District 1 Commissioner Randy Fairbanks echoed Smedley and said he was "amazed" by the mayor's work.
"When I saw you start out with no increase on the county side, I was a little nervous, but really I'm amazed," Fairbanks said. "I'm very pleased with what y'all came up with and doing what needed to be done without devastating other parts of the budget."
District 3 Commissioner Greg Martin said he was not prepared to make a decision about the budget.
"I have 22 days to make a decision, and I don't plan on voting 22 times," Martin said. Previously, he has had some concerns about another tax increase "too soon."
Coppinger will officially introduce the budget at today's Hamilton County Commission meeting.
From there, commissioners will not be able to vote on the budget for at least 21 days, thanks to a resolution introduced by Tim Boyd in March. The vote now is set for June 26.
In the coming weeks, several commissioners have public meetings scheduled to seek community input on the budget.
County commission meetings are also open to the public. The meetings are held at 9:30 a.m. every Wednesday on the fourth floor of the Hamilton County Courthouse at 625 Georgia Ave.
Contact Sarah Grace Taylor at staylor@timesfreepress.com or 423-757-6416. Follow her on Twitter @sarahgtaylor.
Contact Meghan Mangrum at mmangrum@timesfreepress.com or 423-757-6592. Follow her on Twitter @memangrum.