Photo Gallery
Nicholas Galinger funeral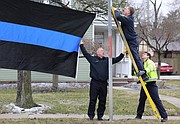 CINCINNATI - Under grey Ohio skies, fallen Chattanooga police officer Nicholas Galinger was taken to his final resting place in Mt. Moriah Cemetery on Friday afternoon.
It was a day in which multiple agencies - including the Chattanooga and Cincinnati police departments - came together to honor their brother in blue.
Nicholas Galinger, 38, died after being struck by a car late Saturday night on Hamill Road in Hixson while inspecting a manhole cover after recent heavy rains. Police arrested 54-year-old Janet Hinds in connection with Galinger's death. She faces nine charges, including vehicular homicide.
Chattanooga police officer Nicholas Galinger end of watch, February 24, 2019. Rest In Peace. pic.twitter.com/uDH5TtYPCA

— Rosana Hughes (@HughesRosana) March 1, 2019
He had just graduated from the police training academy a month earlier, on Jan. 24.
Bagpipes played as the funeral procession, led by the Chattanooga Police Department's motor unit, made its way down the long, looping road through the cemetery and again as Chattanooga Police Department's honor guard pallbearers carried the casket to its final location.
Police officers stood side by side, lining the path from the hearse to the gravesite, where Galinger's family stood. Soon after, a dispatcher's voice came over a loud speaker.
"Adam 2?"
"Adam 2?"
"Adam 2?"
"Attention all cars, all departments: no response from Adam 2. Officer Nicholas Galinger, badge 1016, you performed bravely and made the ultimate sacrifice protecting your community. Adam 2 has now answered his last call. His end of watch is Feb. 24, 2019. Rest in peace. We will carry on the watch."
A three-volley rifle salute was performed before the flag that covered Galinger's casket was folded and handed to his family. Before that, a riderless horse was led by the gravesite, a pair of backward-facing boots fastened into the stirrups. The boots represent a fallen officer looking back on his family one last time.
On Wednesday ahead of the funeral, more than a hundred Chattanooga police officers lined sidewalks on both sides of East Brainerd Road as a champagne-colored hearse carrying Galinger's body left for Cincinnati. Law enforcement agencies across several states participated in the escort.
Drivers who were stopped at an intersection got out of their vehicles to salute the police escort as it passed, some with their hands over their hearts, others wiping away tears. It was a scene echoed on interstates and roadways in multiple states.
Then on Thursday, a bus carrying about 40 Chattanooga police officers, many of whom were Nicholas Galinger's academy mates, left for Cincinnati to honor their fallen colleague. During the day Thursday, several hundred visitors streamed into Mount Washington Presbyterian Church to pay their respects to a life cut short.
"We'll remember Nicholas as my first friend, my pal. He was my buddy," said Nicholas' brother Barry (Doug) Galinger II during Friday's funeral.
Doug Galinger remembered his brother as loving the Teenage Mutant Ninja Turtles when they were children.
"He was Michelangelo. I was Raphael. Brent [Galinger] was Leonardo, and Donatello, he was on loan for whoever was going to play with us," Doug Galinger said.
"My brother, our brother. He was a father, he was an uncle. He was a friend. He just truly wanted to serve. And he cared."
Doug Galinger said his brother drove all the way from his Georgia home to Chattanooga one day, sleeping in his car overnight, just to take the police academy's assessment test.
"That's how bad he wanted it," Doug Galinger said. "Nicholas loved the Chattanooga Police Department."
Nicholas' father, Barry Galinger, also shared words of remembrance.
"I'm Nicholas' proud father," he said, joined by family members at the pulpit.
He expressed his gratitude to the people of Chattanooga and its police department, reiterating how much his son wanted to join the department.
"Nicholas was my one son who spent his [life] - up until Aug. 24 - looking for his star in life," he said.
Barry Galinger would tell his children to always look for their star in life as they were growing up.
"Now, as much as Nicholas loved being a police officer, he loved his children even more and they loved their daddy," Barry Galinger said, his voice trembling.
Every time Nicholas Galinger had a day off, he would visit his children, Hailey and Ethan Galinger, in Cincinnati, even if just for a day, Barry Galinger said. They had just visited with him over President's Day on Feb. 18.
"Those children were his world," he said.
As he left the stage, Barry Galinger stopped by the flag-draped casket holding his son's body. He bent over and started to cry, embraced by his children.
The eulogy was delivered by Chattanooga police Chief David Roddy, who reflected on the fallen officer's impact in the short time he was on the force.
Every applicant is asked why they want to be a police officer, Roddy said. He read part of Nicholas Galinger's response.
"'I believe being a police officer is truly the most noble of occupations. Police officers are a team instilled with morals, values and a calling greater than one's self,'" Nicholas Galinger wrote.
In closing his eulogy, Roddy said: "To Nick, Godspeed. You fought the good fight. You have finished your work. The badge of the Chattanooga Police Department shines brighter. ... While we may have lost a son, a father, a friend and a protector, we gained a star."
Contact staff writer Rosana Hughes at rhughes@timesfreepress.com or 423-757-6327 with tips or story ideas. Follow her on Twitter @Hughes Rosana.