Photo Gallery
Hamilton County school fees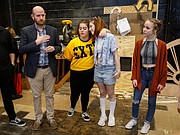 Ten dollars for English class, $20 for science labs, $5 for social studies, $10 to $60 for sports teams, $50 for graduating seniors, $80 for parking.
These are some of the school fees that students and families at East Hamilton School were asked to pay during the the 2018-2019 school year. The list does not include a $70 general instruction fee and fees ranging from a few dollars to hundreds of dollars for activities such as choir, marching band and cheerleading.
Hamilton County Schools leaders want to eliminate many school fees for the next school year, though.
If Superintendent Bryan Johnson's proposed $443 million budget is approved by the school board and the Hamilton County Commission, families might be asked to pay as little as $20 for arts, science and technology at their children's schools.
Instead, the district will allocate funding straight to schools - $40 per student or $50 per student at the district's eight joint middle/high schools.
"The school board asked us to standardize school fees," said Brent Goldberg, the district's chief business officer. "As we cut through them, we saw a wide range of fees that were charged, the types of fees and the collection rates, it became difficult to standardize them without being punitive to schools."
This school year, schools have collected as little as $0 and as much as $84,000. Chattanooga School for the Arts and Sciences (CSAS), East Hamilton Middle/High School and Signal Mountain Middle/High School all collected more than $70,000 in fees, whereas schools including Orchard Knob Middle School and The Howard School collected nothing.
Hillcrest Elementary asked only for $10 each from its students this year - and collected a total of $260.
Goldberg said the recommendation from the district improvement team that was tasked with standardizing fees was to do away with general instruction fees altogether.
Many schools used general funds to pay for things such as art supplies, paper and copy machines - things that Goldberg said schools shouldn't have to pay for.
"These are things we've historically asked the schools to do that this administration doesn't think we should do," he said.
By law, students and families are not required to pay school fees, but some teachers and administrators are concerned that they won't be able to fund certain programs without the fees.
At a meeting with district employees about the budget proposal last week, Chattanooga High Center for Creative Arts Principal Debbie Smith was nervous about what fees she would be able to ask for this coming year.
CCA asks for anywhere from $5 to $35 for a range of fees related to the school's wealth of performing arts programs such as choir, dance, piano, theater and visual arts, as well as for studio supplies and instrument rentals.
Goldberg said schools still will be able to ask for fees related to magnet programs, performing arts, athletic fees and charge $25 for parking. Schools also are able to take donations as well as get support from booster clubs and PTAs.
Only eight schools are predicted to lose money, based on last year's collection rates.
Those schools are Lookout Mountain Elementary, Nolan Elementary, Hunter Middle, CSAS, Chattanooga School for the Liberal Arts, East Hamilton, Normal Park Museum Magnet School and Signal Mountain.
Within the $1.8 million budgeted for school funds, Goldberg said there is additional money budgeted to help stabilize school funds. By Thanksgiving, the district plans to analyze collection rates, and if schools have collected less in fees than during the 2018-19 school year the district will make up the difference.
"Most of our schools will get an increase in funds that they will have available to do things for students, teachers, the school going forward," Johnson said.
District 3 school board member Joe Smith has long been a champion of getting rid of school fees.
"There are some things on the budget that I'm real pleased with and I've tried to champion. For one, we're getting rid of school fees," Smith said. "I'm really pleased with that."
Contact staff writer Meghan Mangrum at mmangrum@timesfreepress.com or 423-757-6592. Follow her on Twitter @memangrum.