KNOXVILLE - The Tennessee men's basketball team improved to 4-0 with a 76-41 victory over winless Alabama State on Wednesday at Thompson-Boling Arena.
Here are three second-day observations from the game:
1. James shines: Already it's easy to see how important freshman Jordan-Josiah James will be to the Volunteers this season, especially now that he may have to be used as an interior option on defense after Tennessee announced sophomore forward Zach Kent has stepped away from the program indefinitely. James never will be mistaken for a pure shooter, but as the season goes on and he gets more comfortable in rhythm, he will become serviceable because he's a hard worker and he's willing to take shots. Even now, though, the 6-foot-6, 208-pound guard affects the game in so many ways, with the Vols 34 points better during his 31 minutes of playing time against the Hornets, the best plus-minus rating for a Tennessee player Wednesday. James also had 13 rebounds, five assists and defended well - all while making only one shot. If he can be that effective for the Vols without scoring, how good can the team be once he starts making some shots?
Photo Gallery
Vols vs. Alabama State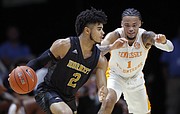 2. Defense must lead: This can't be emphasized enough: This season the Vols are going to go as far as their defense takes them. What they lack in size with only one true forward on the roster, they can make up for in length. Alabama State isn't a great shooting team, but they were good enough to make nine 3s in the opener against Gonzaga. The Vols held the Hornets to 20% shooting from 3-point range, and that will have to be their calling card while the younger, more inexperienced players try to get their feet wet. Jordan Bowden and Yves Pons have shot a combined 58% from 3-point range; the rest of the team is at 29%. Bowden, Pons, Lamonte Turner and John Fulkerson have scored 72% of Tennessee's points, a trend that may not continue. Other players will have to step up offensively, but until then the defense has to be consistently solid.
3. Vols need Johnson: Speaking of "other players," Jalen Johnson is going to have to be one of those guys. The 6-6, 196-pound junior has struggled so far, averaging 3.8 points while shooting 33% from the field and 27% from 3-point range. This was supposed to be his breakout season, but there are no signs of that yet and his minutes are already starting to decrease. Shooting is his strong suit, but it was easy to tell his confidence was shot against the Hornets when he missed a 3-point try in the first half and put his head down while running back on defense. The Vols will eventually need Johnson's points this season, so he's going to have to find a way to produce - or get left behind by a player such as freshman Davonte Gaines, who is 6-7 and has shown an ability to defend at a high level.
Contact Gene Henley at ghenley@timesfreepress.com. Follow him on Twitter @genehenley3 or at Facebook.com/VolsUpdate.