Photo Gallery
Cars in Chattanooga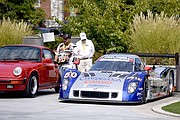 Chattanooga's place as an international automotive city shifts into a higher gear over the next two days as it sees a couple of firsts, according to local officials.
About 70 journalists, 30 with international credentials, are here for the inaugural Chattanooga MotorCar Festival. Also attracting many of them is the world launch of Volkswagen's newest SUV, the five-seat Atlas Cross Sport, which will take place publicly at the two-day festival that begins Friday.
About 10,000 people in all are expected for the festival, which is projected to create a $3.7 million economic impact on the city, said Barry White, who heads the Chattanooga Convention and Visitors Bureau.
The economic impact figure includes ticket prices, hotel stays and restaurant, transportation and other spending, he said.
"We're ecstatic for a first-year event," White said.
Lance Lauda, a MotorCar Festival organizer, said they're "absolutely elated" with the response to the festival, which will be centered around the West Village downtown at Chestnut and Eighth streets and Riverfront Parkway near Ross's Landing.
(Read more: First Chattanooga MotorCar Festival rolls into downtown this weekend)
"This began as one guy's dream," Lauda said about Chattanooga businessman Byron DeFoor, who with brother Ken turned the old BlueCross BlueShield of Tennessee headquarters in the city center into the Westin hotel two years ago and remade that part of downtown in an $88 million investment.
Byron DeFoor is a classic-car owner and avid racer himself. In 2012, for example, he teamed up with rocker Brian Johnson of the band AC/DC to drive a 24-hour race at Daytona International Speedway. That Rolex 24 Hours at Daytona was both Johnson's and DeFoor's first such race.
IF YOU GO
What: Chattanooga MotorCar FestivalWhere: West Village and Riverfront ParkwayWhen: 8 a.m. to 9 p.m. Friday; 8 a.m. to 10 p.m. SaturdayAdmission: $35 one-day pass; $55 two-day pass; $145 two-day VIP package; ages 15 and younger are free but their admission will match ticket level of their accompanying adultOnline: www.chattanoogamotorcar.com
"You want more power and to move up to the next level," said DeFoor then about why he entered.
DeFoor said Thursday that the lead-up to the festival is "very good."
"We're optimistic this will be one of the best car shows in America," said DeFoor, adding that attendance could double the Convention and Visitors Bureau estimate and reach 20,000.
White said the Chattanooga MotorCar Festival is in line with just a few select events nationwide. One of those, he said, is in Monterey and Pebble Beach, California, which Car and Driver magazine this year called the best car event in the country.
"This is one festival that is after that type," White said about the Chattanooga event.
Organizers said the Chattanooga festival will be the only one to offer Concours - an exhibit of vintage vehicles - as well as an auto rally and time trials on a closed circuit, on Riverfront Parkway, along with multiple family activities.
Also, hundreds of exotic, one-of-a-kind cars, some stretching back to early last century, will be on hand.
In addition, Volkswagen of America is a partner in the event, and it will publicly show on Saturday for the first time the key new addition to its lineup of SUVs, a segment increasingly important to the automaker as buyers shift away from cars.
Friday, however, the top North American executive for the German automaker, Scott Keogh, will be at VW's Chattanooga production plant, which is assembling the Cross Sport, to give a sneak peek of the new SUV to journalists and political leaders.
Tennessee Gov. Bill Lee and U.S. Rep. Chuck Fleischmann are to be at the plant for that reveal of the SUV based off the popular seven-seat Atlas, which is also made at the factory that employs 3,500 people.
Also, officials are expected to talk about a planned $800 million expansion at the plant to make an all-electric SUV by 2022 and hire 1,000 more workers.
Jessica Caldwell, executive director of industry analysis at Edmunds.com, said that anything VW can add to its stable of SUVs is helpful to the automaker's sales in the United States, which through September are up 4.5% for the year.
"Americans like SUVs," she said. "The more flavors gives [the automaker] opportunity for the brand."
(Read more: Chattanooga MotorCar Festival will feature automotive stars, dignitaries)
The MotorCar Festival will have special meaning for another Chattanoogan.
Former restaurateur Efren Ormaza, who with wife Gema operated Terra Nostra on the North Shore for 17 years before closing the eatery this summer, said he plans to race in the event in a Ford SRF purposely built car.
While he retired to spend more time on medical missions to his native Ecuador with the Penipe Foundation, he's also pursuing his passion for sports car racing, having recently won an event at the Daytona International Speedway.
"I fell in love with cars and driving" while a youth in Equador, he said. "I realized I could drive pretty fast without much effort."
Ormaza, 54, said he came to the U.S. in 1992, and recalled he was working at 212 Market restaurant in Chattanooga in 1994.
"I was a professionally trained chef. I started at the bottom. I was looking in a window at the reflection and wondering why am I doing this instead of racing," he said, adding that now his dream of racing in Chattanooga is happening.
Contact Mike Pare at mpare@timesfreepress.com or 423-757-6318. Follow him on Twitter @MikePareTFP.