Photo Gallery
Community Champions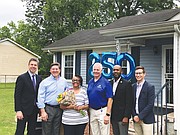 The Chattanooga Chamber's 2019 Aug. 20 Annual Meeting honored local companies over 100 years old (check out the full list at ChattanoogaTrend.com) and presented six awards to local organizations leading in their industries and impacting our community.
The Annual Meeting Awards recognize local companies blazing ahead in areas like sustainability, creating healthy workplaces and supporting diversity, inclusion and education.
Let's meet our honorees.
Business Education Investor:
Rock City
They may have been around for the better part of a century, but Rock City is always thinking about the future. Their latest accomplishment? Partnering with the Howard School to open the See Rock City Institute of Hospitality and Tourism Management. That commitment includes not only a significant financial contribution, but also field trips, job shadowing, advisory roles and preferential part-time job availability for students.
Rock