Photo Gallery
Computer science education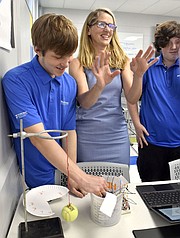 Community leaders discussed the importance of computer science education and local efforts to prepare the future workforce during a roundtable discussion featuring local business and civic leaders, U.S. Rep. Chuck Fleischmann, R-Tenn., and representatives from Microsoft this week.
The group toured two Hamilton County Schools - Chattanooga Girls Leadership Academy and Red Bank High School - before meeting at The Edney Innovation Center on Friday.
This week's visit was the second by Fleischmann and representatives from Microsoft's philanthropic arm to promote computer science education, as leaders seek resources and ideas for how to expand such efforts locally.
Only 16% of schools in Tennessee teach Advanced Placement Computer Science courses, said Allyson Knox, senior director of education policy at Microsoft, but there are more than 5,000 open computing jobs available across the state.
Despite high-paying and plentiful jobs, employers are having a hard time finding high school or college graduates to fill those positions, said J.D. Hickey, president and CEO of BlueCross BlueShield of Tennessee.
"We hire over 100 software developers, cyber-security professionals every year," Hickey said. "Almost all those individuals come out one of those four-year, post-secondary Tennessee higher ed institutions and ... to be totally frank, we are not satisfied with the level of individuals to meet the demand."
Microsoft works nationally to lobby for federal legislation that supports computer science and STEM education, but also has a host of programs scattered across other states and communities.
Since 2017, Fleischmann has been working with Microsoft and the Computer Science Education Coalition to urge Congress to provide funding to expand computer science curriculum in K-12 classrooms across the country.
"When Microsoft showed to me the computer science literacy all across America, I was floored by the magnitude of that need," Fleischmann told the Times Free Press. "I saw that it was highlighted in inner-cities, like Chattanooga, and in rural areas."
Chattanooga and Hamilton County are already attempting to tackle the state's workforce gaps and increase the number of students exposed not just to information technology jobs, but a variety of industries, before they even get to college.
The BlueCross Technology Academy at Red Bank High School is one of Hamilton County Schools' more than two dozen Future Ready Institutes, or small learning communities centered around an industry pathway embedded in 13 of the district's traditional high schools.
In its second year, the academy engages students in hands-on projects, provides real-world learning opportunities at BlueCross BlueShield's Chattanooga location as well as one-on-one mentoring and other support from industry professionals.
While business and civic leaders mingled in the school's retrofitted technology lab Friday, sophomores showed off their most recent project. Students coded and programmed faux brains, built helmets and simulated impact to those brains to simulate the traumatic brain injuries that can be experienced through high-impact sports like football and horseback riding.
Several of the students said the opportunities they had received through the institute were immeasurable. Cristian Mendez didn't even want to join the institute when it launched last year, but said he has gotten so much out of it.
Lily Akins said she was looking for a STEM-related program of study in high school and thinks all students should have the same choices.
Microsoft's Knox asked the students to tell Fleischmann what students should have access to in high school, and many of them highlighted opportunities to learn how to work together efficiently as a team - or build those soft skills that are in high demand among employers - and access to choices like the tech academy.
"I would try having the option to do something like this," Akins said. "I like the fact that I got the option to do this. I got to choose where I want[ed] to do it, so giving the opportunity to learn about something I was interested in without restrictions."
BlueCross has already committed to launch a second technology academy and is also working with higher education institutions in Tennessee to pull post-secondary options, such as an accelerated degree program, into the mix.
But elected officials and members of the roundtable debated the role of local and state government and private businesses in creating and funding highly specialized programs.
State Sen. Bo Watson, R-Hixson, said when it comes to funding, the state's hands are often tied when it must prioritize different areas and ensure access is equitable, even in very rural areas of the state. But the state has been making efforts to expand access to post-secondary education opportunities through its Tennessee Promise and Tennessee Reconnect programs, as well as expanded options for applied learning, or internship opportunities, while students are still in school.
"Tennessee has a strategy in place to try and address it," Watson said. "But this is a very heavy lift. The implementation and execution are a lot harder. The private sector has to engage with us and help us be successful, the government cannot do it alone."
Superintendent Bryan Johnson noted his administration's goals to ensure students have access to a variety of early post-secondary options, like AP courses or the Future Ready Institutes, but a 34-cent property tax rate increase to fund public education was shot down in Hamilton County this summer, limiting funding.
Knox said that due to the collaborative atmosphere in Chattanooga and the work already being done, the community might try to move ahead of the state and declare its priorities without state mandates or curriculum requirements.
"Hamilton County may not want to wait for the state, I have not seen a community, just on your own, say these are the things we want to bring for our students in our schools," Knox said. "Maybe this is an opportunity to do something brand new as a county and show your cohesiveness and commit to a vision."
Overall, Fleischmann said the future looks bright. As he continues to advocate for more funding for computer science literacy programs in Washington, he said he hopes Microsoft might find a way to fit in to the community in Chattanooga.
"We are building relationships," he said. "Hopefully, we can take a look at the areas in the community where we can work together, where Microsoft can plug in and we can continue these discussions. ... I think that today was successful on many levels."
Contact Meghan Mangrum at mmangrum@timesfreepress.com or 423-757- 6592. Follow her on Twitter @memangrum.