The Chattanooga Football Club wrapped up a NISA Independent Cup championship with a 3-0 victory over Soda City FC on Saturday night at Finley Stadium.
CFC completed the Southeast Region's round robin with another dominant performance, going 3-0 and outscoring its competition 9-1 in the return-to-play event. The only other match this season for the 12-year-old club was a tie in its National Independent Soccer Association and professional debut in late February.
Although fans were not permitted in the stadium due to coronavirus precautions - just as in a 3-1 win against Georgia Revolution FC on July 11 and a 3-0 win against Savannah Clovers FC on July 18 - CFC displayed plenty of energy against the visitors from Columbia, South Carolina, as first-year head coach Peter Fuller's team once again got off to a quick start.
"Certainly everyone expected us when we started to win this championship," Fuller said. "It was almost a competition to get us started. It's one you wanted to make sure you didn't lose. I give the guys a lot of credit because that's a little bit of pressure.
"I would have liked to see us finish more of our chances, but we haven't been working on that. We have been trying to develop a structure that's really solid defensively, and then hopefully build on it. Tonight was the longest we have played well and the way we need to play."
Photo Gallery
Chattanooga FC beats Soda City FC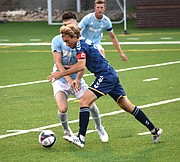 Although the echoes of players' voices could be heard throughout the empty stadium - and CFC players undoubtedly miss the supporters who have in a large way made the team what it is today, with more than 3,000 owning shares of the club - there was no sign of letdown for the hosts.
From midfield, Juan Hernandez started the action by sending a deep pass down the right sideline to wingback Richard Dixon, who patiently dribbled toward the net before passing back to Jose "Zeca"Ferraz, whose shot from 12 yards away was deflected by the Soda City keeper.
Opportunistic center forward Ian McGrath did not give up on the play, though, charging in to hammer the ball into the back of the net in the fifth minute. The former USL Championship player has scored in all four matches this season.
In contrast to last season, CFC has more dangerous options at center forward this year with Brian Bement, McGrath and Zeca all playing well in the tournament.
Fuller's squad once again dictated play in its 3-5-2 system, with his players appearing sharp and well-versed in the new approach. Dangerous chances happened in a flurry, especially over the first 20 minutes as clean passes were put together and CFC attacked with a sense of urgency.
Hernandez, a veteran player, also had the assist in the seventh minute as Bement notched his fourth goal of the tournament, and speedy reserve forward Kaleb Jackson completed the scoring in the 64th minute.
Zeca was turned away in the first half by several outstanding saves, and defender Erick Panzer unleashed a wicked shot from more than 30 yards out that was deflected for a corner kick. Alec McKinley also had a strong first half as the home team held a 13-1 advantage in combined shots and corners.
CFC will open its NISA fall schedule with back-to-back matches in the Detroit area at Michigan Stars FC next Saturday and Detroit City FC on Aug. 15. After that are matches at Finley, against New Amsterdam FC on Aug. 29 and the New York Cosmos on Sept. 12, with hopes of fans being able to attend.
Contact Patrick MacCoon at pmaccoon@timesfreepress.com. Follow him on Twitter @PMacCoon.