Ethan Nunes spent Sunday at the soccer field with his team's bag of balls, practicing his shot.
The extra work for the Baylor School junior provided an early reward as Nunes jump-started a 4-0 road victory over Boyd Buchanan in Tuesday's season opener for both squads.
Nunes opened the scoring for the Red Raiders in the 28th minute as he flashed his game-changing speed to break free down the middle and send a sizzling shot to the upper right corner of the net from just over 20 yards out.
"Ethan has the ability to change speed and direction really well and is crafty on the ball," Baylor coach Curtis Blair said. "He has really worked hard on his game over the summer and in his spare time. He is really driven, and you can see how much better he has gotten from last year. He is very dangerous when he can turn and run at you."
Photo Gallery
Baylor wins over Boyd Buchanan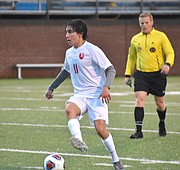 Baylor built a slim lead into a commanding one with a pair of goals a minute apart early in the second half.
Baylor's Riley Shankle began a nice 1-2-3 connection as he passed the ball to Nunes on the left flank and Nunes won his one-on-one matchup and then sent a perfect cross to Kevin Ho to finish at the front center of the net for a 2-0 lead in the 51st minute.
In the 52nd, Nunes sent a corner kick from the left side that Shankle boomed to the top of the net.
"We knew we had to come out strong because Boyd has a good team," Nunes said. "I had to come out and give it my all with my guys to start the season strong. I want to be a leader this season and encourage my guys to play their best at all times and always keep our heads up. Tonight was a great start toward what we hope to build."
Boyd Buchanan had a great look at the back net in the 14th minute as Adrian Oyler cut across the middle to nearly punch in a well-placed set piece from Cam Park.
The Buccaneers had a chance to equalize in the second half off a high shot from Tyson Campbell that was knocked out for a corner kick. Bucs junior Joseph Collins showed off his moves but had his shots denied, too.
Dustin Walker's home team was without offensive standout Seth Highfield in the second half and already was down Mills Wood, who looks to be an integral piece for the team later this season.
"Boyd Buchanan is going to be very dangerous this season, and I expect them to be in the final four when the state tournament comes around," Blair said. "This was a great matchup to try and figure out where we are. We came out on our back heels early, but Ethan provided us some momentum and we put our stamp on the ball in the second half."
Sophomore All-American watch list nominee David Danquah finished the scoring for the Red Raiders as he broke away on the right side after a pass sent in by Porter Stinson in the 75th minute.
Contact Patrick MacCoon at pmaccoon@timesfreepress.com. Follow him on Twitter @PMacCoon.