Dr. Debbie Daniel was attending an American Academy of Family Physicians conference three years ago when she saw her future.
"I wandered into a talk about direct primary care," she says. "It was doctors talking about practicing high-quality, customer-driven medicine with no insurance. The light went on. I thought it was the holy grail."
Daniel, a Chattanooga native who'd been practicing medicine in nearby Dunlap for 25 years, came home from that conference and opened Riverfront Medicine Direct Primary Care. She splits her time between that office and her Dunlap practice, but plans to shift her focus soon to her practice in Chattanooga.
"I love medicine and I love taking care of people," she says. "Direct primary care is the way to do that and love it."
Photo Gallery
Discarding insurance for alternate payment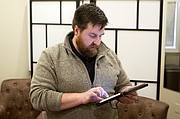 The direct primary care model is an alternative to more traditional fee-for-service insurance coverage. A direct primary care physician typically charges a monthly, quarterly or annual fee that covers clinical and lab services and consultations, among other primary care services.
Daniel's monthly fee is $60. She says she schedules patients in one-hour blocks and tries to be accessible outside business hours.
"This is the way medicine should be," she says.
On its website, the American Academy of Family Physicians states that direct primary care practices often recommend that, because some services are not covered by that fee, patients should also have high-deductible wraparound policies for emergencies.
Dr. Matthew Hitchcock, owner of Hitchcock Family Medicine, says an increasing number of businesses are offering employees a "wraparound" health-care package including both components – a direct primary care membership and a traditional high-deductible insurance plan.
"Less expensive for the employer," he says, "and insurance companies like it because it decreases downstream cost by keeping a lot of stuff out of the ER."
Bekah Bell of Hixson says she prefers seeing Hitchcock to denting the high deductible attached to her family's health insurance.
"I'd rather save that deductible for something like surgery," says Bell, mom to 6-year-old Tristan and 8-year-old Shiloh. "If I have to go to an ER for stitches or with a Lego up a child's nose, I'd have either a copay or out-of-pocket [cost].
"When I come [to Dr. Hitchcock], it's covered by the membership fee," she says.
Hitchcock is a U.S. Navy veteran who drew a bead on direct primary care while doing his residency in San Diego. He says he opened his practice in 2015 and expanded last November, opening a new office on Brainerd Road.
"In just the past year, we've more than doubled our number of patients," says Hitchcock, who added that he's hired four doctors to his practice.
"The hardest part is running the business, but I'm not seeing 30-plus patients a day and taking charts home at night," he says.
"I rarely miss anything at my kids' school. I'm enjoying my practice – and my life. I think you're going to see more and more doctors switching to this type of practice," he says.
Dr. David Redd made that switch in 2017. A solo general surgery practitioner in Chattanooga since 1995, he launched QuikSurg in 2015. Two years later, he left his longtime practice to focus on his new venture.
Redd says QuikSurg resembles a direct primary care practice in that it deals primarily in cash. The difference, he says, is that QuikSurg doesn't do memberships.
"Being a surgical practice, we don't have a lot of return patients," he says.
Redd says he does "about 15 types" of minor surgeries, usually involving the skin and none of which involves general anesthetic. He says the most involved procedure he undertakes is removal of lipomas, fatty tumors that are not cancerous.
"There's a fair amount of overlap with dermatology and some overlap with ER [procedures]," he says.
"I had a guy come here late last year from Phoenix," Redd says. "He found us online and determined that, even with air fare and two hotel nights, he could have his surgery done less expensively here than there."
Redd says he opened QuikSurg after 30 years in a health-care system that left him frustrated.
"I wanted to do something else, but I wasn't ready to turn my brain off," he says. "I thought that if I wanted to open a clinic and do minor surgery, I'd have to address three basic things.
"First, of course, is quality surgical care. Another is to operate with cash, and not get tied up with the middleman. And there's respect for the patient's time – we see 97 percent of our patients within five minutes of the appointment time," he says.
Streamlining Service
In spring 2018, the American Academy of Family Physicians conducted a national survey of direct primary care practices. They found:* Three percent of members were practicing in a direct primary care model, either pure or hybrid.* Eighty percent of direct primary care practices were pure direct primary care, meaning they charge a periodic fee to their customers for a defined set of services, and they do not bill any third-party payer.* Seventy-two percent of DPC practices had been in operation less than three years, and 11 percent had been in operation less than one year. Less than 10 percent of practices had been open four or more years.