The $143.2 million U.S. Highway 27 improvement project is headed for an end-of-the-year finish, but there will be lots of temporary changes and closures coming in the next few weeks to allow crews to attend to the final details.
The final surface is complete on U.S. 27's southbound lanes, and the final surface on the northbound lanes will be completed this coming week, weather permitting, according to Tennessee Department of Transportation spokesperson Jennifer Flynn. The most disruptive recent work over the summer led to a two-month closure of the West Fourth Street ramp, now reopened.
"All traffic is in its final alignment on the mainline of U.S. 27," Flynn said. "Work continues on Fourth Street, Sixth Street and M.L. King Boulevard."
As the project launched in late-2015 wraps up, an ongoing $3,200-per-day liquidated damages assessment is being tallied against Jackson, Tennessee-based contractor Dement Construction Co. LLC for going beyond the adjusted contract completion date of Jan. 28, 2020, according to TDOT. The daily assessments total $1 million so far.
Unforeseen problems in 2018 drove up costs, and those issues and record rain in early 2019 led to the adjusted Jan. 28 completion date, extended from the original date of July 31, 2019.
Then last December, another extension was requested by Dement under its state contract that provides for liquidated damages for any portion of the work that remains incomplete beyond the now-adjusted Jan. 28, 2020, completion date, TDOT said.
Liquidated damages assessed under Dement's contract through Friday total $905,600.
(READ MORE: I-75, I-24 'Split' project slated for summer 2021 finish as new design takes shape)
However, TDOT officials feel Dement has pushed hard to finish.
"Dement has worked very hard to complete the project, and they have accomplished a lot this year," Flynn said Friday. "It's great to see this complex project coming together. Every change they make on the project is an improvement to the corridor and gets us nearer to the final completion."
Dement officials have been aware of the mounting assessment and a consultant contractor, Volkert, has been overseeing and keeping track of the project on the state's behalf, Flynn said.
(READ MORE: Work on $12.6 million 'signature' Ocoee gateway bridge project in Polk County starts this week)
"Also, there are regular project progress meetings with personnel from Dement, Volkert and TDOT," she said. In the end, "the project will definitely improve traffic flow and safety in downtown Chattanooga."
Dement Construction officials declined to comment on Friday.
Photo Gallery
U.S. Highway 27 improvement project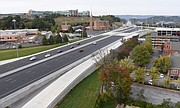 Since Dement's request for an extension in December, there have no other delays, and the contract has remained on track to complete the project by the end of the year, according to TDOT.
"[T]here is a likelihood that once the project is considered by TDOT leadership to be substantially complete, assessment of liquidated damages will stop," Flynn said.
Damages will still be in the neighborhood of $1 million, which TDOT will deduct from Dement's final $143.2 million bill.
Downtown Chattanooga dentist Dr. Frank "Bubba" Trundle Jr. said that he's noticed the project is coming along.
"You know, the mud's starting to clear," Trundle said Friday.
"The afternoons are still a little funky," he said. "They seem to be closing lanes during the day and they're picking up cones at 5 o'clock in the afternoon on the passing lane - coming into town and going out of town - so there's a little back-up due to that, but I think they're working on the lights or the overhead signs that they're putting up."
From his downtown office window, Trundle sees some backups headed out of town that he thinks must be related to the workers.
"But egress is a whole lot better getting on the freeway," Trundle said. "It's a little funky there on M.L. King trying to find the exit."
But he added, "We can see the light in the middle of the tunnel."
He said he was waiting for the barrels lining the roads to perform a vanishing act to make him a believer.
Trundle and other downtown drivers will still have a surprise or two awaiting them in coming days and weeks.
LITTLE KNOWN FACT
The formal name of the four-lane highway that runs through downtown Chattanooga from Interstate 24 to the south end of the Olgiati Bridge is actually "Interstate-124," although it's rarely called that. The Tennessee Department of Transportation says the piece of highway is a spur route but the formal name turned out to be so confusing to people and most officials, it was just easier to use U.S. Highway 27 since that is the through route.
"The contractor will be closing the ramp from I-24 east to U.S. 27 north on Saturday for milling [and] leveling, and again on Tuesday or Wednesday night for surfacing, weather permitting," Flynn said.
"Traffic will be detoured to loop around at the Broad Street exit. After that, there should only be short term closures of ramps during the near future," she said.
As November slips quickly into December, downtown drivers will see overhead sign structures going up, installation of green directional signs, application of texture coating on walls, nighttime grinding and grooving on the northbound lanes, installation of thermoplastic pavement markings and the construction of concrete islands, curbs, and sidewalks at East M.L. King Boulevard.
The downtown project was about to begin in 2015 just as its sibling improvement project north of the Olgiati Bridge was wrapping up. The north project started in December 2011 and wrapped up in early 2015 - all lanes opened to traffic Feb. 14, 2015 - and the final cost was $105.6 million, according to TDOT.
The original construction of the piece of Highway 27 running through downtown dates back to the 1950s and 1960s. Over the past half-century, traffic volume has increased exponentially, and the section's winding design has contributed to crashes and daily backups that helped make the Highway 27/Interstate 24 interchange the worst in Tennessee and one of the nation's worst commercial truck bottlenecks, according to the American Transportation Research Institute.
When memories of all the orange barrels, concrete, heavy equipment and paving work begin to fade in 2021, the real final touches will be put on the downtown project in a plan called the "Gateway to Chattanooga."
"TDOT tentatively plans to let a landscaping project for Fourth Street and M.L.King Boulevard. in late spring of 2021," Flynn said.
That's when the Tennessee Interstate Conservancy, a nonprofit group spearheaded by former Circuit Court Judge Neil Thomas III, will join forces with TDOT, local governments and businesses for a beautification project using native and ornamental plants to landscape a total of 22 acres of the U.S. 27 interchanges at M.L. King and Fourth.
Plans are to plant 1,000 trees of various species, 1,300 daylilies, 1,100 blue iris and several acres of more than 100 species of wildflowers, Judge Neil told the Times Free Press in January.
Contact Ben Benton at bbenton@timesfreepress.com or 423-757-6569. Follow him on Twitter @BenBenton or at www.facebook.com/benbenton1.