CHICKAMAUGA, Ga. - Gordon Lee's marching band performed "My Shot" from the hit Broadway play "Hamilton" during halftime of Friday night's football game against Georgia Military College Prep, and the Trojans made sure not to waste their shot in the GHSA Class A public playoffs.
Gordon Lee showed off its deep and talented offense with a 56-0 win in the program's first home playoff game in 13 years. Cade Peterson ran for 106 yards and three scores, and Bo Rhudy added 112 rushing yards and two touchdowns in a dominating performance in which five Trojans scored touchdowns.
"The depth has been the biggest thing all year long," Gordon Lee coach Josh Groce said. "At every position, we're two or three deep, and two or three deep with good ballplayers. At any point in time, we can rotate kids in, and that's kept us healthy for the majority of the season. And that helps."
Region 6 runner-up Gordon Lee (10-1) ended the Bulldogs' season at 6-5 and advanced to a second-round matchup next week in northeast Georgia at Region 8 champion Commerce (10-1), a 52-20 winner Friday night against Manchester.
The Trojans' first score came on a broken play after starting center Garrett Morton was knocked out of the game by an injury. Blake Groce took an awkward snap from Morton's replacement but found room to run for a 52-yard touchdown less than two minutes into the game.
"It wasn't actually a called play," the Gordon Lee quarterback said. "A new center had to come in, and the timing was just a little different. So that kind of messed up the play, but I just went with it. But (my blockers) did a great job opening up a hole when that happened. I couldn't have done it without them."
After forcing a quick punt by the visitors from Milledgeville, Gordon Lee went on nine-play touchdown drive finished by a 3-yard run by Peterson. On the Bulldogs' ensuing possession, Nate Dunfee returned an interception for a score, and Brody Cobb scored on a 3-yard run to put the Trojans up 28-0 after one quarter.
Photo Gallery
Gordon Lee vs. GMC Prep football on Nov. 27, 2020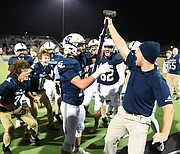 Rhudy scored on runs of 3 and 57 yards, and Peterson added a second 3-yard score followed by a 10-yard touchdown run in the second half.
"This is a first-round playoff game, and we wanted to come out here and dominate, and that's what we did," Peterson said. "It's been a long time since we've been (in the playoffs), and I think a lot of people have been doubting us. We just wanted to show everyone that we're here."
In the final quarter, Coach Groce was able to go to backups as the game wound down, saving many of his starters for what he hopes is a deep postseason run.
"The biggest thing is that we've stayed healthy," he said. "At this time of year, especially for a single-A program, that's usually a big thing. Usually, you've got a bunch of kids playing both sides of the football, and at this time of the year they're wore down and their bodies are beat up.
"But we're just now hitting our stride at this point."
Contact Jim Tanner at sports@timesfreepress.com.