KNOXVILLE - If the Tennessee Volunteers are to ascend to a Southeastern Conference Eastern Division championship, a perch they haven't occupied since 2007, they must be able to hold their own against the likes of Florida and Georgia.
They also must kick other East challengers to the curb.
Tennessee opened its five-game Neyland Stadium schedule Saturday afternoon under gorgeous skies by throttling Missouri 35-12. The Vols entered the game only 3-5 against the Tigers since Mizzou joined the SEC in 2012, but Tennessee overwhelmed its guests from the start by controlling the trenches on both sides of the ball before an announced crowd of just 21,159 due to coronavirus guidelines.
"We talked as a 2019 class about getting Tennessee back to the top," sophomore running back Eric Gray said, "and to get Tennessee back to the top, you've got to dominate these - not the smaller games, but the games you don't really focus on. You've got to dominate these type of games to make a statement."
Gray rushed 16 times for 105 yards and a touchdown, while Ty Chandler carried 19 times for 90 yards and a score as the No. 21 Vols improved to 2-0 and clinched just their second 2-0 league start in 13 seasons. Tennessee posted a 232-126 advantage in rushing yards, which more than complemented another solid showing by fifth-year senior quarterback Jarrett Guarantano, who completed 14 of 23 passes for 190 yards and a touchdown.
Tennessee extended its winning streak to eight games dating back to last October and has yet to commit a turnover this season in eight quarters of action.
"I'm really excited about our team effort and how they continue to persevere during this difficult time," third-year coach Jeremy Pruitt said after improving his record with the Vols to 15-12. "We ran the ball 51 times. We wanted to establish the running game, and I felt like we did that."
Photo Gallery
Missouri at Tennessee football on Oct. 3, 2020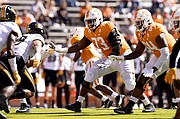 The Tigers, who opened with a 38-19 home loss to Alabama, were playing their second game under coach Eli Drinkwitz.
The Vols opened their season with a 31-27 win at South Carolina and will play a third consecutive East foe next Saturday when they travel to No. 4 Georgia. The Bulldogs have won the past three series meetings against Tennessee by more than 25 points.
When asked if his team was ready for a challenge like facing the Bulldogs in Sanford Stadium, Pruitt said, "Absolutely. The last two years we've played them, they've had a really good football team, and I'm sure they'll have a really good one this year. They've got good players and good coaches, but we do, too."
Tennessee opened Saturday's contest with a 14-play, 75-yard touchdown drive that involved two successful Guarantano sneaks on fourth-and-1 situations. The first fourth down occurred on the 34-yard line of the Vols, which Guarantano converted with a 3-yard gain, while the second one transpired on the Mizzou 4 and preceded Chandler's 3-yard touchdown run.
The Vols held a 137-13 advantage in total yards through two possessions for each team, but the score remained 7-0 when Tennessee's second drive ended with Brent Cimaglia missing left on a field-goal attempt of 39 yards.
A 20-yard touchdown run by Gray 16 seconds into the second quarter extended Tennessee's lead to 14-0. The total yardage discrepancy at that point was 187-13.
"Our start to the game was huge," Tennessee sophomore linebacker Henry To'o To'o said. "We try to keep momentum going and keep our foot on the gas, and we try to not let up. It was huge for use to get that going and keep that going."
Missouri temporarily grabbed some momentum with a pair of Harrison Mevis field goals that pulled the Tigers within 14-6, but the Vols darted 75 yards in eight plays and stretched their lead to 21-6 on a 13-yard pass from Guarantano to Gray with 44 seconds before halftime. Tennessee compiled 283 first-half yards, with Chandler and Gray combining for 19 rushes for 122 yards (6.4 per carry) and the two touchdowns.
Tennessee drained whatever drama remained in the game with its first possession of the third quarter, driving 92 yards in 16 plays and consuming six minutes and 29 seconds. A 22-yard Gray run to the 2 was followed by a Guarantano sneak that made it 28-6 at the 6:27 mark.
"I think we improved significantly from last week," Guarantano said. "There were some things last week where we weren't on the same page."
Contact David Paschall at dpaschall@timesfreepress.com or 423-757-6524. Follow him on Twitter @DavidSPaschall.