Chattanooga's electricity prices average about 10% less than the national average, but in spite of the cheaper power costs - or perhaps in part because of them - many area households and businesses have above-average bills because they were were constructed without much regard for energy efficiency.
"We have lower electric prices but a higher energy burden, especially in many low-income neighborhoods," says Michael Walton, executive director for green|spaces, a Chattanooga nonprofit organization that works to promote more energy-efficient houses and commercial buildings. "There is a tremendous opportunity in many homes and businesses to improve energy efficiency and the use of more sustainable energy to achieve both cost savings and improvements to our environment."
Walton says Chattanooga houses built in the 1940s or earlier lacked almost any type of energy efficiency requirement in the building code. Prior to widespread air conditioning being installed in most houses, and with the Tennessee Valley Authority's relatively cheap energy, electricity bills remained reasonable even in poorly insulated houses. But as air conditioning became more common and TVA rates steadily rose over most of the past four decades, electric bills grew faster than incomes in many households.
(READ MORE: EPB energy pros help Chattanooga homeowners; contest to award $2,500 for efficiency measures)
In response to the changing economic and environmental concerns over building energy efficiency, a growing number of residents and businesses are upgrading the efficiency of existing buildings or erecting new homes and commercial businesses designed to limit energy use and add renewable generation from solar panels, windmills and batteries.
Photo Gallery
Green business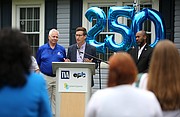 Improving fiscal and physical health
TVA and local power companies like EPB are offering help for energy efficiency with both free energy audits for any home or business as well as targeted grant programs in some low-income neighborhoods.
But with abundant energy generation supplies for what is projected to be a stagnant or even potentially declining market for electricity in the Tennessee Valley, TVA has limited some of the previous incentive programs it once provided for energy efficiency. TVA and the states where it operates offer less assistance and fewer tax breaks for energy efficiency and renewable energy than most utilities. In an analysis of the nation's 52 largest electric utilities, the American Council for an Energy Efficient Economy (ACEEE) determined that the average annual efficiency savings for major utilities in 2018 were 1.03%, 50 times higher than in the TVA service territory.
However, TVA does provide technical assessments and assistance for energy efficiency, and offers grants in some low-income neighborhoods where homeowners are unlikely to be able to afford to make the recommended efficiency upgrades. The Home Energy Uplift program, which EPB helped pilot for TVA, also provides direct aid to finance energy efficiency improvements in low-income neighborhoods. Since its start in 2015, EPB has completed nearly 400 home energy renovations that have improved energy consumption by an average of 26%, or nearly $500 a year.
"Home Uplift invests in energy efficiency measures in qualifying homes," says Elizabeth Hammitt, director of environmental stewardship and community at EPB. "The goals are decreasing energy usage, increasing quality of life and comfort, and stewarding resources for our environment."
A $750,000 grant from the Tennessee Department of Environment and Conservation and $825,000 from TVA, combined with staff and funding support from EPB, will help provide additional Home Energy Uplift assistance in 2021 for everything from air and duct seals and insulation to LED light bulbs and new energy-efficient heat pumps and appliances.
Businesses embrace renewables
TVA is not only targeting energy inefficient, low-income households for more efficient, greener power. One of the world's biggest companies, Facebook, is using TVA's Green Invest program to supply all of its data centers and other facilities in the Tennessee Valley with renewable energy generated by solar farms.
Facebook is committed to supporting its operations with 100% renewable energy starting in 2020. Since 2018, Facebook has announced purchases of 597-megawatts of power generated by multiple solar farms linked into the TVA electric grid in Alabama, Tennessee and Mississippi.
"Partnering with TVA on the Green Invest program has made it possible for our operations in the Tennessee Valley to be supported by new solar energy constructed in the region," says Urvi Parekh, head of Renewable Energy at Facebook.
Such programs, also been used by General Motors, Amazon and Vanderbilt University, have helped TVA increase its contracted solar capacity by 60% since October 2020.
Building net zero homes
An equally ambitious goal was set five years ago by green|spaces when it developed a program designed to build new homes that require little or no electricity. The NextGen homes that were built along Hamilton Avenue in North Chattanooga are built with energy efficient designs and heating and cooling systems, along with solar panels on their roofs.
Walter Mahla, the managing partner for Megawatt Energy Solutions LLC in Rhode Island, bought one of the five houses in Chattanooga in 2018 to help support the net-zero building concept and as a possible retirement home.
Mahla's plans changed and he now rents out the unit. He concedes that the house hasn't been totally off the grid since it still uses electricity, especially during extremely cold or hot days. But the power bills are only a fraction of a normal house and Mahla says that makes the house more attractive and valuable for both renters and ultimately if he sells the house.
"The house is all electric and close to net zero in the summer," Mahla says. "It's definitely a low-cost house to run, but the solar gain is not quite enough to offset all of our energy usage. The low energy use for this house and the solar panels are definitely a marketing tool for our Airbnb rental business. A growing share of people want to live or even stay in energy efficient homes."
Green|light certified businesses
Compass Commissioning and Design, EPB, REV Centre for Optimal Living, AEED, Chambliss, Chattanooga Zoo, Crash Pad, Flying Squirrel, Crown Subaru, Lupi's Pizza, Office Furniture Warehouse, Real Estate Partners, River City Company, Ruby Falls, Sportsbarn, Strand Salon, University of Tennessee Chattanooga, Whiteboard, SPOT Venue, Bridge Financial Planning, The Mad Priest, Kyle House Fitness, Yoga Landing, Hunter Museum, Green's Design & Supply, Creative Discovery Museum, Bees on a Bicycle
Giving the green light
For commercial buildings, the U.S. Green Building Council has certified 110 buildings in Chattanooga as LEED (Leadership in Energy and Environmental Design) certified over the past two decades, including seven that have earned the top platinum certification for energy efficiency and sustainable energy use.
To help smaller businesses become more environmentally responsible in their business practices, green|spaces also created the green|light certification program in 2013.
Attorney Sam Gowin, whose firm became the 28th business to gain the green|light certification in February, says "a lot of these stewardship issues are over my head and kind of overwhelming." As an attorney who works with nonprofit groups and many small businesses, Gowin says he knows that "faithfulness in making a small, honest effort is often rewarded in bigger ways."
Some of the changes Gowin's firm implemented included creating an employee wellness program by covering a portion of gym and other health memberships, switching from bottled water to a filter system, restructuring how they think about employee travel and resulting carbon emissions, implementing recycling and switching to support local products.
"Many people think that just because they have a smaller business or don't own their building that they're unable to make impactful changes," says green|light Director Kelley Cureton. "That's simply not true."
New way to build
While many are looking at ways to improve existing building structures and operations, others in Chattanooga are looking to construct buildings in all new ways with different materials and assembly.
Perhaps the most dramatic changes by a Chattanooga business are coming from Branch Technology, which prints building materials on 3D printers to allow for more unique and flexible designs and eliminates most building material wastes.
"We print only what is needed," says Platt Boyd, the architect who helped start Branch Technology in 2014.
Among Branch Technology's projects is the newest branch of the Tennessee Valley Federal Credit Union (TVFCU) on the Southside that includes an undulating facade printed to resemble the wave logo of TVFCU. The 3D printing approach to the new credit union branch virtually eliminates building waste and allows the building to boost the insulation and improve overall efficiency.
"Facades are our future," Boyd says, noting the company is working on more than a half dozen projects at any one time including an exterior for a new parking garage in Huntsville, Alabama.
"Most of those using the 3D print technology for building are focusing on the residential side, but we pivoted away from that and we're now focusing on commercial building. We can build more efficiently and in a way that provides more design flexibility and the capability of being more energy efficient."
READ MORE
* From tires to trucking, transportation businesses clean up
* Making change: Chattanooga small businesses make giving back a big focus
* Bright futures: STEP-UP helps diverse students earn career success