For more BlueCross Bowl coverage from the Times Free Press, read more here.
The ninth and final game of this year's BlueCross Bowl football state championship event at Finley Stadium showcased arguably the best matchup of the three-day event.
In the week's only game featuring two unbeaten teams - and the only pairing of teams that won TSSAA state titles in 2020 - Murfreesboro Oakland's offense flexed its muscle in a 43-26 win over Summit for the Class 6A title Saturday night.
In earning its 30th consecutive win, third championship in four seasons and sixth in program history, Oakland (15-0) rolled up 508 yards of total offense. Jordan James, a Tennessee Titans Mr. Football finalist who is committed to Georgia, was named the game's MVP after rushing for 232 yards and two touchdowns.
"He's a tough kid," said Patriots coach Kevin Creasy, whose team also defeated Division II-AA champion Lipscomb Academy and 1A champ South Pittsburg in the regular season. "He came in with a little toe injury that we were worried about, but we shouldn't have worried. He ran hard, and our line did a heck of a job blocking."
Photo Gallery
Class 6A BlueCross Bowl: Oakland vs. Summit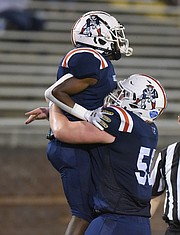 Summit (14-1), which moved up in classification after winning last year's 5A title and had a 25-game winning streak snapped Saturday, had trailed for less than six minutes of game time all season. However, the Spartans simply could not stop the Oakland offense as the Patriots punted only once in their eight possessions.
After Summit cut its deficit to eight points with 10:03 remaining, Oakland set out on a 12-play, 73-yard touchdown drive, capped by Antonio Patterson's 5-yard run, that took six minutes off the clock.
Patterson finished with 107 rushing yards, while Summit was led by Destin Wade's 302 total yards (165 rushing) and three total touchdowns.
The Patriots began putting distance between themselves and the Spartans with a 66-yard scoring drive that pushed their lead to 28-12 just before halftime. That series was capped by Kade Hewitt's 14-yard strike to a diving Khalil James and put the Spartans in a position where they needed multiple defensive stops, which they could not force.
Contact Stephen Hargis at shargis@timesfreepress.com or 423-757-6293. Follow him on Twitter @StephenHargis.