It may have ended as a record-setting performance, but it certainly didn't start that way for Cole McCormick.
The Notre Dame High School sophomore sharpshooter set a Best of Preps Tournament record with 10 3-pointers en route to a game-high 34 points in Monday's 60-43 opening-round win over Signal Mountain. The 10 treys, which came in succession, followed an opening shot that clanged off the backboard at East Hamilton High School.
Needless to say, the off start didn't deter McCormick.
"Yeah, that was a warmup shot," McCormick said with a wry smile. "I put one in, hit another and when I do that I kind of get going. You've got to keep shooting and for some reason they kept leaving me open and you have to make the open ones."
The Irish (11-4) will play at 5:30 Tuesday in the semifinals against McCallie (13-1) which made 13 3-pointers to take down Ooltewah 74-38. Tuesday's other boys' semifinal will feature Tyner (10-4) against rival Howard (9-0) at 8:30. Tyner defeated Silverdale Baptist 65-59, while Howard claimed a 65-64 win over Red Bank on a buzzer-beating runner in the lane by senior Jaylein Sexton.
The score was tied at four when McCormick nailed his first bomb, then proceeded to hit three more in the opening quarter before finishing off a 16-point period with a layup as Notre Dame roared out to a 20-4 lead after one. He started the next period with another trey to end a 19-0 Irish run.
A 15-point halftime lead grew to 24 quickly to start the third period as D.J Brown hit a 3-pointer and McCormick followed with two more. McCormick would hit two more in the quarter before sitting out the final eight minutes with the rest of the Notre Dame starters.
(READ MORE: Final scores and photos from Monday's Best of Preps basketball tournament)
"I don't care about setting records. I'm just trying to win the tournament," McCormick said when informed of his tournament record. "We need a win in this tournament. We haven't won a lot of tournament titles over the years, so it's our time. There are some really good teams in this tournament, so I know it will be a challenge."
> Howard 65, Red Bank 64: Sexton, a senior left-handed guard, drove the left baseline to make the game-winning floater with less than 10 seconds left. He finished with 23 points while Jaylen Taylor had 17 points and four 3-pointers for Howard. Nick Smith led Red Bank with 18 points while Kendrick Lloyd was strong on the offensive glass and scored all nine points in the second half for the Lions (9-2).
> McCallie 74, Ooltewah 38: The Blue Tornado showcased their wide array of shooters as David Conrady's bunch made 13 3-pointers. Sophomore point guard Parker Robison made five 3s and scored a game-high 20 points. Wilson Rankin made four 3-pointers in the first half, while Milos Stijepovic had 15 points and a trio of 3s. Collin Klaridy was sharp as well with 11 points in the victory. Ooltewah's Deleon Petty scored 18 points.
Photo Gallery
McCallie boys vs. Ooltewah on Dec. 27, 2021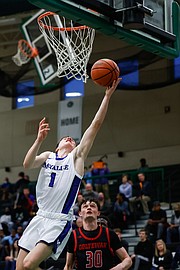 Other boys' games
> East Hamilton 56, Tabernacle Baptist (Bahamas) 53: The Hurricanes landed a big win in the prestigous Arby's Tournament. Sophomore point guard Ashton Munson led the way for Andy Webb's squad with 19 points while senior 6-foot-9 standout Cade Pendleton finished with 13 points and 12 rebounds in the victory. East Hamilton (7-6) will play Tampa Catholic at 8:30 p.m. Tuesday.
> Arts & Sciences 66, Franklin County (Fla.) 61: The Patriots leaned on big man Louis Bell who had 19 points while four others scored at least eight points in the Mosley Holiday Hoops Fest in Panama City Beach. Jarius Cameron also added 10 for CSAS (12-2).
> Clarksville 73, Van Buren 64: The Eagles scored 30 points in the fourth quarter, but could not complete the comeback. Adam Simmons led Van Buren with 12 points, while Clarksville was led by Jac Wyatt who had 18.
Best of Preps basketball tournament at East Hamilton
Monday results
Girls' scores
East Hamilton 49, Boyd Buchanan 42
Lakeview-Fort Oglethorpe 90, Silverdale Baptist 42
Meigs County 53, Notre Dame 43
Signal Mountain 36, Rhea County 28
Boys' scores
Notre Dame 60, Signal Mountain 43
McCallie 74, Ooltewah 38
Tyner 65, Silverdale Baptist 59
Howard 65, Red Bank 64
Tuesday's schedule
Boyd Buchanan girls vs. Silverdale Baptist, 10
Signal Mountain vs. Ooltewah, 11:30
Notre Dame girls vs. Rhea County, 1
Silverdale Baptist vs. Red Bank/Howard, 2:30
East Hamilton girls vs. Lakeview-FO, 4
Notre Dame vs. McCallie, 5:30
Meigs County girls vs. Signal Mountain, 7
Tyner vs. Howard, 8:30