Driving the right side of the lane, Tyner guard Xavier Fisher stretched out his right arm with the ball, releasing it before being knocked to the floor.
The senior pumped his fist after the shot kissed off the glass and went through the net, part of a third-quarter run in which he scored 10 points to help the Rams to a 65-59 win over Silverdale Baptist in Monday's opening round of the Best of Preps tournament at East Hamilton.
After playing a pivotal role on Howard's Class AA state tournament run last year, Fisher has been a driving force for E'Jay Ward's Tyner team since transferring this season.
"Xavier has a lot left in the tank," said Ward, who picked up his 92nd win in what is his fifth year as head coach. "He played in Mufreesboro last year and is a floor general. The first part of this season he has gotten a lot of guys involved and has been a big key to success for his teammates like Tookie (Nehemiah Bloodsaw) and Rodney Henderson. He's feeding them and doing all the small things. We are going to look for him to lead us this second-half stretch."
A motivated Bloodsaw helped steal the show early as the explosive playmaker provided a one-handed slam dunk on a fast break assisted by Fisher. Bloodsaw also threw down a two-handed dunk to help build a 15-point lead in the first half. The 6-foot-3 guard finished with 19 of his game-high 21 points coming in the first half.
(READ MORE: Final scores and photos from Monday's Best of Preps basketball tournament)
Photo Gallery
Tyner boys vs. Silverdale Baptist on Dec. 27, 2021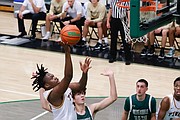 Tyner's Keelan Jackson also had a rim-rattling slam dunk off a steal to energize the crowd in the first half.
"The Best of Preps means a lot to us," said Ward, whose team improved to 11-4. "We didn't have this tournament last year, so to have it back means a lot. There's a lot of good schools here. We are all excited to show Chattanooga what we've got. This is like a state tournament, playing three games in a row. We want to take advantage of this."
Silverdale Baptist (7-7) fought back into the game, holding Tyner without a basket from the 6:25 mark until 1:02 remained in the fourth quarter. Sophomore guard Brett Wright showcased his scoring burst by getting to the basket for 20 points, while Sam Bambrey finished with 13 points and three 3-pointers to keep the Seahawks within striking distance. Caiden Botts also played with high-energy throughout for Slater Belew's team.
However, Rodney Henderson helped put the game away in the final minute with a driving layup and bounce pass through traffic to Bloodsaw.
Josh Jackson also showed his scoring ability with nine fourth quarter points for the Rams who receivd strong play in the paint from Anthony Sims.
"Our guys played with a lot of energy and were motivated," Ward said. "Our senior leaders Xavier and Anthony lead the way and our other guys follow them."
Contact Patrick MacCoon at pmaccoon@timesfreepress.com. Follow him on Twitter @PMacCoon.
Best of Preps basketball tournament at East Hamilton
Monday results
Girls' scores
East Hamilton 49, Boyd Buchanan 42
Lakeview-Fort Oglethorpe 90, Silverdale Baptist 42
Meigs County 53, Notre Dame 43
Signal Mountain 36, Rhea County 28
Boys' scores
Notre Dame 60, Signal Mountain 43
McCallie 74, Ooltewah 38
Tyner 65, Silverdale Baptist 59
Howard 65, Red Bank 64
Tuesday's schedule
Boyd Buchanan girls vs. Silverdale Baptist, 10
Signal Mountain vs. Ooltewah, 11:30
Notre Dame girls vs. Rhea County, 1
Silverdale Baptist vs. Red Bank/Howard, 2:30
East Hamilton girls vs. Lakeview-FO, 4
Notre Dame vs. McCallie, 5:30
Meigs County girls vs. Signal Mountain, 7
Tyner vs. Howard, 8:30