As of today, it's been a year since COVID-19 was confirmed in the Chattanooga region, a year measured out not just in days and weeks and months, but in cases counted, jobs lost, lives cut short, social distance imposed and, eventually, vaccines distributed.
Through it all, Christine Mulligan, a teacher with Dalton Public Schools, learned an important lesson.
"To me, it brought out how important we all are to each other," she said.
Mulligan recently got a notification on Facebook reminding her about a post she made a year ago. Her son Alex, 15 and in eighth grade, had been told that his school would close for two weeks.
After the two weeks were up, Mulligan would be on spring break and after that, things would be back to normal.
"We thought it was so short term," Mulligan said.
Photo Gallery
Living in a pandemic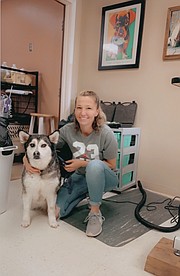 Two weeks turned into a month. A month turned into a semester. Then, she said, we all know what happened next. Or didn't happen.
"This time last year I remember ordering masks," Mulligan said. "They were on back order, and it said they wouldn't be in until July. I remember thinking, 'Well that's crazy. I won't even need them by then.' It's those moments of not even realizing what a big impact this would have on us and how long it would last."
Mulligan's mother was in a nursing home in North Carolina for years, and COVID-19 shut out visitors completely. Her father would visit twice a day. A year ago, visitation stopped and a month later Mulligan's mother tested positive. Thankfully she was asymptomatic, but Mulligan insists that the lack of human interaction and being away from her husband for that long took a significant toll on her health.
"My mom passed away in December," Mulligan said. "I really believe not being able to visit or not having any family members there contributed to her decline. They took really good care of her, but that nine to 10 months of not seeing anyone, I really see it as such a wasted time."
It's a double-edged sword, Mulligan said, having the elderly stuck in assisted living facilities during the pandemic to keep them safe but cutting them off from something they need to survive.
"There just wasn't a good solution," she said. "I understand why they closed, but it's hard to think about her being alone all that time. Was it worth it? I don't know."
Adjusting to learning at home was also a struggle for Mulligan and her son Alex, who attends Georgia School for the Deaf. At-home learning isn't exactly tailored to students who are deaf, so Alex struggled early on. Mulligan said that juggling her own classes and keeping her son on top of things drained the family.
"I felt like we were working all day," she said. "It might be 10 o'clock at night and we'd be doing a math lesson. It felt like we were working non-stop. It was tough."
The isolation for Alex was also a struggle for him and his classmates. Luckily, because it's a small school with a controlled environment, students were able to go back to school in August five days a week with health and safety guidelines in place.
Looking back at the year that was, Mulligan said she realizes now how much people need connection with their friends and family.
"I think about that time that I really missed with my mom," she said. "How important those relationships are. Even my son, who's kind of a homebody, he needs that connection with his peers and teachers, he was really missing that."
There are so many things we missed that people can't get back, time being one of them, Mulligan said. Looking ahead to the summer and the years after, Mulligan is looking forward to doing simple things like even considering a vacation or signing Alex up for karate class.
"Things you used to take for granted," she said. "Taking a trip and looking forward to doing things like normal."
***
Melody Church has been a small business owner since 2007. Her store, A Fern & A Feather, had been a fixture in downtown Ringgold for over a decade.
In the fall of 2019, Church suddenly decided to retire. However, after watching a particular TV show that many later discovered months later during quarantine, Church decided to re-brand.
The show was "Schitt's Creek." In it, Dan Levy's character, David Rose, opens up a small general store called Rose Apothecary, and when he's trying to get funding from someone in town, he describes the store as a "general store but not a general store."
"That scene kind of steered me in this direction," Church said. "To the point that even though I am not an apothecary, I put it on the store front, just because of Schitt's Creek."
That decision was made in October of 2019. Months of planning, remodeling and organizing led to a grand re-opening on March 14.
"We had a fabulous grand opening," Church said. "People shoulder to shoulder. That was on a Saturday, and we closed Monday. So that's how it started."
Church's story is not unheard of, even in Northwest Georgia. Hundreds of businesses had started in the early months of 2020 with bright futures and bigger goals.
Like most people, Church thought her business would be shut down for a few weeks before returning back to normal life. Instead, months went by, and she was able to partially open the store in June. She had to adapt to the new way of life by starting an online shop and pushing hard on social media to keep the business afloat.
Church said it was difficult staying on top of all the different orders coming from the governor's office that seemed to be changing on an hourly basis. Finding the resources to get factual information was a daily battle.
"We were really flying by the seat of our pants and hoping we were doing the right thing," she said.
As the state started to open back up, Church said another challenge was dealing with customers on a wide spectrum when it came to following health and safety guidelines.
"A lot of them weren't interested in wearing a mask or following any of the guidelines, and then with others, you would have the opposite," she said. "We didn't know from person to person who was coming in and how they would handle this."
Even a year after her grand opening, Church still hasn't had that moment where she feels like things are secure.
"You feel like every day has to pay for itself," she said. "There's not a comfort zone yet. It's better, you feel more positive, but if you think in terms of the details that go into it, I don't really think that moment has come yet."
***
Karen Romans has been in the pet grooming business for 12 years. Early in 2020, she decided to go out on a limb and take over her own pet grooming business in Fort Oglethorpe after the original owner moved to California.
"I took over the business literally the day Georgia shut down for two weeks," Romans said. "This was brand new right in the midst of COVID."
Like so many things at that time in the pandemic, people couldn't justify spending money to groom their pets. Romans understood that, as people she knew were losing their jobs. She took a leap of faith in becoming her own boss for the first time in her career, and it ended up being the worst possible time to do so.
"It died down so bad," Romans said. "We're just now getting to the point where the shop is making money. Keeping it open has been my own money, 100 percent. I still haven't made a profit yet."
A year into the pandemic, Romans said it's still difficult not being able to see as many of her customers face-to-face.
"There isn't that one-on-one reaction like there used to be in the past," she said. "[Before] you get to know your customers by sitting with them, talking and catching up, but you don't get to do that because you have to kind of stay away from each other."
In the last year, several of Romans' customers tested positive for COVID-19. She knows of some that died because of the virus.
"You never really know what tomorrow brings," she said. "One thing I took away from this is to be grateful for what you have and who you have around you."
Romans is finally starting to see the light at the end of the tunnel. Several of her customers have received the vaccine, and business has picked up since the vaccines were shipped to Georgia.
***
Three years ago, Stephen Sweet of Ringgold landed his dream job. He had always been interested in the film business, but it wasn't until he got a job working with Atlanta Movie Tours that he knew he was in the right industry.
"I loved that job," Sweet said.
Atlanta Movie Tours held on for as long as it could during the pandemic but closed up shop in August for good.
"I was depressed over it for months," Sweet said. "That was my family. That was my dream job. I never thought in a million years that it would close for good. But they couldn't sustain without having money for the building, the vehicles we had, all the money just dried up."
Sweet worked seven days a week: four down in Atlanta giving tours to fans of movie and television sets and three at a Hampton Inn in Ringgold. He still works the hotel job but in the early days of the pandemic, he admitted there were some dark days.
'To be honest, there for a while, I was really down in the dumps," he said. "The months in between were depressing. You miss that job that you love."
Sweet said a lesson he learned throughout was to not take something you love for granted.
"I really, really regretted that I didn't enjoy every moment of that job that I could have," he said. "I never thought it would close. I thought I would do that job until the day I died and would have been perfectly happy with that. It's hard to explain."
On the bright side, Sweet has been able to spend more time with his soon-to-be 3-year-old son and his family.
A month after Atlanta Movie Tours shut down, Sweet and a few of his co-workers from the old company (with some help from his wife) started their own touring business on a smaller scale. Water Tower Tours started some time in the fall with walking tours where guests were required to wear masks. Soon after the group got some golf carts and held tours that way.
Sweet said it's been great to have that same type of gig again, even if it's a smaller scale. He's still holding out hope for the whole gang to get back together as the state and country open back up. Even during his time at the hotel he's noticed tourism start to pick back up again.
"I don't know what the future holds, but I've still got my fingers crossed," he said.
For once in what feels like a very long time, there seems a way out of this. The vaccines work. Cases and deaths are dropping. The positivity rate is low.
"Normal" life might not need a "new" in front of it anymore.
Contact Patrick Filbin at [email protected] or 423-757-6476. Follow him on Twitter @PatrickFilbin.