McCallie senior John Kohl McAdams made the play of the night with an interception in the final minute to help the Blue Tornado hold on for a 28-20 win over Baylor in a major rivalry game and a key Division II-AAA showdown Friday night at home.
The win is top-ranked McCallie's sixth straight over No. 5 Baylor and keeps the two-time reigning state champion undefeated at 6-0 and atop the East/Middle Region standings at 3-0 heading into the home stretch of the regular season.
McCallie's offense was led by William Riddle, who was 19-for-28 passing for 255 yards and three touchdown. His passes to Xavier Gaillardetz and Emile Bellerose gave the Blue Tornado a 13-0 lead at halftime, and third-quarter touchdowns on a 1-yard run by Damian Scott and a 3-yard reception by Bellerose had McCallie up 28-7 heading into the fourth.
But like any game between these two archrivals, neither was ready to quit.
Highlights from tonight as top-ranked McCallie extends its consecutive win streak over rival Baylor to six with a 28-20 win. #bestofpreps pic.twitter.com/6k87BvXqdD

— Stephen Hargis (@StephenHargis) October 2, 2021
(READ MORE: Final scores and photos from Friday night's Chattanooga-area high school football games)
"I think we will look at the tape and say we should have been further ahead in the first half," McCallie coach Ralph Potter said after the game. "Then in the second half we made some mistakes in the passing game and had some pass interference calls that gave them new life."
Baylor (5-2, 1-2) scored twice in the fourth quarter, on passes of 31 and 94 yards from Cooper Wick to Amari Jefferson, to make it a one-possession game.
The Blue Tornado then drove down the field with some tough runs by Aaron Crowder, but the series stalled inside the Baylor 20 and the Red Raiders took over on downs with less than a minute left and a chance to tie. But on Baylor's first play of the possession, McAdams cut underneath the route to pick off Wick's pass when his team needed it most, allowing Riddle to take a knee and run out the clock to the cheers of the fans in blue and an impressive fireworks show to celebrate the win.
Photo Gallery
Baylor at McCallie on Oct. 1, 2021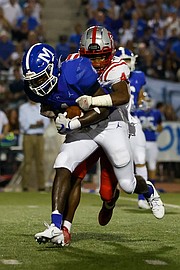 (READ MORE: McCallie School releases 'hype video' ahead of Baylor vs. McCallie football game)
"I'm a senior, and I've been working for this for four years," he said. "I love football and love this team, and there's not a greater group of guys to do this for. So I knew that if it came down to me, I was going to make the plays that mattered."
Wick had a strong night for Baylor, completing 14 passes for 298 yards and three touchdowns, but interceptions by Ollie Carter in the first quarter and McAdams at the end of the game doomed the Red Raiders' chances in key moments.
"On that last interception, we had to make a little adjustment," Potter said. "They didn't expect John Kohl to be out on that guy, and John did a great job of jamming that guy and sticking with him and then picking him from underneath. That was just a great play."
Baylor coach Phillip Massey said the Red Raiders still have a lot to play for as the postseason approaches.
Cooper Wick connects with Amari Jefferson on a 31-yard score for Baylor, cutting McCallie's lead to 28-13 with 9:37 remaining #bestofpreps pic.twitter.com/gt5ePOGMdG

— Stephen Hargis (@StephenHargis) October 2, 2021
"I was very proud of the effort they showed in the second half," he said. "I think that's the character of a championship team. I think it's just a process, and this one game doesn't define us. I think our guys really came together in the second half, and hopefully we can use that to propel us for the remainder of the season."
As usual, McCallie's defensive front was outstanding, holding Baylor to 43 rushing yards. But Friday was a night for the Blue Tornado to be the heroes, and they came up big when it mattered most.
"We made some bad plays as a secondary, but all of us in the secondary have a lot of heart and work really hard," McAdams said. "We kind of have a chip on our shoulder because people always say they can't run on us, but we don't think they can pass on us either."
Contact Jim Tanner at sports@timesfreepress.com.
Final: McCallie 28, Baylor 20 #bestofpreps pic.twitter.com/qlZXI0ztmj

— Stephen Hargis (@StephenHargis) October 2, 2021