A home-grown Chattanooga restaurant that closed at the start of the year due to the coronavirus will reopen on Wednesday with a new owner having one eye on the past and another on the future.
"It's a great match for the skill sets we have in marketing and in culinary," said Susan Harris, president and chief executive of owner See Rock City Inc.
Good Dog, located at 34 Frazier Ave. on the North Shore, will open for lunchtime hours of 11 a.m. to 3 p.m. five days a week initially, said Doug Chapin, the company's director of specialty operations.
"As we get staffed up and make sure we're setting reasonable expectations for our team, later on we'll move into dinner," he said about the eatery that will open Wednesdays through Sundays.
Photo Gallery
Good Dog reopening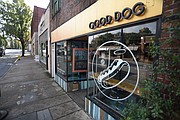 Susan Wybenga opened the eatery 13 years ago. It was based on her childhood family travels highlighting historical sites and a variety of hot dog shops.
Chapin said that when patrons visit Good Dog, which will employ 12 workers to start, the items on the menu will look like those they've known.
"We don't think anybody will feel like they're missing anything," he said. "We plan to open with more or less the old favorites."
Still, See Rock City, which acquired the business this summer, hopes to replicate the success it had with the purchase of Clumpies Ice Cream Co. in 2013. That more than two-decades-old brand was acquired by the company from Chattanoogan Marshall Brock.
Harris said Clumpies was an opportunity to take a unique brand, invest in it and grow the business while remaining true to the vision of the founder.
While Clumpies original site is located just a couple of storefronts down from Good Dog, See Rock City has opened new units of the ice cream shop in the Southside and in St. Elmo as well as offering a food truck, she said.
Chapin said in 2018 when the Southside store was readying to open that Clumpies sales had grown by four times since 2013. He was hopeful that margin would increase to six times after the opening.
Harris said there are existing mobile food carts which the company plans to utilize for Good Dog along with the Clumpies food truck at events.
"There are initial synergies," she said, citing the use of the pair of brands side by side.
From a planning perspective, See Rock City isn't making any more Good Dog announcements, Harris said.
"It's just our history has been successful and we continue to look at those things," she said.
Chapin said the company has made the menu a little more understandable, citing vegetarian and vegan options. Plans are to keep the doghouse salad and the restaurant is working on a wedge salad, he said. Also, Chapin said the beer program was expanded.
In addition to Clumpies, Good Dog and Rock City Gardens, See Rock City owns and operates Battles for Chattanooga museum, Grandview Conference Center, RiverView Inn and Starbucks on Lookout Mountain. It also handles the ticketing and concessions for the Incline Railway, The Charles H. Coolidge National Medal of Honor Heritage Center, and the retail shop and café at Creative Discovery Museum in Chattanooga.
Contact Mike Pare at mpare@timesfreepress.com