When Realtor Mark Hite listed a two-bedroom house on Pryon Lane in East Ridge on Monday, he had eight offers within 36 hours - most of them well above the $155,000 asking price for the 823-square-foot home.
"It's very common to see multiple purchase offers for homes as soon as they come on the market, especially if they are ready to move into and are priced below $200,000 like this house," Hite said Wednesday. "The market is still out of balance with more homebuyers than home sellers, although we're also beginning to see a little bit of normalization with more homes coming on the market and a bit of a break from the continual price increases we were seeing."
The typical single-family home sold within 15 days of being listed for sale in September - the quickest selling pace on record, according to a new report from the Greater Chattanooga Realtors' multiple listing service. The average selling period for residential sales in Chattanooga last month was only about a third of what it was a year earlier.
Despite a slight dip in September home sales compared with the record high volume a year ago, total home sales in the first nine months of the year by Chattanooga Realtors were still up 8.8% above the same period last year when Realtor-assisted sales hit a record high.
"September usually starts hot, and by the end of the month, a shift in weather is usually a sign of fall's arrival," said Robert Backer, a Realtor with Coldwell Banker Pryor Realty who is president of the Greater Chattanooga Realtors Association. "Well, our current housing market has kept a similar trend with the temperature; locally, there are little signs of any cooling-off period. A limited supply of housing and increased selling prices are keeping the market very hot indeed."
Photo Gallery
Chattanooga homes sales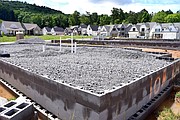 The median price of homes sold last month in Chattanooga was $265,000, or 10.9% above the median price for homes a year ago. Despite the yearly increase in home values, the median price in September still was down from the $275,000 high reached in June.
Home sellers got 98.5% of the initial asking price, on average, during September, showing that there may be a lid on the rising prices of homes.
"We have been at or over 100% of the asking price through the summer, but last month we had the most negotiations over price since March," Hite said. "As buyers became more focused on price and value, there was more negotiations than we have seen in six months."
There are signs the market may be shifting more toward the favor of homebuyers, Backer said. New listings have continued to hit the market with a 12.1% increase in inventory to 1,295 homes last month. That bucked the usual seasonal trend in the fall when listing and sales activity typically slows as children return to school.
"As inventory increases, competition for homes may soften, and could even bring some moderation in sales prices which, after 14 months of year-over-year gains, would be music to the ears of homebuyers throughout the country," Backer said.
By the numbers
Chattanooga homes sold during September at their quickest pace in history even with higher median prices and a slight dip in monthly sales:— 15 days - Average number of days a house was on the market before being sold, down 61.5% from a year ago— $265,000 - Median home sales price, up 10.9% from a year ago although down from the $275,000 price in June— 1,111 - Home sales last month, down 5.8% from a year ago— 9,851 - Home sales in the first nine months of the year, up 8.8% from the same period in 2020Source: Greater Chattanooga Realtors multiple listing service report for September 2021
Home sales continue to be buoyed by historically low mortgage rates that have helped keep borrowing costs lower for homebuyers. Despite recent increases in some interest rates, the 30-year fixed mortgage rate began this week at an average 3.125% and 15-year mortgages averaged 2.25%.
But the double-digit increases in home prices still have kept home buying out of reach for some first-time homebuyers.
"Unfortunately, the benefits of historically low interest rates are overwhelmed by home prices rising too fast, thereby requiring a higher income in order to become a homeowner," said Lawrence Yun, chief economist for the National Association of Realtors. "Housing affordability for first-time buyers is weakening."
Contact Dave Flessner at dflessner@timesfreepress.com or 423-757-6340.