Six decades ago a couple of local train buffs got the idea of preserving the dwindling number of steam engines in the South on film, an endeavor that led to one of Chattanooga's most iconic attractions.
The Tennessee Valley Railroad Museum is kicking off a year of 60th anniversary events with steam train rides, special exhibits, blacksmith demonstrations, military reenactments and a display of model trains over the next two weekends. The displays will be located in the museum's new exhibit building, open to the public for the first time.
The celebration of the museum's birth in 1961 is dubbed "The First 60 Years," according to spokesperson Penelope Soule Gault, daughter of museum co-founder Robert M. Soule Jr.
"The idea was born back in the late 1950s when my father and Paul Merriman were going around the South filming steam engines as it was it approaching the end of steam engine life. They were being scrapped daily," Gault said Friday in a phone interview.
"They were filming as much as they could, and that was when the spark happened. 'Hey, could we save one of the beasts of steel and create a place where people could come and still see it functioning?'" she said. "Thus was birthed the idea of a railroad museum and it moved forward from there."
(READ MORE: Unique TVA coal train donated to Tennessee Valley Railroad Museum)
Photo Gallery
Tennessee Valley Railroad Museum's 60th anniversary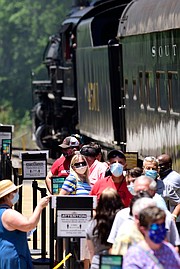 A pivotal moment for establishing the museum was the purchase of the steam engine "4501," which Gault called an "anchor jewel in the museum's collection."
"She [the engine] was ending her life in Stearns, Kentucky, working for a coal mine operation and that railroad was ready to dispatch the engine so my father, Paul Merriman, Grady Ragan, Jim Day and a couple others went one day to see the engine," she said. "And Paul Merriman went in and purchased the then-K&T 12" from the Kentucky & Tennessee Railroad.
The original Engine 4501 was built in 1911 as a 2-8-2 Mikado locomotive and served in freight service for Southern Railway until, at some point, it was sold to the K&T Railroad which renamed it the K&T 12, Gault said. After it was purchased from K&T, it was returned to its original number, 4501.
For the next couple of years, the group of train lovers went to Stearns every weekend to get the steam engine ready to move, Gault said.
"My father was working for Southern Railway at the time and coordinated moving it from Stearns, Kentucky, to Chattanooga," she said. "Once that began to happen [June 1964] - this is the cool thing - when they moved it from Stearns down to Chattanooga people poured out to see it because steam engines were long gone from the countryside. They were a fading thing of the past."
In a phone interview Friday, museum operations supervisor Steve Freer said it's important to note that Merriman, not the museum, purchased what would become Engine 4501, because that freed up money for the museum to use for other needs.
Freer said that first steam engine had two siblings, the K&T 10 and the K&T 11. The museum was able to purchase the K&T 10 but the 11 met its fate after it was purchased by the U.S. Army for use in target practice, he said.
(READ MORE: Chattanooga's Tennessee Valley Railroad Museum archive expands as rail history hub)
The soon-to-be-jewel 4501 was moved to Chattanooga where it was rebuilt with the labor, tears and blood of volunteers, according to Gault.
"When she was restored, she went on the road for Southern Railway to use wherever they wanted to, and we also began using it for excursions," she said.
Among the early excursions were a trip to Huntsville, Alabama, dubbed "Rails to Rockets" and a "Mystery Trip" that was a 200-mile excursion with Engine 4501 that was themed in the 1920s.
"The era that we've always tried to restore here is the '20s, '30s and '40s, which is coined the 'Golden Age of American Railroading,'" she said.
A 1968 excursion - sold out with 300 passengers aboard - was one of the first passenger trains that was an all museum-owned train of cars with Engine 4501 leading the way, according to Gault.
Excursions today include several trips, including daily rides on the Missionary Ridge Local and other days for a dinner train in Chattanooga, seasonal excursions such as the Chickamauga Turn, a six-hour ride from Chattanooga into Georgia, the Hiwassee Loop, a trip from Delano to Farner through the Cherokee National Forest and other excursions for special events and on special holidays including Christmas and Valentine's Day.
Railroading history is part of the region's history and development.
Chattanooga's railroad history goes back to 1850, according to museum historical records. The city early on had two railroad lines - first, the Western and Atlantic Railroad and in 1858, the East Tennessee, Virginia and Georgia Railroad line - making Chattanooga an important railroad hub for industries making their homes here for its transportation corridors that also were important during the Civil War.
As those transportation corridors matured over the succeeding decades, the city's railroad reputation propagated the iconic song "Chattanooga Choo Choo," but by the 1950s interstates and airlines offering faster and more personal travel led to the demise of most passenger train operations in the U.S., and freight operations suffered from the competition, as well.
Preserving those iconic scenes from the past, the museum's passenger trains now run on the historic route which includes Missionary Ridge Tunnel, completed in 1858 and listed on the National Register of Historic Places.
The tunnel is the main reason the museum equipment runs on a 3-mile section of the former Southern Railway, as railroad equipment grew too large over the years to pass through and the single-track tunnel became a bottleneck, museum officials said. That forced Southern Railway to abandon it and build a new replacement route around Missionary Ridge, so the line left behind would fall to the train lovers.
Sponsors of the museum's anniversary celebration so far include McKee Foods Corp., ScaleTrains, First Horizon Bank, HHM Certified Public Accountants, Miller & Martin PLLC, Chattanooga Coca-Cola Bottling Company, McRail/CBIZ Borden Perlman, Southern Railway Historical Association, Tennessee Valley Authority and FareHarbor, according to officials. Celebration events will occur throughout the coming 12 months and will be announced later.
Freer and Gault said the visit and events are all about trains, so be sure to ride.
"The thing to do is see our steam engines and ride behind them," Freer said.
Gault invited car buffs attending this weekend's Chattanooga Motorcar Festival to see the wheels that roll on rails while they're in town.
"We would love to have them come out and bring some of their cars," she said. "We love all things history."
Contact Ben Benton at bbenton@timesfreepress.com or 423-757-6569. Follow him on Twitter @BenBenton.
If you go
Tennessee Valley Railroad Museum's 60th anniversary starts the celebration this Saturday with events scheduled this weekend and next.— Oct. 16, 17 and 23, 24: Engine 630 and Engine 4501 will both run on the Missionary Ridge Local, a 55-minute round trip, starting from the museum's Grand Junction Depot.Event tickets for one-day attendance, including one train ride, cost $30 per adult and $20 per child age 2 to 12. A grounds pass, which includes the exhibits but no train ride, costs $17 per adult and $10 per child, ages 2 to 12.Other upcoming anniversary events include:—Rails and Reels: Family movie night featuring "Hocus Pocus" on Saturday, Oct. 16, at 7:15 p.m. in the wye (triangular junction), which is outside at Grand Junction Depot. Make reservations online. Suggested donations are $10 per attendee. The rain date is Oct. 23 at 7:15 p.m.— Night photo shoots: Participants are asked to bring their best photography equipment for a rare chance to photograph the museum's steam and diesel collections. The cost is $25 per night.—Oct. 23, 7:15 p.m.: Participants can photograph the museum's Southern diesel collection — Locomotives 5000, 2594, 3170, 6914, and TAG 80 — at Grand Junction Depot.—The Tennessee Valley Model Railroaders Open House is located in the basement of the museum's General Office Building where an under-construction HO model layout will be operating for the public during regular museum hours.For tickets and more information, visit online at tvrail.com or call 423-894-8028. Parking is free at the museum at 4119 Cromwell Road, Chattanooga, Tennessee.Source: Tennessee Valley Railroad Museum