Nine years ago, Sale Creek High School football coach Ron Cox and assistant Roy Shipley were standing in a hay field near the community's elementary school when Shipley turned to Cox and said: "Wouldn't this be the perfect spot for a football stadium?"
Then the two friends began to laugh in unison before concluding: "Yeah, not in our lifetimes. That's never going to happen."
On Friday night, on that exact piece of land, it happened. In the eighth season since Cox and Shipley started a football program at a century-old school that had never had one, Davidson Stadium became a concrete-and-aluminum reality, complete with a dedication ceremony 20 minutes prior to the Panthers' first real home game. They had previously hosted opponents in downtown Chattanooga.
"This is a dream come true for this community and myself," said Tobin Davidson, the venue's namesake. "We appreciate all the times Finley Stadium opened its doors to us, but we're tired of playing road games."
(READ MORE: Final scores and photos from Friday night's Chattanooga-area high school football games)
Photo Gallery
Sale Creek vs. Jackson County, Sept. 3, 2021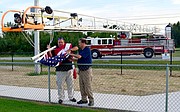 Alas, this dream come true didn't include a fairytale ending for the home team, with Jackson County defeating the Panthers 27-20 as their last-ditch drive came up short.
Yet there were plenty of moments to cherish beyond every member of the Sale Creek team carrying an American flag onto the field before the opening kick.
After the Blue Devils (2-0) took an early 7-0 lead, Sale Creek senior Khale Mooneyhan returned the ensuing kickoff 85 yards for a touchdown. The Panthers' 2-point conversion try failed, but the public address announcer was quick to rightly exclaim: "That's our first touchdown on our new home field."
Mooneyhan also had a key interception in the opening half, which soon led to a "Farm Bureau first down," just in case anyone was concerned Sale Creek hadn't yet embraced corporate sponsorship. If those highlights weren't enough, he scored the Panthers' final touchdown of the night.
And when Sale Creek quarterback Camden Penny scored from 4 yards to pull the hosts within 14-12 midway through the second period, the 1,000 or so folks filling up the home side's shiny metal bleachers sounded like three times that many.
But as unsatisfying as the final result may have been for the Sale Creek community and the Panthers (0-2), the game was never going to be as important as the stadium it was played in.
"I know I'll be emotional," said Panthers assistant Tony Reavley, who graduated from Sale Creek in 1975. "No. 1, this was an experience, football Friday nights, that I never had growing up. Second, our students now have some place to call home."
Said Cox: "This means so much. Just being able to see the stands full. It picked the boys up."
An example of how much this moment meant to Sale Creek alumni who never experienced football: Reavley's daughter, MaKinzie, graduated from the school in 2012. Football didn't begin until the fall of 2013. On Friday, she drove from Johnson City to see the first home game in school history.
"I have to give a special thank you to Mayor (Jim) Coppinger and Councilman Fred Skillern," Davidson said. "Mayor Coppinger got the ball rolling, and Fred found $100,000 in the discretionary fund to get the construction started."
With a press box, aluminum stands on both sides, a large scoreboard and a beautiful building housing bathrooms, a concession stand and storage, it is something to behold.
"It (stinks) we lost," Penny said. "But we finally have a home. Maybe more kids will come out now."
All in all, not bad for a former hay field.
Or as Reavley said: "It's going to change football Friday nights in Sale Creek forever."
Contact Mark Wiedmer at mwiedmer@timesfreepress.com. Follow him on Twitter @TFPWeeds.