What do you buy the person who has everything? We've got answers. And they're all made or sold at independent shops here in the Chattanooga area.
FOR THE SHARP DRESSER
Alice Blue Boutique
thebluecollection.com • 423-531-2120
A little zing can go a long way -- and this handmade red velvet clutch by Garland definitely has its fair share. This line of one-of-a-kind bags are all made from repurposed textiles and hardware. More sizes, styles and fabrics can be found online.
* Price: $325
Yacoubian Tailors
yacoubians.com • 423-265-0187
Work is work. But it can also be fun. Men's ties have had a rough go of it the past couple years -- but not all sense of style has been lost. Add a little personality to that basic suit with one of the fine men's ties at Yacoubian Tailors. Available in a variety of fabrics and styles.
* Prices start at $95.
Photo Gallery
The EDGE 2022 Executive Gift Guide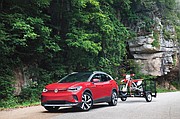 FOR THE WORKAHOLIC
The Ama Spa at The Edwin Hotel
amaspachattanooga.com • 423-269-8530
Give the gift every hard-working executive is secretly hoping to receive: relaxation. Let the team at the Ama Spa in The Edwin Hotel craft a one-of-a-kind experience for your holiday gift for family, friends or colleagues. Make sure they know the day is a gift, and they will help choose the right therapist and plan a package to suit the recipient's personal needs. Choose from body services like mud wraps and sugar scrubs, restorative facials and stone massage.
* Prices start at $135.
FOR THE ADVENTURER
Chattanooga Helicopters
chattanoogaheli.com • 423-551-6746
Spend an afternoon appreciating the beauty of Chattanooga from high in the sky. With the Ultimate Tour, the pilots at Chattanooga Helicopters will fly you across the Scenic City for 50 miles (about an hour and a half), with spectacular views of downtown, the Tennessee River and Aquarium, The University of Tennessee, Lookout Mountain, the Raccoon Mountain Pump Station Reservoir and more.
* Prices range from $50–$300.
FOR THE FOODIE
Chattanooga Whiskey
chattanoogawhiskey.com • 423-803-4890
Not sure which variety of whiskey would make the best gift? The Chattanooga Whiskey Connoisseur Tasting Set is a great way to find out. Stop by one of the locations and try a flight. Or get really into the "spirit" of the season and take home the flight board with full bottles.
* Flight of 6 tasting set: $75
* By the bottle: varies $35-$75
Clumpies Ice Cream Co.
clumpies.com • 423-267-5425
The serious goodness of Clumpie's ice cream is sure to make even the most serious C-suite executive smile. Especially when it's delivered right to the front doorstep. Thanks to the marvels of modern science, Clumpie's signature and seasonal flavors can be shipped anywhere throughout the continental United States. Details on local and long distance shipping, as well as bulk orders can be found on the website.
* Prices start at $70.
Mean Mug Coffee House
meanmugcoffee.com • 423-498-1557
Mornings can be rough, even for the most experienced professionals. But there's no reason to go around mean mugging people -- unless, of course, it's with Mean Mug coffee. The Dirty Mug Club was designed to keep the good times rolling, any time of day. How it works: Buy a mug, then bring it back for a new one filled with fresh-brewed coffee with each visit.
* One-time purchase: $17
* Refills: $1.50 (drip coffee only)
FOR THE ART LOVER
Brent Sanders Studio & Gallery
brentsanders.com • 423-320-5374
Few things can bring an office space to life quite like the electric paintings of fifth-generation Chattanooga artist Brent Sanders. Using bold colors and exaggerated lines, Sanders has become famous locally for his unique depictions of well-known landmarks. To see more of his originals, stop by his studio or they can also be found at many businesses around town including The Edwin Hotel, The Chattanooga Choo Choo, the Volkswagen Corporation, Blue Cross Blue Shield Of Tennessee, The Chattanooga Visitors Bureau and The Chattanooga Times Free Press.
* Ross's Landing original (above): $2,000. Prices on other originals and prints vary.
FOR THE COMMUNITY SUPPORTER
Tennessee Aquarium
tnaqua.org • 800-262-0695
A gift membership to the Tennessee Aquarium is sure to spark the wonder and imagination of any SEA-suite executive. Memberships provide unlimited access to both the River and Ocean Journey for an entire year, beginning on the day the recipient redeems their certificate.
* Regular membership: $120
* Deluxe membership: $180 (includes unlimited IMAX nature films)
Reflection Riding Arboretum & Nature Center
reflectionriding.org • 423-497-2760
The gift of membership to Reflection Riding Arboretum & Nature Center is the gift of nature appreciation 365 days a year. Members receive year-round daylight access to more than 300 acres of natural beauty. Included in membership are reciprocal admissions to more than 300 botanical gardens and 180 nature and science centers across the US and Canada.
* Rates start at $70 and extend to $500 for a corporate membership. There are a variety of memberships and ways to offer financial support for the center.
Hunter Museum of American Art
huntermuseum.org • 423-267-0968
Art is a magical portal into other lives in other times. As a member of the Hunter Museum, your calendar will be filled with fun, informative and unique events throughout the year, including access to the permanent collection as well as all the special exhibitions.
* Membership rates vary, as well as ways to donate and offer financial support.
FOR THE SPORTS ENTHUSIAST
The McLemore Club
themclemore.com • 706-398-0882
Enjoy all that McLemore Club has to offer -- including the famous 18th ho-ho hole, which has been ranked by Links magazine as one of the top 10 greatest finishing holes in the world. Book a round of golf for four guests on the highly acclaimed Highlands course atop Lookout Mountain, GA.
A Stay & Play weekend includes accommodations in a private home or villa and a round of golf at your desired tee time. Fine dining at The Creag in McLemore's clubhouse is also available by reservation.
* Pricing starts at $1,350 (for one night, one round of golf – varying based on accommodations, guest count and number of golf rounds booked.
FOR THE HOST WITH THE MOST
The Good Kinsmen
goodkinsmen.com • 423-309-4170
Friendship, music, conversation and food. Be it with old friends or budding business relationships, entertaining guests at home is one of life's great joys. Downton Abbey fans may recognize the dishware here, as it's the same brand used in the series. It also happens to be available at The Good Kinsmen, a new premium homegoods shop with cook's tools, tableware, furniture, antiques and more.
* Finezza dish and glass ware by by Arte Italica; set of spreading knives by Bugatti; and Vetro Gold glassware: estimated $ for the full sets of each
FOR THE AFTER HOURS LOUNGER
Smart Furniture Studio
smartfurniture.com • 1700 Broad St., Suite 110
Almost 15 years in Chattanooga, Smart Furniture has been at the forefront of bringing the best in contemporary, modern furniture to your home and office. One of the most significant designs of the 20th century, the Eames Lounge Chair and Ottoman by Herman Miller is the gold standard of the lounge chair. Its timeless look has earned it a spot in the permanent collection of the Museum of Modern Art in New York, and it makes a distinctive, luxurious addition to your home and office. Customize your own with your choice of frame finish and different leathers, mohairs, and fabrics.
* Price: $6,500
FOR THE EXECUTIVE WITH A NEED FOR SPEED
EPB 25 Gig
epb.com • 423-648-1372
EPB's 25 Gig internet service is ideal for leaders operating businesses with multiple locations and high data traffic needs. Imagine streaming more than 3,000 ultra high definition videos on the same network at one time without buffering or lag. That's the power of the world's fastest internet delivered on the first community-wide 25 Gig network.
* Price: $1,500/month for residential customers; $12,500/month for businesses
* For a more personal gift for the home, give the gift of the Gig + Smart Net Plus -- whole-home Wi-Fi service with an easy-to-use app. Price: $83/month
FOR THE LIFELONG LEARNER
Classes at Backyard Pitmasters' BrisketU
brisketu.com/chattanooga-tn • 281-830-7326
New and experienced grillers alike will learn from accomplished pitmasters the art of smoking brisket from start to finish. The classes will also impart the finer points on choosing the right cut of meat, trimming techniques, wood selection and smoke profiles, starting and managing a fire chamber, and best practices to ensure you a consistent outcome every time you crank up the pit. It's a day of laid back fun that's packed with useful knowledge that participants will use for a lifetime.
* Price: $119
Classes at Ignis Glass Studio
ignisglass.com • 423-265-2565
Give the gift of treasured memories. Work with professional artists to have a hands-on glass blowing experience and make your own heirloom glass ornament or paperweight. You'll get to choose colors, assist in working the piece and actually trap your own breath in glass. For holiday hours, visit the studio website.
* Pricing starts at $45 per design (10 styles to choose from).
FOR THE PROGRESSIVE THINKER
Volkswagen ID.4
villagevw.com • 833-232-8660
Fresh off the production line right here in Chattanooga, the all-electric 2023 Volkswagen ID.4 compact SUV is a vision of beauty. Good looks on the outside. World-class engineering on the inside. In full electric mode, the ID.4 produces zero tailpipe emissions, which means cleaner air and better health. And that's really a gift to the planet.
Pricing starts at $37,500 (not including taxes, tag, title or destination charges).
READ MORE