Twenty years ago, Carolyn Foley, executive chef at WanderLinger Brewing Co., was a two-year resident in the mother-child program at Bethel Bible Village surrounded by people looking to help her with life decisions, including which career path seemed the most interesting to her.
"I was stuck between becoming an art teacher and going into food service," she says. So she decided on a career that combined both.
"I went with food service because it is an art you can be completely immersed in," she says.
After graduating from Hixson High School with a baby in tow in 2004, she set her mind and heart on attending Johnson & Wales University.
"I thought as a young, single mother, it was best to get my schooling finished so I could focus on building my career and raise my daughter," she says.
Photo Gallery
Meet the Chef: Carolyn Foley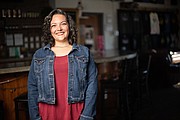 Now, she's accomplished both. Her daughter's now in college, and Foley, 37, is executive chef at WanderLinger. Her resume also includes positions as a chef's assistant at Compass Group of America, a pantry chef at Mountain City Club, a pastry chef at Signal Mountain Golf and Country Club, a sous chef at River Street Deli and executive chef for kosher catering for Chabad Chattanooga.
Q: WanderLinger Brewing has had a full kitchen for a little over a year, and you started it. What plans do you have to expand food service there?
A: I opened the kitchen mid-November of 2020, and now I have plans to expand it to be similar to a European bistro-style kitchen. With the small space I have, I am not able to offer the same fare as one would get at a typical sports bar/brewery, so one of my goals as a chef is to stretch people's minds to what is normal and in style.
Q: How do you plan to do that?
A: By blending food regions and styles. Keeping in the mindset of familiar food with a very interesting twist.
Q: What's the earliest thing you ever remember cooking, and what was it?
A: When I was in first grade has to be the earliest memory cooking something almost by myself. I made a summer peach pie with Chantilly cream.
Q: You say that you had a number of people who helped you decide on a life plan, but who was the major influence on your decision to become a chef?
A: My daughter was and still is a major influence on my decision to becoming a chef. Since I was a single teen mother, dealing with the poor decisions I had been making up to the point of motherhood, I wanted to go into a career that I knew I would love. I wanted to show her that even though you have come from some terrible situations, you can still make peace, joy and happiness in your life.
Q: Describe your cooking style. How does it work into the menu at WanderLinger?
A: My cooking style is pretty traditional. I love cuisines from all around the world, and I love to blend them, when applicable. I look at flavors like an artist looks at a color wheel. One of the things I started doing early on in my career was to taste everything I possibly could in its raw, natural state. I wanted to have a base flavor note that I can pull from when I am building a menu or recipe or trying something new. I mirror this into my menu at WanderLinger. For instance, our Reuben. It is composed of most of the quintessential ingredients, but with slight variations. I add spicy brown mustard to one side of the sandwich, and the other side is a blend of Russian dressing, Thousand Island and yum-yum sauce.
Q: Did you enjoy culinary school, and do you think you'd like to teach at any point?
A: Oh yes, I loved culinary school! I had always been an absolutely terrible academic student all though grade school. Once I had my daughter and the opportunity to go to college, I blossomed.
I will teach at a university one day. It's been my dream since I was in culinary school. My passion for the totality of what makes food service food service pulls me to teach. I look forward to teaching when it is time.
Q: It's a ways off, but will you miss being a chef?
A: Fulfilling people's needs, wants and desires before they anticipate them is one of my favorite things in the chef service life. Being able to have a platform to teach others would be just wonderful in my mind to ensure that the service industry is flooded with people who know how to make the experience fulfilling.
Q: What trend do you think is overdone at restaurants today?
A: Ughhh. Burgers and chicken sandwiches. I love a very well-made burger without all the crazy toppings masking its flavor. I miss letting the meat, bread and vegetables shine through. And with chicken sandwiches, it seems like everyone is making the same sandwich with their version of spicy mayo sauce.
Q: What food is your guilty pleasure?
A: Popcorn. Freshly popped, not the microwave kind. With a ridiculous amount of butter and salt. I would eat it all the time if the popcorn didn't wreck my GI tract. Could be all the butter I put on it.
Q: You work at a brewery, so do you try to use beer in any of your recipes?
A: Since I'm at a brewery, I only see fit to use beer in every food application as much as possible.
Q: Which ones work best for you?
A: I use our WanderLinger Lager in brining, braising and cooking. I use some of our darker ales in the braising process and finishing sauces. I use some barrel-aged sour beer that aged too far and turn it into vinaigrettes for salads and drizzling over grilled vegetables. The main beers that are harder to work with in cooking are our hazy IPAs. They have too much hop and yeast matter to apply heat to without getting really bitter.
Q: Do you try to add dishes to the menu to pair with your beers?
A: Definitely. We always have beer suggestions to pair with the foods on our weekly specials board.
Q: What's your most indispensable cooking tool?
A: My knife. My favorite at the moment is a Shun Premier 8-inch chef's knife. I love the weight in my hand, how it is a continuation of my arm and fingers. It is a showstopper with the hammered Damascus steel and cherry-wood handle. Second would be a set of easy squeeze tongs.
Q: What spice are you liking now, and how are you using it?
A: All the different phases of peppercorns. The spice has five different stages in which it can be used, and the flavor of each one is as different as it is similar. I make a blend of all of them and mix it with three different salts to make my own all-purpose salt-and-pepper seasoning.
Q: What do you like to do in your spare time? Any hobbies?
A: Gardening indoors and outdoors. I have a winter garden working right now outside our house with a lot of familiar vegetables and some that are not so commonly used, like kohlrabi and cress. Learning how to take care and make indoor house plants thrive has been a very rewarding hobby for me, too. Feeling and seeing the benefits of having fresh live plants growing around you is so calming and beautiful.
Q: What's one of your favorite recipes for winter?
A: A Westernized version of Tom Kha Gai. It's a Thai coconut vegetable stew. And the recipe can be easily halved.
[Editor's note: Historically, Tom Kha Gai would contain galangal root, the "kha" in the recipe title (ginger substitutes here), and chicken, which is "gai" in Thai. The word "tom" means "soup" or "boiled/cooked."]
Tom Kha Gai
3 tablespoons grapeseed oil
2 small sweet onions, diced
8 garlic cloves, minced
2-4 Thai chilies, chopped
1 (10-inch) piece fresh ginger, minced or grated
2-3 pieces lemongrass, chopped
8 teaspoons red curry paste
36 ounces coconut cream or coconut milk
12 cups vegetable or other light-colored stock
3-6 tablespoons sugar or honey
6 tablespoons fish sauce
9 tablespoons fresh lime juice
2 bell peppers, thinly sliced
3 celery stalks, thinly sliced
2 carrots, thinly sliced
24 ounces foraged, dried or fresh mushrooms, thinly sliced
Heat oil, and add onions, garlic, chilies, ginger and lemongrass. Saute for about 10 minutes or until onions are transparent. Add curry paste, and saute another 5 minutes until very aromatic
Take off heat, and puree all ingredients until they make a smooth paste. Return to pot, and add coconut milk and stock. Simmer for 30 minutes.
Add remaining ingredients, and simmer for 10 minutes or until vegetables are al dente.
Serve with fresh cilantro and sunflower seeds, if desired.
Contact Anne Braly at abraly@timesfreepress.com or 423-757-6281.