Despite Thursday night and Friday's deluge across the Tennessee Valley, the rain from tropical depression Nicole might not bust the drought gripping Southeast Tennessee and North Georgia, but it did help settle the dust, according to weather experts.
"It's definitely going to be some of the best rain we've had in months now," National Weather Service meteorologist Andrew Moulton said in a phone interview Friday as the storm system slowly tracked northwest across East Tennessee. Moulton works in the weather service office in Morristown, Tennessee.
"All across East Tennessee, Georgia and Alabama, it looks like all good news from all this rain," Moulton said. "But I'm not going to say this will totally eliminate it because you need several more rounds of similar amounts of rain."
The deficit from a weekslong dry period has built up, he said.
Photo Gallery
Nicole brings rain to Chattanooga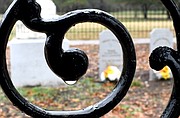 "Since Sept. 1 we've had about 5 inches of rain, but that's still about 4 inches below normal," Moulton said.
"We're pretty much right on track as far as the annual rainfall total, but if you get all that rain in the first half of the year and then none in the second half, you're still going to have drought," he said. "We're definitely running low."
(READ MORE: Drought snarls Mississippi River transit in blow to farmers)
Moulton said accumulation in the Chattanooga region from overnight precipitation through the first half of the day Friday stood at an inch to 1 1/2 inches as the remnants of Nicole slipped to the northeast.
"We're thinking it really should still make a dent in the drought," he said.
Next week's drought monitor will reflect the rainfall, Moulton said.
Recent rain helps in other ways, too.
"It will soak into the ground and let the vegetation absorb it," he said. That helps with the fire risk, Moulton added.
According to the U.S. Drought Monitor report issued Nov. 8, temperatures in the Southeast through Tuesday were well above normal, with most areas 9-12 degrees above normal for the week and pockets in the Carolinas 12-15 degrees above normal. Until rain fell late in the week, more than 4.3 million Tennesseans were experiencing drought conditions.
Until Nicole came calling Thursday, the western end of Tennessee was the only area that got some helpful rainfall, while drought conditions only expanded in the eastern half of the state, according to the state Climate Office's Nov. 1 drought update.
(READ MORE: Dry weather persists in Chattanooga area)
Although all of East Tennessee was in moderate to severe drought, large patches in Middle Tennessee and in Southwest Tennessee were not quite as bad, with conditions described as abnormally dry, according to the Climate Office. Even with the rain, drought conditions are expected to persist in many areas.
A little more helpful precipitation is on the way, Moulton said.
"We're going to have another couple of systems move through next week that could give some additional rain," he said.
However, the chances of drenching rainfall from tropical systems are growing slimmer.
"Officially, the tropical season ends on Nov. 30, so there's a pretty good chance this will be the last tropical system to impact us," Moulton said. "We're going to be looking at more traditional systems coming through rather than tropical."
Contact Ben Benton at bbenton@timesfreepress.com or 423-757-6569. Follow him on Twitter @BenBenton.