Stating that the land is contaminated and potentially leaking dangerous chemicals, the city of Chattanooga cleared a homeless camp at the corner of 12th and Peeples streets on Wednesday that officials estimate was occupied by about 30 people.
The camp sat on a vacant, concrete pad that borders a sanctioned, fenced homeless camp the city recently established off Peeples Street.
Sam Wolfe, the director of Chattanooga's Office of Homelessness and Supportive Housing, explained the decision in a phone interview Wednesday, stating that the city learned from residents at its sanctioned encampment that some people had broken into the camp property and stolen a few items.
Nearby business owners also notified the city about the camp. When it set up the sanctioned encampment, Wolfe said, the city committed, at the request of businesses, to ensuring no one camped on the nearby concrete pad, which he said is on property owned by the city.
The city gave residents living on the concrete pad a two-week notice, he said, and employees have repeatedly returned to the camp to ensure that message was clear. During that time, the number of people living on the pad increased. When staff members first went to the property, Wolfe said, there were about eight to 10 people, but over the past few days it grew to around 30.
Photo Gallery
Chattanooga clears homeless camp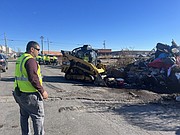 By around 3 p.m. on Wednesday, a towering heap of leftover items sat at the perimeter of the now-vacant lot. Several police officers and city employees continued to linger in the area. A truck outfitted with a mechanical arm hauled debris away from the site, and a small bulldozer continued to gather up unclaimed belongings.
Stacy Cummings sat with several other former residents at the side of the road Wednesday afternoon, the possessions they could salvage from the camp stacked beside them. A few dogs played in a nearby patch of grass, and several residents continued to sift through the pile.
"They left us a notice two weeks ago and told us we had to move," Cummings said, "and then this morning, they just came in and pretty much told everybody to get out and move. If you don't get what you can carry, you lose everything."
Cummings said a lot of people don't know where they're going now, but he's fortunate -- Cummings said he's waiting on a background check to come back to get a housing voucher.
"But, there's a lot of people out here that don't have nowhere to go now," Cummings said. "The little homeless camp over there," he said, pointing to the city's sanctioned camp, "they tell us that it's full, so can't nobody go over there."
Ann-Marie Fitzsimmons is the co-founder of the nonprofit organization Help Right Here, which has a contract with the city to operate the sanctioned camp.
There are 42 people living there, and although Wolfe said city officials had initially projected the sanctioned camp could have room for up to 120 people, Fitzsimmons expects the maximum capacity is probably going to be about 50 residents, which she said is the limit that space can safely handle with available resources.
"That camp got bigger and bigger and bigger," Fitzsimmons said in a phone call, referring to the adjacent site cleared by the city Wednesday. "There were some dangerous people that were living up there, and I do know that on several occasions, some people climbed over the fence from the upper pad into our camp. I can't say with certainty that they stole stuff from there ... but I do know it was a rough situation."
Another former resident, Timothy Durham, was dragging a few bulging, plastic bags away from the site Wednesday afternoon. He said he's lived at the camp on the concrete pad for about a month. He plans to set up camp down the road, noting that he managed to gather most -- but not all -- of his belongings.
"It's ridiculous," he said. "It seems to me like they're picking on the homeless. Big time."
Wolfe said contaminants are a problem the city faces with many of the properties in that area. The city, for example, has worked with the Tennessee Department of Environment & Conservation to ensure the land occupied by the sanctioned camp is properly sealed, and the state conducts periodic inspections to ensure that property is safe for residents.
As is, he said, it's unsafe for people to sleep on the concrete pad.
"It's unfortunate that a lot of the people that were staying here are a lot of the familiar faces that we've been working with before," Wolfe added. "There's a higher than normal percentage of people that were at this encampment that have told us that they're not interested in services from us at this point."
When it clears a site, Wolfe said, city staff conduct assessments with residents to start the process of placing them in housing if that's an option they want to pursue. They also speak to them about alternatives such as the Chattanooga Rescue Mission.
"This continues to underscore the need for there to be more shelter options for folks," Wolfe said. "We recognize that it's not adequate in the current state."
Bianca Blackwell has lived at the camp for approximately two weeks. She pulled a piece of paper with the Chattanooga seal from her purse, which stated the camp would be shut down in two weeks on the morning of Nov. 30.
"Please also be aware, this concrete lot is uncapped land -- meaning that the land/soil here is contaminated and potentially leaking dangerous chemicals and/or landfill waste," the notice read.
Before settling briefly on the concrete pad, Blackwell said she lived on another parcel that was ultimately cleared by the city.
"They keep doing that, but they don't give us any options on where to go," Blackwell said. "All they're saying is OK, 'You can't come here. You gotta go.'"
Contact David Floyd at dfloyd@timesfreepress.com or 423-757-6249. Follow him on Twitter @flavid_doyd.