A longtime children's clothing store in Chattanooga's North Shore has expanded as it seeks to fill a niche for teens, its owners said.
"We listened to the customer and the need for a shop like this," said Kelly Paschall, who with co-owner Bonnie Moses expanded into space adjacent to The Sandbox which they're calling the Shore Next Door.
Located in the 2 North Shore complex on Manufacturers Road, the store owners said in an interview that they've added 1,600 square feet of space to the 2,600 square feet they already occupy as they sell clothes for babies through teenagers.
"We thought about the teen market. We're making it a little more trendy" than the existing Sandbox, said Paschall, adding that the space, serving both girls and boys, was designed by Henson-Hinck of Chattanooga.
While The Sandbox has been around for three decades, Moses and Paschall bought the business last year. Moses said she was the store manager for nine years before the two friends who had met at Covenant College decided to buy the retail venture with their husbands.
Photo Gallery
The The Sandbox expands on North Shore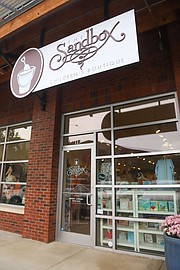 Moses, of Greenville, South Carolina, said she was a business administration major at the Lookout Mountain college. Paschall, of Charlotte, North Carolina, said she studied psychology. She was working in the front office of an elementary school when Moses raised the idea that they and their husbands go into business.
"It was not on my radar," said Paschall. "It has been a very different job experience."
Moses quipped that running the shop is "more than just cashing checks." She said the new footprint is giving what "customers were asking for and space that was their own."
The business owners said they like their location at 2 North Shore, citing the variety of retailers and other merchants who operate at the sprawling center.
"A huge draw is Whole Foods," Moses said, adding that "there's always something going on at (nearby) Coolidge Park."
Paschall said that in addition to local shoppers, The Sandbox receives a lot of tourist traffic.
The businesswomen said sales so far in 2022 are up about 8% over the prior year. But the new space should spur 20% to 25% growth, they said. Annual revenues have come in at a little over $1 million, according to the owners.
They said they've added about four or five new part-timers to the staff which now comes in at about 20 with the expansion.
Manufacturers Road is undergoing rapid change with hundreds of new apartments along with commercial space proposed for North Shore artery.
Developers have said they like the North Shore along with views on the Tennessee River and across into downtown's Ross's Landing. In addition, a section of the Tennessee Riverwalk is expected to be built along Manufacturers Road and tie into the proposed Moccasin Bend Archaeological District.
Contact Mike Pare at mpare@timesfreepress.com or 423-757-6318. Follow him on Twitter @MikePareTFP.