Five years ago, a dream and vision were set for Chattanooga Preparatory School's basketball program by head coach Christoffer Collins and an eager group of sixth graders.
On the old stomping grounds of Tennessee Temple University, the Sentinels went to work in the gymnasium they refer to as "the Lab" with a goal of elevating their game under Collins, who helped former Bradley Central High School standout Rhyne Howard blossom into the WNBA's No. 1 overall pick and reigning rookie of the year.
No challenge has been too big for a path of trailblazers.
Chattanooga Prep opened in 2018 as the city's first all-boys public charter school, welcoming 66 students at the time. As the school has grown with a new class of sixth graders each year, its student-athletes have been able to move up the sports ladder of competition as well. Last fall represented another step forward with the school's first year of varsity high school football.
In Chatt Prep's first season of varsity basketball in 2021-22, a Sentinels team that included three eighth graders and no players beyond the ninth grade made an appearance in a TSSAA Class A sectional, losing to 2020 state champion Clay County.
Tennessee's youngest high school basketball team is now set to take things a step further under Collins' direction as players continue to grow and mature.
With sophomore point guard Eli Gaines stepping up as a go-to leader on the court, the Sentinels have caught the state's attention with a 22-7 overall record and a 6-0 mark in District 5-A in which they have outscored their opponents on average by more than 40 points per game.
"At first everything here was a new experience when we came in as sixth graders," said Gaines, who has averaged more than 12 points, three assists and two steals per game this season. "A lot of our guys had never even played organized basketball. With Coach C, we have made a lot of sacrifices that most kids wouldn't do for this sport. Coach has showed us that when you take make that sacrifice, you have to pour in everything you've got and be patient for the results to follow."
With the regular season down to its final days, Chatt Prep is ranked seventh in the latest Associated Press high school boys' basketball poll for Tennessee. It's notable feat for a program that doesn't yet have a player with a driver's license; the school is yet to have a junior or senior class.
Photo Gallery
Chattanooga Prep basketball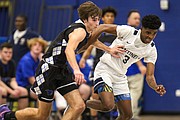 MISSION COMMANDER
In hopes of making a run to Murfreesboro to play in the state tournament, Collins has put his team through tough tests. Despite playing teams with fully matured senior players, the Sentinels have competed, not backing down even when playing the likes of Brainerd, Tyner and Hamilton Heights Christian Academy.
"When I took over the program here, my mission and vision was to bring a state championship back to Chattanooga basketball," Collins said. "The last time we won a state championship was back in 2007 with Tennessee Temple. Ironically, we are now on Tennessee Temple's campus.
"The culture I wanted to build here was around belief, hard work and discipline. Those are the key ingredients, along with team chemistry. Here we are one big family."
The sacrifices made by varsity players include rising for workouts as early as 5 a.m., attending study halls after school and taking part in personal training sessions with Cameron Russell, who has trained professional athletes such as Peyton Manning.
Derrick Roberson, a 6-foot-3 freshman guard, is already in Mr. Basketball consideration thanks to his pure shooting stroke. Roberson has made more than 50% of his shots from the field overall and 40% from 3-point range while averaging 14 points, 2.6 3-pointers and a block per game.
"Coach likes to push everybody because he knows everybody can be great at what they do," said Roberson, who hopes to emulate Brooklyn Nets star Kevin Durant with the ability to score at all three levels. "By the time we are juniors and seniors here, we want to dominate everybody. Coming here in the sixth grade was the best decision I ever made."
Collins believes Joel Bullis has the potential to be a major Division I prospect in due time, calling the 6-foot-4 freshman center "one of the most improved players" in the program. Bullis had 10 points and 10 rebounds in a 71-59 loss to Hamilton Heights, which has several players taller than 6-6.
"He came to us only having played Upward basketball with a lot of untapped potential," Collins said. "He is just now scratching the surface. Once he develops a motor and gets more confidence, he will be a guy everyone is after."
ONE FOR ALL
Despite being from all different parts of Chattanooga, the Sentinels united at their new school in Highland Park, where they have formed a strong bond that goes beyond the court. The team loves to go bowling together and to watch other basketball games when they are not playing.
"We have grown together through a lot of hard work and dedication to get to where we are," Bullis said. "Our team chemistry is our biggest strength. I think the group we have here has the potential to be feared as one of the best teams in the nation eventually. We are chasing state titles already as freshman and sophomores."
Said Gaines: "It's time to make our presence known that we are here and are on the way to doing great things. A lot of us want to play at the highest level. I want to leave behind a legacy and for people to remember what we did here by the time we are done."
While there is little time right now to sit back and reflect, Collins is aware how far the program has come in five years.
"It's mind-blowing," the coach said. "To see what they are doing right now is crazy. But with the work they have put in, they deserve this platform. This is not some storybook or fairy tale. This is a team whose hard work, discipline and belief are paying off. If they keep working, anything is possible."
Contact Patrick MacCoon at pmaccoon@timesfreepress.com.