In her children's book, Frances Figart writes about two best friends, a bear and a deer, who grow up in the Great Smoky Mountains listening to stories about a time their families could move freely -- before their home was bisected by Interstate 40.
"Many animals have died on the Human Highway, trying to follow the ancient trails. The story is fiction, but it is based on the real-life problem," Figart says of her book, "A Search for Safe Passage."
"Roads are one of the largest causes of habitat fragmentation," she says.
In addition to writing books, Figart is creative director for Great Smoky Mountains Association, one of seven organizations that make up the Safe Passage Fund Coalition, a group helping raise money for wildlife crossings in the Smokies region.
Their effort is currently focused on the I-40 Pigeon River Gorge Wildlife Crossing Project, which seeks to improve wildlife connectivity -- animals' ability to move freely from place to place -- along a 28-mile stretch of interstate that joins Tennessee and North Carolina.
The project follows three years of research recognized as the largest road ecology study conducted in the Eastern U.S. Between 2018 and 2020, researchers and scientists tracked wildlife movement through the gorge using cameras and GPS tracking collars and conducted weekly surveys of roadkill.
Photo by Keith Martin / Since reintroduction into Great Smoky Mountains National Park in 2001, the National Park Service has continued to fit elk with GPS collars to track movement in and around the park.

In that time, they tallied 140 bear, deer and elk dead along the highway, a number that Figart says is likely "the tip of the iceberg as many animals hit on roads die far from the right-of-way and are never discovered."
According to the report, every year an estimated 1-2 million crashes between motorists and large animals occur in the U.S., causing around 25,000 injuries, 200 human fatalities and more than $8 billion in property damages and medical costs. Moreover, the study compiled 20 years of crash report data from the Pigeon River Gorge, finding that deer accounted for at least 28% of the 336 reported wildlife-vehicle collisions, while bear accounted for 55%.
"If you're traveling 75 miles per hour down the interstate and a 300-pound black bear walks out in front of you, that's not good," says Michael Butler, chief executive officer of Tennessee Wildlife Federation, an organization that belongs to a greater collaborative Safe Passage group, comprising several local, state, tribal and federal agencies working in the region.
"[The I-40 project] doesn't just solve problems for wildlife," he says.
Some animals give up trying to cross the highway altogether, causing their populations to become isolated. When that happens, says Figart, "their species will be at risk of dying out -- becoming extinct. ... They can longer breed in a healthy way."
The I-40 Pigeon River Gorge Wildlife Crossing Project identifies 20 points along that stretch of road where improvements could be made to give animals a safer passage -- crossing structures, for example, which include culverts, bridges and land bridges.
Many animals in the gorge already use this existing infrastructure. During the study, bear were photographed regularly crossing the land bridge created by Single Tunnel in North Carolina, where the eastbound lane tunnels under a mountain. Not surprisingly, the study also found a low number of wildlife-vehicle collisions reported in that area.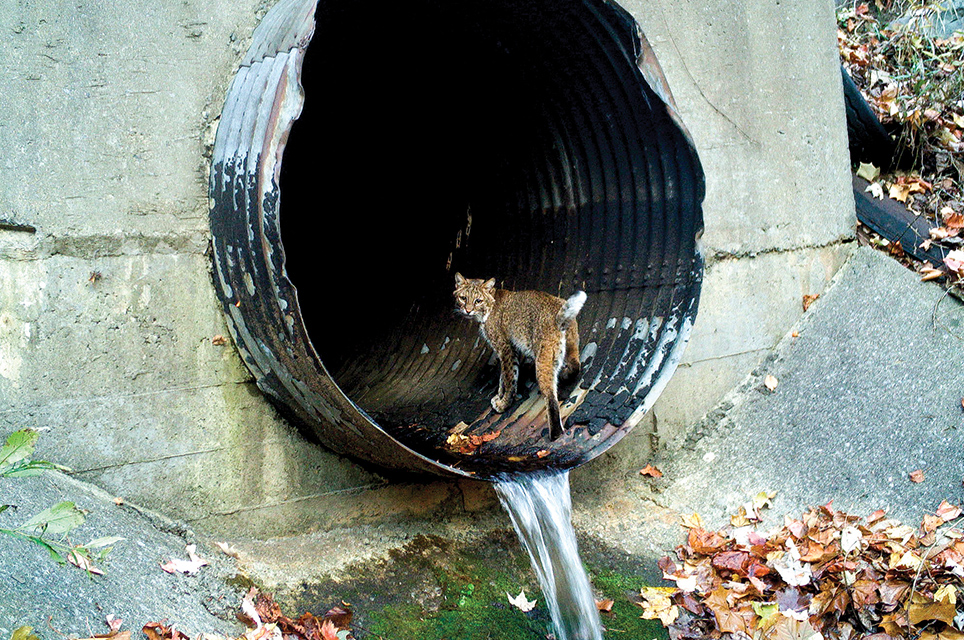 Photo courtesy of National Parks Conservation Association and Wildlands Network / A mother bobcat signals to her kitten, coaxing it to follow her into this culvert under Interstate 40, by flashing the white underside of her tail.

On the Tennessee side, a mother bobcat was captured on camera coaxing her kittens through a culvert crossing under the interstate. However, larger species such as bear and deer would approach the culvert but hesitate to enter.
"Not all species will use the same crossing structures," says Dr. Liz Rutledge, director of wildlife resources for North Carolina Wildlife Federation, a member of the fund coalition. Elk, for example, seem to prefer overpasses to underpasses, according to the study. And increasing the diameter of some culverts would likely make them more attractive to more species.
The 20 points the report recommends for improvements span a broad spectrum of projects, from replacing culverts with larger structures to constructing overpasses and broader, more wildlife-friendly shoulders. It also recommends fencing, at least 10 feet tall, alongside certain stretches to help direct animals toward better crossings.
Currently, there are an estimated 1,000 wildlife crossings along America's 4 million miles of road, with the majority located in the Western U.S. There are a couple of reasons for that, Safe Passage members say.
For starters, the American West has much larger herds of ungulates -- elk, mule deer, pronghorns, for instance -- which must cross roads during their annual migrations, creating a more urgent need for safe passages.
When I-40 was built in the 1960s, black bear and white-tailed deer populations were just beginning to rebound in the Southeast after decades of unregulated hunting, says Bill Holman, North Carolina state director of The Conservation Fund, also belonging to the Safe Passage Fund Coalition. And elk, he adds, were not reintroduced to the region until the early 2000s.
"When I-40 was planned, there was little thought about how to get wildlife through the gorge," he says.
Additionally, there is more public land in the West.
"So the issue becomes mostly about how you build the crossing. In the East, there's more private land. Crossings are not just about building, but also acquiring property to fill the gaps along those wildlife corridors," says Holman, whose work with The Conservation Fund is focused on land acquisition.
The organizations that make up the greater collaborative group all bring expertise to the project. They network with scientists to track wildlife and identify key corridors; they meet with private landowners to discuss easements; they work with government agencies like Tennessee Department of Transportation -- also a member of the group -- to advocate for funding.
But they agree the crux of all their roles is education, connecting with the public to illustrate the importance of the project.
Figart says she hopes that children who read "A Search for Safe Passage" will be introduced to the concept of connectivity and opportunities in the field.
"They will inherit this work; they will be our future highway engineers and road ecologists, and they will save these species," she says. "When vehicles collide with bears, deer and elk ... both animal and human lives are at stake. But it is up to humans to help animals cross our roads, or else we may lose them forever."
About the work
The Safe Passage Fund Coalition strives to find collaborative solutions for safe wildlife passage across Interstate 40 and other roadways. The seven members include Defenders of Wildlife, Great Smoky Mountains Association, National Parks Conservation Association, North Carolina Wildlife Federation, The Conservation Fund, The Wilderness Society and Wildlands Network.
In addition to the work of the fund coalition, a greater collaborative group of stakeholders form Safe Passage, comprising several local, state, tribal and federal agencies working in the region. These include Tennessee Wildlife Federation, Federal Highway Administration, Tennessee Department of Transportation and many more.
Learn more at smokiessafepassage.org.