This story was updated on March 4 to correct the name of Joe Shea's position.
–––––
OAK RIDGE — Federal and state leaders are pushing plans to build a new type of nuclear reactor here that they claim could provide a clean source of power and an economic development tool for Tennessee.
The initiative comes more than 40 years after Congress killed plans for a previous type of nuclear plant along the Clinch River.
"This is the future of energy in America," Gov. Bill Lee said Friday after touring the site where the Tennessee Valley Authority is preparing to build up to four small modular reactors in the next decade. "We're excited about what this means not only for economic development in Tennessee but as a responsible energy strategy going forward. This is a great opportunity for our state."
During a tour of the 935-acre site Friday, Lee voiced strong support for the new smaller, factory-built reactors that TVA wants to locate just a few miles from where Oak Ridge scientists developed some of the world's first nuclear reactors after World War II.
"Tennessee leads the nation in many ways, and today we are talking about Tennessee leading the nation in power generation," Lee told reporters. "We know that when TVA builds out these sites with these reactors over the next few years, there will be an ecosystem that will be created around that power generation. Tennessee needs to be the place where that happens."
Lee has created a $50 million "fast track" fund for the nuclear power industry to encourage nuclear equipment makers to locate and grow in Tennessee, and he expects thousands of jobs could be created over time if the small modular reactors prove to be successful and Tennessee attracts some of their manufacturers.
"No other state in the country comes close to Tennessee's legacy, resources and potential to be a leader in nuclear energy," Lee said in a Feb. 6 speech to state lawmakers as he announced his $50 million incentive plan for the industry.
Photo Gallery
Plans for more nuclear power in Tennessee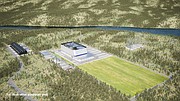 CONGRESSIONAL SUPPORT
U.S. Rep. Chuck Fleischmann, the Ooltewah Republican who represents Oak Ridge, is one of the leading supporters of nuclear power in Congress and echoed Lee's support for the new TVA investment in small modular reactors. Fleischmann said the United States, which pioneered the first nuclear power plants in the world, is in danger of falling behind other nations in the next generation of nuclear energy.
"The rest of the world is moving forward with nuclear power," Fleischmann said Friday in a joint appearance with Lee and TVA officials. "Our adversaries and competitors -- the Russians and the Chinese -- are in this area, and our allies like Canadians and the South Koreans are moving forward with more nuclear."
Despite a decline in recent years in the number of operating nuclear reactors in the United States due to cost overruns, energy changes and safety concerns, Fleischmann said, "America must lead in this nuclear renaissance" to meet growing electricity demands in the future and to not lose its economic advantage over the rest of the world.
"If we stumble or if we fail, the rest of the world will lap us on this," Fleischmann said. "That's not going to happen."
Fleischmann heads the key funding committee in the U.S. House for the Department of Energy and also heads five different nuclear caucuses in the House. Earlier this week, Fleischmann was also named to the energy subcommittee of the U.S. House Committee on Science, Space, and Technology.
NUCLEAR INCENTIVES
Although Fleischmann and all other Republicans opposed President Joe Biden's Inflation Reduction Act, the measure adopted this past year could provide tax credits to TVA to pay for up to half of the cost of the first small modular reactor, TVA officials said.
To incentivize the next generation of nuclear power, the Inflation Reduction Act provides a production tax credit of $25 per megawatt-hour for the first 10 years of plant operation or a 30% investment tax credit on new zero-carbon power plants placed into operation in 2025 or after.
TVA President Jeff Lyash said public and political support for nuclear power is strong in the Tennessee Valley, in contrast to some areas of the country where fears about radioactive leaks or cost overruns have discouraged utilities from investing in more nuclear power. TVA, which is a self-funded federal corporate agency and the largest public power utility in the U.S., is one of the first utilities in the nation to publicly commit to exploring the development of an advanced reactor fleet.
"I could not be happier with the support we get from the governor, the state and our communities -- it is overwhelming," Lyash said during a press event Friday. "As we develop this technology, it will generate jobs, industry and capital right here in Tennessee."
COSTLY HISTORY
But anti-nuclear activists worry TVA's latest nuclear investment at Clinch River may follow the costly and ultimately unsuccessful pattern of the breeder reactors proposed for the site a half century ago.
In 1971, the Atomic Energy Commission estimated the Clinch River project would cost about $400 million. But ultimately, the project was projected to cost $8 billion to complete, and it was finally scrapped in 1983.
"The Clinch River site has an expensive history of a failed nuclear experiment, but it just seems that TVA and the nuclear industry never learn from their mistakes of the past," Stephen Smith, executive director of the Southern Alliance for Clean Energy, said in a phone interview. "We're not opposed to research on new technologies, but we're highly skeptical that this small modular reactor technology can be built and operate in a way that is cost-effective and safe. This is an unproven technology, and TVA is lagging behind other utilities with technologies that are actually working with renewable energy sources."
Among the 17 nuclear reactors that TVA initially proposed to build a half-century ago, seven were finished.
The most recently built reactor -- the unit 2 reactor at Watts Bar, finished in 2016 -- ultimately took more than 40 years to build and cost several times what it was originally forecast to cost.
The only U.S. nuclear reactor being built today in the United States is at Plant Vogtle by Georgia Power Co., which now projects the new units will cost more than $30 billion, or more than twice what was projected when the plants were started.
The first small modular reactor in the United States is likely to be built by NuScale at the Idaho National Laboratory. But like most of the new nuclear plant designs, the cost projections for construction have inflated over time.
NuScale said in January the target price for power from the plant is $89 per megawatt hour, up 53% from the previous estimate of $58 per megawatt hour.
FUTURE PLANS
Smith said TVA has not released any cost projections yet for the proposed GE Hitachi small modular reactor, and the plant design has yet to gain regulatory approval by the Nuclear Regulatory Commission.
But TVA still hopes to have the first of the BWRX-300 reactors online here by 2032, and Lyash said preliminary cost estimates look favorable. TVA has joined with Canada's biggest public power utility, Ontario Power Generation (where Lyash formerly worked) to develop the new design.
Last year, the TVA board authorized spending up to $200 million to pursue the GE Hitachi design of BWRX-300 small modular reactors.
Lyash in the fall said he hopes the new small modular reactors built here are the first of 20 or more TVA will install across its seven-state region by 2050, including possible units at the former Bellefonte, Yellow Creek and Hartsville nuclear sites and some of the former plants where TVA once operated 59 coal-fired generators to produce most of its electricity.
The Clinch River site holds the nation's only early site permit from the Nuclear Regulatory Commission for the new small modular reactors. TVA said the site has a number of advantages, including an environmentally certified site, two existing power lines that cross the property, easy access to cooling water in the Clinch River and the availability of skilled nuclear talent and advice from the Department of Energy at nearby Oak Ridge National Laboratory.
Joe Shea, a senior technical consultant for TVA's Clinch River project, said at Friday's event TVA expects to file an application next year with the Nuclear Regulatory Commission to gain licensing approval of the GE Hitachi model, if current plans work out and TVA directors agree. The typical small modular reactor would employ about 125 workers for each unit, he said.
Contact Dave Flessner at dflessner@timesfreepress.com or 423-757-6340.