Ringgold's first liquor store, 348 Liquors, is celebrating its grand opening Saturday — and its staff is welcoming the community to the celebration.
"We have been very well received by the locals in Ringgold," PJ Patel, owner of the liquor store, said in a phone interview. "This is history, right? It's the first liquor store in Catoosa County. So we have been focused on stocking up inventory and making sure everything is there."
The grand opening of 348 Liquors is from 2 to 4 p.m. Saturday at 6659 Highway 41 in Ringgold. That's off Exit 348 from Interstate 75.
(READ MORE: Fort Oglethorpe and Ringgold move closer to opening liquor stores)
Patel, a resident of Rossville, said opening the liquor store has been quite a journey, and the store has attracted customers from Ringgold as well as other nearby Georgia cities. He said the store opened last fall, and his business is finally getting around to hosting a celebration for its customers.
Photo Gallery
348 Liquors in Ringgold, Georgia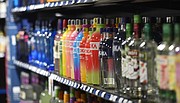 "We appreciate the business," Patel said.
Bhavin Patel works at the store and is the owner's brother. At the grand opening, he said there will be a food truck serving free hamburgers and hot dogs, and the owners will be handing out free T-shirts. A post on the store's social media said there will also be store specials as well as prizes.
Bhavin Patel said in a phone interview that the mayor of Ringgold and other local officials will be attending. The store's ribbon-cutting is scheduled for 2 p.m., according to a social media post from 348 Liquors.
Nick Millwood, the mayor of Ringgold, and Mark Vaughn, Ringgold's city manager, could not be reached for comment before deadline.
The name for the store, PJ Patel said, came from the fact that the city established two locations for liquor stores: one at Exit 348 and another at Exit 350 off Interstate 75. He said he won the license for the store at Exit 348 and said the person who won the Exit 350 license is still in the process of finding a builder for Ringgold's second liquor store.
(READ MORE: Catoosa residents reject redevelopment proposal, approve liquor measures)
Both Ringgold and Fort Oglethorpe approved allowing package sales of distilled spirits in a 2021 referendum. In Ringgold, 58% of voters approved the measure, while in Fort Oglethorpe, over 65% voted yes.
(READ MORE: New park for people with disabilities planned for Ringgold, Georgia)
The Ringgold City Council decided that only two liquor stores would be allowed and established a lottery system to choose who would get the licenses. Like the second Ringgold store, the three liquor stores allowed by Fort Oglethorpe haven't opened yet.
Walker County voters approved the package sale of liquor last fall with more than 66% of voters approving the measure, but no liquor stores have been opened there yet.
The only other places in Northwest Georgia with package stores are Gordon County's city of Calhoun, with a single store, and Whitfield County, which has more than a dozen liquor stores.
Contact Andrew Wilkins at awilkins@timesfreepress.com or 423-757-6659.