As part of an ongoing effort to expose children to different walks of life, students at Girls Preparatory School toured The Howard School on Friday.
The program, called Leadership Exchange, has been five years in the making. Each school's leadership team members take turns hosting an event at their school. This year, Howard students have exchanged tours with Signal Mountain, Ivy Academy, Maplewood High School in Nashville and GPS.
"It helps our students because we're showing our pride, showing off our institutes, our best practices that we have here," Howard Vice Principal Charles Mitchell said in an interview.
Mitchell added that GPS would do the same thing when Howard students visit there. He said the program helps build better citizens for the Chattanooga community.
Girls Preparatory students were greeted by Howard's choir, marching band and cheer team. They then spent the next hour touring the school's future-ready institutes and English language learning classrooms and spent time getting to know Howard students.
"I love the enrichment that they have here," Caroline Riede, 18, a senior at GPS said.
Riede added that a lot of what she's heard about Howard has been negative.
(READ MORE: Howard students, staff protest overcrowding issues at Hamilton County school board meeting)
"I didn't really know anything about the school," Riede said.
Photo Gallery
Girls Preparatory students tour The Howard School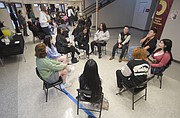 The GPS senior added that she was surprised by the level of education the students receive at Howard and the fact Howard has students who don't know English. She noted the Howard faculty is helping to educate those students so they can have a career in America and be able to thrive.
Howard has 900 students in its English as a new language program, Howard teacher Evelyn Diaz said during the tour. Approximately 200 of those students are newcomers, meaning they are learning English for the first time.
"They're starting off at level zero, essentially, and we teach them a lot of new things," Diaz said.
Howard student body President Daisy Hernandez, 18, said she believes Howard's diversity and bilingualism is a strength.
"Every time we have an exchange program with any other school, we learn about their school and how they impact the community," Hernandez said. "And when they come to Howard, they get to learn what we know and how we help connect the community."
She said that other schools don't have English as a new language programs.
"The majority of Hispanic students and immigrants come to Howard because that's the closest high school they can go to, and because we have that, we get to have the programs that we have right now," Hernandez said.
GPS social justice teacher Callie Hamilton said she looks forward to the exchange program with Howard every year. She said it is an opportunity for people whose paths would not otherwise cross to meet and interact.
"These are the future leaders of our community, and they need to know each other and have a chance to interact with each other," Hamilton said in an interview. "And a lot of times, there are just not that many opportunities to do it."
Mitchell echoed Hamilton.
"Kids are the future, our students are our future, and we have to put them in a position to be successful," Mitchell said. "We can't live in isolation. Because when you live in isolation, that's how a lot of the bad things happen within our society."
Contact Carmen Nesbitt at cnesbitt@timesfreepress.com or 423-757-6327.