Nearly a fourth of Chattanooga's homicides during 2014 happened in the city's three oldest and largest public housing complexes.
Chattanooga's public housing system, comprising 16 sites and 2,571 residents, usually averages about one homicide per year.
But six of the city's 27 homicide victims were killed on public housing land last year, said Chattanooga Housing Authority Police Chief Felix Vess. That's the highest number of killings in public housing in three years.
Photo Gallery
Violent Housing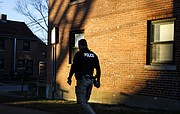 Nearly a fourth of all gun and stabbing deaths in 2014 happened at three public housing sites, College Hill Courts, East Lake Courts and Emma Wheeler Homes. CHA officials saying they're trying to start up resident associations and CHA police say they are personally knocking on residents doors to establish relationships with people so they may readily get information when or even before crime happens. CHA averages about one death a year at public housing sites. In 2014 it had 6.

And already this year, a 20-year-old woman was shot to death and a 1-year-old girl critically wounded in an attack at College Hill Courts, a public housing complex near downtown Chattanooga.

That same complex accounted for half of last year's homicides in public housing. The other three occurred at East Lake Courts and Emma Wheeler Homes.

The spike in violent deaths has raised alarm among public housing residents and CHA officials alike, and they're calling on the school system, law enforcement and nonprofits to help stay the violence.

Vess himself has started walking door to door to meet with residents, build relationships and encourage them to cooperate with police. You can crime report anonymously, he tells residents.

And in late January, Chattanooga Housing Authority Board member Wilbert Roberts called for more police visibility in public housing complexes -- anyone and everyone is needed, he said.
PUBLIC HOUSING VIOLENCE
Homicides in italics 2015 Emma Wheeler None year to date. East Lake Courts Jan. 7. - 2214 E. 26th Street - Police say 19-year-old Brian Posley was walking when an unknown suspect shot him. College Hill Courts Jan. 7 - 773 West Main Street - Talitha Bowman, 20, is shot and killed in an apartment in College Hill Courts. Three other people were injured, including a 1-year-old baby. 2014 Emma Wheeler May 24 - 4927 Jeffery Lane - James McCracken, 38, told police he was shot in the right leg and that he didn't know who the shooter was. Sun June 8 - 5138 Woodland View Circle - Frances Smith, 40, was shot and killed about 5 a.m. East Lake Courts Jan. 28 - 2753 Sixth Street - Raphael White, 25, is shot and killed. July 27 - 2525 6th Avenue Court - 23-year-old Jeffery Jackson is stabbed in the chest at 2:48 Sunday morning. Oct. 1 - 2600 4th Avenue - At 11:20 p.m., police responded to a local hospital and found Lakita Bowling, 36, suffering from a non-lifethreatening gunshot wound. College Hill Courts Jan. 5 - 1216 Grove Street Ct. - 27-year-old Charles Brown IV is killed by his ex-girlfriend after she stabbed him in the chest during an argument. May 13 - Apt. 804, College Hill Courts - Keiara Patton, a 20-year-old black female, is killed at 9:30 a.m. in her College Hill Courts apartment. June 7 - 1400 Cypress Street Court - Police believe 21 year-old Inez Burney was strangled by JaMichael Donte Harris, 20, around 4 a.m. and staged her body in a bathtub to make it look like a drowning. Oct. 26 - 1205 Grove Street - At 3 a.m., two people, Nathan James Reese, 30, and Anthony Dijaun Visher, 20, were found suffering from gunshot wounds. 2013 (only shooting homicides) Emma Wheeler - 2 nonfatal shootings in 2013 March 14 - Willie Lansden shot at 719 E. 49th Street. April 5 - Juvenile shot at 5200 block of Woodland View Circle. College Hill Courts - 2 nonfatal shootings and one homicide *Jan 28 - Terry Parker, 23, is shot and killed in the 1200 block of Grove Street. *April 19 - Ronnie Anderson shot at 1416 Cypress Court. *May 9 - Michael Daniels shot at 648 W. 14th Street Court. East Lake Courts - 8 nonfatal shootings Jan. 7 - 20-year-old Alexander Hughlett sustained non-life-threatening injuries after he was shot in the 2700 block of Fourth Avenue. March 12 - William McMillan shot at 2219 E. 26th Street Court. May 2 - LeMario Branham shot at 2200 block of East 27th Street Court. May 27 - Shannon Cooley shot at 2218 East 27th Street Court. May 29 - Juvenile shot at 2200 block of E. 25th Street Court. Aug. 13 - A 16-year-old pregnant female is shot at 2243 E. 25th Street while standing in a small group of people. Aug. 14 - Michael Hudgins, 34, is shot in the face at 2600 Fourth Avenue. Oct. 15 - Robert Allen, 20, is shot at 2421 Fourth Avenue. Source: Times Free Press Archives
"I'm asking the city, county, even the state," Roberts said during a CHA board meeting. "Those who patrol in the area, don't bypass the public housing units. Drive through there."
CHA police already work closely with Chattanooga officers to patrol public housing, both agencies said.
But Roberts said more police presence is needed. The CHA employs six full-time officers and about 20 part-timers who are off-duty city officers, but the agency doesn't have the money to hire more, Roberts said.
CPD Lt. Tammy Cook said the officers she supervises routinely patrol Emma Wheeler Homes and are intentional about keeping a visible presence in the area. Lately, shootings in Emma Wheeler have dropped off, she added.
Now the complex is experiencing a rise in burglaries.
Chonipa Williams and her 14-year-old son had lived at Emma Wheeler Homes for only four months before people broke into their home and later her car. Her son happened to be at home when burglars attempted to break in. The thieves ran away after her son yelled and asked who was in his home.
"I don't feel safe," Williams said. "But I live here."
Police aren't enough
While residents in public housing make up only about 1 percent of the city's population, about 7 percent of all homicides, rapes, robberies and aggravated assaults occur in or within 100 feet of eight public housing complexes, according to Chattanooga police.
But it's been eight months since the last shooting in Emma Wheeler, when a 40-year-old woman was shot to death in June 2014, allegedly by the man who lived with her.
Domestic violence was behind four of the homicides in public housing last year, Vess said. After the woman died in Emma Wheeler, the CHA worked with the Partnership for Families, Children and Adults to start domestic violence classes for residents, he said.
Many residents and officials agree that policing alone won't stop the violence.
Jesse Lawrence, former president of the East Lake Courts resident association, said police are already visible. But people have it in their hearts to commit crime.
Parents have to work harder to keep children away from crime, she said. She said she recently whipped her 13-year-old grandson for saying he was going to be in a gang.
"I love my children," she said. "And I'll go to hell and back before I see them in a gang."
Education above all
CHA board Chairman Eddie Holmes said he would like to see more money put into inner-city schools so residents can learn skills and earn their way out of public housing.
Residents working with police is good, but it won't stop crime because the problem is deeper than that, said Holmes.
Schools have failed to provide inner-city children with an education that leads to a better life, Holmes said. Community leaders call for jobs, but that doesn't help when people aren't qualified to work.
Only about a third of adults living in the Westside neighborhood where College Hill Courts is located have a high school diploma.
"Education in our community has been abandoned," said Holmes.
Hamilton County Schools Superintendent Rick Smith says that's just not the case -- teachers and principals work hard every day to improve the lives of inner-city students. But he said those students do have more challenges than academics: They're coping with unstable families and crime-ridden neighborhoods.
That's why Smith would like to see more investment in early education, like a proposed early learning center at Calvin Donaldson Elementary.
"All of that collectively creates a scenario where children are behind," he said. "I think there are some things we could do as a community to address that."
Roberts, the CHA board member, said the Jan. 7 shooting in College Hill Courts that left 20-year-old Talitha Bowman dead and 1-year-old Zoey Duncan severely wounded prompted him to discuss violence in public housing sites at CHA's latest board meeting.
"People holler, 'We want to keep the housing sites open,'" said Roberts. "Well, you've got to keep them safe. If you don't do that, nobody wants to live there."
Shirley Martin, Bowman's grandmother, just shrugged and shook her head Thursday at East Lake Courts when asked about the violence.
"They just need to stop it," she said. "This killing one another, the Lord doesn't like that and it's not right."
Contact Yolanda Putman staff writer at yput man@timesfreepress.com or 757-6431. Contact staff writer Shelly Bradbury at 423-757-6525 or sbrad bury@timesfreepress.com with tips or story ideas.