Photo Gallery
Haunted House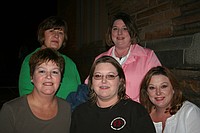 The annual EMOBA Haunted House is busy scaring people for 2 weeks out of the year...
Read more
Two of four Marines killed in Chattanooga identified Chattanooga shooting FAQ Who was Mohammad Youssef Abdulazeez? UTC students, local community mourn at prayer vigil Minute-by-minute coverage of the Chattanooga shooting that killed four Marines Chattanoogans reach out on Instagram after tragic shooting Timeline of terror in Chattanooga shootings Community grieves, gathers for prayers in wake of tragedy Nightmare for city: Federal investigation vowed after four Marines killed in shooting Sympathy for victims pours in following Chattanooga shootings Eyewitnesses recount moments of violent tragedy Latest national news on Chattanooga shootings: authorities searching gunman's computer Cook: On a normal Thursday morning, everything changed Tragedy will not define us, our city will heal Shooting shatter's city's sense of innocence DesJarlais plans bill allowing qualified military personnel to carry sidearms at military installations
"I just heard all the shooting," said Fred Wright, a counter salesman at Carquest Auto Parts downhill from the military recruiting office at 6219 Lee Hwy.
Then Wright saw recruiting office personnel come running.
"All of them starting running through the brush and the briars," Wright said. "One of them was yelling, 'Call 911, someone's shooting at us.'"
"Three of them came in here, and we called 911," Wright said.
---
"I could hear the shots," said Nick Donohue, a technician at Desktop Solutions near the military recruiting office at 6219 Lee Hwy.
"There were two groups of several shots several seconds apart," Donohue said.
---
Toscano Italian Grill is across the street from the U.S. Army Recruiting Office at 6219 Lee Hwy.
Toscano co-owner Mohamed Elbardissy heard shots and saw the shooter drive away at high speed.
"He was driving a silver, convertible Mustang - a white guy," Elbardissy said.
"One of the guys, he got shot in his leg," Elbardissy said. "He was trying to join the Navy."
---
Carolyn Taylor, who works at Binswanger Glass across Amnicola Highway from one of the incident sites, said she heard what sounded like over 100 gunshots.
"It was eight, 10 rounds at a time," she said. "Several people were shooting."
Taylor said that police "arrived from everywhere" and went into the Riverpark area.
Taylor said the police came to Binswanger and took the employees behind the building and later let them back inside. She said the business was still locked down more than two hours after the shooting and police brought food into the employees.
"It was kind of scary," she said.
Kimberly Cook, who work for agents at the Shelter Insurance office at the Lee Highway shopping center near the National Guard center, said she talked to someone who was at the strip center when the shooting took place.
She said the woman told her that someone walked to the Armed Forces center with a gun and started shooting.
"She said he shot into the Armed Forces building," Cook said. "She said it sounded like fireworks."
A woman who answered the phone at the Track's End restaurant on Amnicola Highway said the eatery was locked down early Thursday afternoon with 15 people inside.
"We heard the shots," she said.
Scott Crosby of 2 Squares a Day restaurant on Amnicola Highway said it closed for safety reasons.
"We saw all the police cars go by," he said.
Chattanooga Mayor Andy Berke cut short a press conference at about 11:30 a.m. on a business-related matter, telling reporters than an officer "was down" as well as the shooting suspect.
"This is a very, very terrible situation," he said at City Hall.
"I'm very concerned about what's going on. We need to figure out how to handle it," he said as he hurriedly left the press conference.
---
A woman who attended Red Bank High School with Abdulazeez said he was a quiet kid, but well-liked.
"He was friendly, funny, kind," said Kagan Wagner. "I never would have thought it would would be him."
She added that their whole family seemed normal.
"They were your average Chattanooga family," she said.
---
Multiple witnesses at the US Army recruiting center said they heard more than a dozen gunshots this morning and before a shooter speed away. But witnesses have given conflicting reports on whether anyone was hurt.
Keegan Green, who was laying down mulch across the street at McDonald's, said he saw a man in a convertible unload two magazines at the recruiting center. When he ran across the street to see if anyone was hurt, the car sped away towards Highway 153.
"I'm CPR certified and I wanted to check to see if anyone was hurt," he said.
He said no one was shot.
Chloe Carter was handing an order out of the McDonald's drive-through window when she heard what sounded like hammers banging. She looked up and saw people running out of businesses across the street.
"I've never seen anything like this," she said.