Photo Gallery
A day of tribute, remembrance for the fallen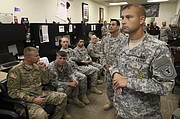 Chattanooga Mayor Andy Berke has declared memorials at Lee Highway and Amnicola Highway, at which a 24-year-old gunman mounted brazen attacks on two military installations last Thursday, as "protected memorial services, which will shield them from any protests," according to news releases.
The gunman, who officials said on Wednesday was a "violent extremist," killed five and wounded others during his assault, before being shot and killed by police.
"Since the incidents, the sites have served as memorials to the fallen heroes, and thousands of people have visited the sites to memorialize the mourn them," Berke wrote in a directive, labeled number 2015-01.