Photo Gallery
Great Smoky Mountains wildfires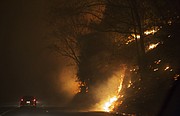 Steady rain early this week squashed the chance of 2016 becoming the driest year in the city's modern history, but it hasn't ended a 51-county burn ban in Tennessee.
The regional ban remains in effect throughout the eastern half of the state until Dec. 15, despite 1.37 inches of rain Sunday, 0.43 inches Monday and another considerable dose Tuesday in Chattanooga.
"We want to make absolutely sure that conditions are completely safe before the ban is lifted," said Jim Dale, Tennessee assistant district forester.