Photo Gallery
Great Smoky Mountains wildfires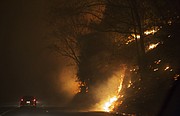 Steady rain early this week squashed the chance of 2016 becoming the driest year in the city's modern history, but it hasn't ended a 51-county burn ban in Tennessee.
The regional ban remains in effect throughout the eastern half of the state until Dec. 15, despite 1.37 inches of rain Sunday, 0.43 inches Monday and another considerable dose Tuesday in Chattanooga.
"We want to make absolutely sure that conditions are completely safe before the ban is lifted," said Jim Dale, Tennessee assistant district forester.
By the numbers
1904: Chattanooga's driest year on record with 32.68 inches of rain 1994: City's rainiest year on record with 73.7 inches 52.48: Annual rainfall average in inches 32.26: This year's total rainfall as of Monday
More than 50 wildfires were active in Tennessee in mid-November. By Tuesday, that number had dwindled to five, including three in Hamilton County. Those three fires - Flippers Bend, Poe Road and Mowbray Mountain - were 98-100 percent contained Tuesday morning.
Dale said a fire can be fully contained with a line established around it and still be considered active because of underground burning.
"We've had lots of fire burning underground," he said. "With the amount of rainfall we have not had, it takes quite a bit of rainfall to put that out."
The driest year on record for Chattanooga is 1904, when the city received 32.68 inches of precipitation. This year's total had crept to 32.26 inches by Monday afternoon. The annual average is 52.48 inches and the record is 73.7 inches, set in 1994, according to the National Weather Service.
On Nov. 27, the day before Gatlinburg's wildfire disaster, Dale told the Times Free Press his one concern about the looming rain in the region was the wind forecast to precede it. And in Sevier County, his feared was realized.
As of Tuesday, the death toll from the Smoky Mountain wildfire fanned by those winds remained at 14 people. A total of 145 people have been treated for fire-related injuries or illnesses, and 1,753 homes and businesses were damaged or destroyed.
"I think fully that if we had the wind velocities, or even half the wind velocities, that the folks over in Gatlinburg saw, then we would have had a lot more trouble than what we did with those three fires in Hamilton County," he said. "We would have had all kinds of trouble. You shudder to think about it, but with wind-driven fires like that, you're always thinking about structures, and it's just a frightening thing."
Periodic rain and normal humidity levels over the coming months will be key to helping end the drought and preventing more wildfires, Dale said.
Low temperatures can freeze dry leaves and other fuels, and low humidity can suck the moisture away from dampened fuels.
Alabama Gov. Robert Bentley on Monday ended a statewide "no burn" order that had been in effect since early November.
"In recent days, we have seen significant rainfall across our state and the Alabama Forestry Commission now believes the worst of the drought has ended," Bentley said in a statement.
Partial burning restrictions remain in place for numerous North Georgia counties. The Georgia Forestry Commission maintains a breakdown of bans on its website, gatrees.org.
Illegal burning in the Tennessee counties still under the ban is punishable as a Class A misdemeanor, which carries a fine of $2,500 and/or up to 11 months and 29 days in jail.
Generally, the burn ban does not apply to cooking grills established in a confined, protected area away from woodlands, according to the Tennessee Forestry Commission.
Contact staff writer David Cobb at dcobb@timesfreepress.com or 423-757-6249.
Photo Gallery
Arkansas Symphony Orchestra @ Robinson Center Music Hall — 09/22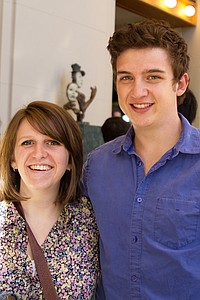 09/22 — The Arkansas Symphony Orchestra kicked off its 2013-14 season with Tchaikovsky & Rite of Spring, with Philip Mann conducting and Martina Filjak on piano.