Photo Gallery
Ooltewah case moves forward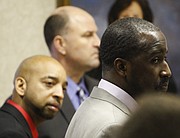 I'm troubled with the testimony we heard from the detective from Sevier County.
Timeline
A timeline of events based on testimony in Monday's hearing:Dec. 22:After dinner, an Ooltewah High School freshman was attacked by three teammates, and taken to a local hospital for treatment.Dec. 23:Around 12:30 a.m., Detective Rodney Burns with the Gatlinburg Police Departments arrives at the hospital, after medical staff called dispatch to report the attack. Burns interviews the 15-year-old and his coaches, along with a nurse. A couple hours later Burns, the boy and the coaches return to the cabin where the three suspects in the case are separated. As the boy is packing up his stuff he collapses and paramedics are called to take him back to the hospital. The boy is taken to the University of Tennessee Medical Center in Knoxville. Here is he has surgery.Montgomery's dad takes the three suspects back to Chattanooga, after they were interviewed by Burns.Around 6 a.m. Burns goes home and sleeps.By 11:30 a.m. Superintendent Rick Smith, Assistant Superintendent Lee McDade, Ooltewah High School Principal Jim Jarvis and Secondary Operations Director Steve Holmes are notified about the attack.Later that afternoon the Ooltewah High School basketball team plays in the team's final game in the Smoky Mountain Classic basketball tournament.Dec. 24:Sevier County officials draft petitions against the three juveniles charging them with aggravated rape and aggravated assault, but decide not to serve them until after Christmas.Around 2 p.m. Smith sends an email to the school board alerting them of a situation.Dec. 25:Jarvis and his wife visit the boy in the hospital in Knoxville.
An investigator testified in court Monday that the assault of an Ooltewah teen was not rape, saying it was "something stupid kids do."
But following his testimony, Hamilton County Juvenile Court Judge Rob Philyaw said, "I'm troubled with the testimony we heard from the detective from Sevier County." He then sent the charges against three adults from Ooltewah High School to a Hamilton County Grand Jury.
Philyaw said he had reasonable grounds to determine that a sexual assault occurred during the team's trip to Gatlinburg, Tenn., in December and that it was not reported to the Department of Children's Services, as required by law.
Ooltewah High School basketball head coach Andre "Tank" Montgomery, assistant coach Karl Williams and the school's Athletic Director Allard "Jesse" Nayadley are charged with failing to report child abuse or suspected child abuse during the trip.
Hamilton County District Attorney Neal Pinkston said four boys on the team were sexually assaulted during the trip, one of whom was rushed to a hospital because of the extent of his injuries. He required emergency surgery.
Detective Rodney Burns with the Gatlinburg Police Department testified Monday about his investigation into the Dec. 22 attack, saying it was not sexual in nature. He said those accused of rupturing the boy's bladder and colon with a pool cue received no sexual gratification during the attack, arguing that what happened wasn't sexual assault.
"There was no rape or torture, no screams of anguish," Burns said. Later, he testified that the victim's screams caused the perpetrators to run out of the room and alerted the coaches something was wrong.
Pinkston told Burns that his testimony seemed to be minimizing what happened to the boys during the trip.
While on the stand, Burns also testified that the three adults charged in this case each handled the situation correctly and were cooperative during his investigation. He said this case has been blown out of proportion.
Burns said the three boys currently charged in Sevier County with aggravated rape and aggravated assault of the 15-year-old admitted what they did, and at least one of the boys told him he was also hazed with a pool cue as a freshman.
Burns said the coaches were not aware of this behavior.
When questioned by Pinkston, Burns said boys on the team told him hazing was a tradition and that "beat-ins" also happened in the school's locker room. Burns clarified that the boys said they were never really hurt in these incidents.
Prior to Burns testimony, Hamilton County Schools Superintendent Rick Smith took the stand.
Smith said the team's trip to Gatlinburg to play in the basketball tournament was never approved by him or the school board.
Smith said policies are in place for Hamilton County Department of Education employees about reporting abuse, and that principals and supervisors are responsible for distributing the policies and training their staff. He also said employees like Williams, who volunteered with the basketball team, are not required to be trained in these policies.
Smith said he was alerted to the attack by text message at 11:09 a.m. on Dec. 23, and he said he knew law enforcement was involved in the investigation. He said he didn't receive much additional information. He told the school board limited information about an incident by email the next afternoon.
In the following days, Smith said he interviewed Ooltewah High School Principal Jim Jarvis, Nayadley and Montgomery, before being told by the school board's attorney, Scott Bennett, to stop the internal investigation.
Smith said when law enforcement becomes involved the school system steps back, so as not to compromise the investigation.
Following Smith, Jarvis took the stand and said he also received news of the assault on Dec. 23 from Nayadley.
"When I found out the incident had occurred, or allegedly occurred, I called my superior immediately," Jarvis said, clarifying that Secondary Operations Director Steve Holmes was his supervisor.
He said he believed Nayadley handled the situation appropriately.
Jarvis said hazing and bullying is mentioned in the school's student handbook, which is accessible online and that the school "has never had issues of hazing or bullying to my knowledge."
Pinkston rested his case after Jarvis testified, but the defense still called Holmes and Assistant Superintendent Lee McDade to testify. They had been subpoenaed by Pinkston's office.
Holmes and McDade also testified about when they learned about the incident, and both said they thought the men charged acted appropriately following the assault.
Following testimony, Curtis Bowe, Montgomery's attorney, said testimony made it clear that all three men were helpful during the investigation.
William's attorney, Johnny Houston, said his client was not a part of a cover-up and was never trained to report abuse. He said Williams acted as any reasonable person would by cooperating with investigators.
Nayadley's attorney, Lee Davis, questioned if the Hamilton County Grand Jury has jurisdiction to hear the case, noting that Philyaw has jurisdiction in juvenile court because the victims are residents of Hamilton County. Davis argued the charges against the adults may need to be sent to the Sevier County Grand Jury.
Davis said the state legislature never anticipated this situation when writing the statutes, and warned that a "procedural nightmare" will take place based on jurisdiction and the proof presented.
Davis said dismissing the case would not minimize what happened, but would simply clear the men of fault for how they reacted to a terrible situation.
"Your honor, you can end this today. You have the jurisdiction to do that," Davis said.
After nearly an hour of deliberation, Philyaw returned to the courtroom and said the day's preliminary hearing could have been a "law school exam question" because of its complexity, adding he could have ruled either way. He said the statutes being argued in court are well-intentioned, but ambiguous, and he challenged the state Legislature to consider revising them.
But he said reporting abuse is serious, and anyone with Google or Siri can ask how to report child abuse in Tennessee and immediately find the hotline number.
"It's not a difficult process," he said.
Contact staff writer Kendi Anderson at kendi.anderson@timesfreepress.com or 423-757-6592.