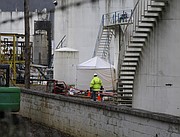 A veteran district attorney from East Tennessee has been named special prosecutor for the investigation of Bradley County Sheriff Eric Watson after a complaint by a county commissioner.
Jimmy B. Dunn is district attorney general in the 4th Judicial District, which includes Cocke, Grainger, Jefferson and Sevier counties.
His job will be to review evidence gathered by the Tennessee Bureau of Investigation and the FBI related to the complaints and evidence turned over recently by Commissioner Dan Rawls.
A key allegation is whether Watson got a woman with whom he allegedly had a personal relationship released from jail twice by pulling strings to get her bonds on robbery and probation violation charges reduced. The FBI and TBI have been given copies of dozens of Facebook messages purportedly exchanged by Watson and the woman in 2014 and 2015, along with records of calls from the BCSO to Sessions and Criminal Court judges asking them to lower her bonds.
Rawls also has asked for investigation of the sheriff's credit card and travel records; whether Watson's wife, Tenille, is getting favorable treatment as a bail bondsman, and whether her signing the mortgage and deed on their new home violates a rule that they must keep their finances separate because of her job, among other issues.
When the complaint became public last week, Watson said in a statement that he has done nothing wrong and that he will cooperate with the investigators.
Steve Crump, the 10th Judicial District attorney general, recused himself in the case. He said it's common for the local DA to step aside when a sheriff is investigated because the two offices must work closely together even after the case is closed. And, Crump said, he had a personal conflict because Watson once gave him a campaign contribution.
Burney Durham, legal services director with the Tennessee District Attorneys General Conference, said Dunn accepted the position Wednesday but it will take several days to file the paperwork and get started in the job.
Dunn is a veteran prosecutor who worked 16 years in the 4th District DA's office before being elected to the top job in 2006 and reelected in 2014, according to the TNDAGC website.
He was a military policeman in the U.S. Army before graduating from East Tennessee State University. He earned his law decree from Nashville College of Law while working for the Tennessee Highway Patrol and served as an instructor at the Tennessee Law Enforcement Academy. Dunn also is a graduate of the FBI Academy and serves on the executive committee of the Tennessee District Attorney Generals Conference.