Photo Gallery
Wildfires continue with no rain imminent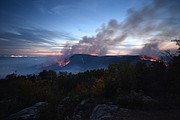 Photo Gallery
Arkansas Symphony Orchestra @ Robinson Center Music Hall — 09/22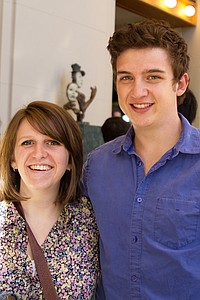 09/22 — The Arkansas Symphony Orchestra kicked off its 2013-14 season with Tchaikovsky & Rite of Spring, with Philip Mann conducting and Martina Filjak on piano.
The lingering smoke from area wildfires has sent dozens of patients to local hospitals, and it is a particular threat to those already suffering from lung or heart diseases, doctors said Monday.
CHI Memorial hospital's emergency room saw 37 patients in the last 24 hours, according to emergency room physician Dr. Jeff Visser.
"That's a significantly higher number than we would normally see," he said. "We normally would see probably half of that in a given normal-air-quality day."
Erlanger reported seeing 19 patients in its emergency room since Friday, and nearly 120 in the past two weeks, also above normal levels.
The threat is especially severe for those who already have trouble breathing.
"The smoke consists of particulate matter that is in the air," Erlanger hospital lung specialist Dr. Patrick Koo said. "People with lung problems inhale it and then they get inflammation of the airway, and as a result they close down their airways and are more short of breath - they wheeze."
"Anybody with a chronic lung condition like asthma is at significant risk just because of their underlying lung problem," Visser said. "Even healthy people can be significantly affected if they are trying to exercise outside."
Both Visser and Koo advised people with lung or heart problems to stay indoors if possible.
"You can wear one of those cup-shaped masks you can buy at Wal-Mart if you have to be outside," Visser said.
Those having trouble breathing should call their doctors, Koo said. Physicians can prescribe steroids to reduce the inflammation caused by the smoke particles, he said.
"If their symptoms are watery eyes and a cough - that would be limited and would get better. That is more of an annoyance than anything," he said. "But patients who get worse and have more shortness of breath, or their cough becomes uncontrollable, that's when they basically should contact their lung doctor."
The problem is not limited just to humans.
Trees and other vegetation are also in trouble from the extreme drought that has spawned the wildfires and may suffer long-term problems, according to Chattanooga city arborist Gene Hyde.
"Long-term drought equals stress, and stress on trees means they are more susceptible to attacks by insects and diseases," Hyde said. "The long-term effect of stress will play out over several years. It is not just a short-term deal that ends once the rain starts."
Hyde said trees with shallow root structures such as dogwoods and maples are particularly at risk. If there is no ban on watering in their area, homeowners should bring out a soaker hose or sprinkler and saturate the area around those trees for several hours, he said.
He said he is also concerned that after the fires are put out, areas where they burned will be subject to soil erosion.
"If you have a big area of bare soil, you open up that area to invasive species," Hyde said. He mentioned privet as one plant that often will take over a newly burned space, covering it with a dense cover of vegetation that prevents native trees such as maples or oaks from sprouting.
Contact staff writer Steve Johnson at 423-757-6673, sjohnson@timesfreepress.com, on Twitter @stevejohnsonTFP, and on Facebook, www.facebook.com/noogahealth.'