Photo Gallery
Wildfires continue with no rain imminent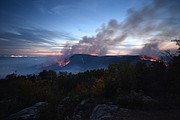 Counties under burning ban
AndersonBledsoeBlountBradleyCampbellCannonCarterClaiborneClayCockeCoffeeCumberlandDekalbFentressFranklinGraingerGreeneGrundyHamblenHamiltonHancockHawkinsJacksonJeffersonJohnsonKnoxLoudonMaconMarionMcMinnMeigsMonroeMorganOvertonPickettPolkPutnamRheaRoaneScottSequatchieSevierSmithSullivanTrousdaleUnicoiUnionVan BurenWarrenWashingtonWhite
With help from crews from as far away as California and Oregon, firefighters are making progress in containing three wildfires on Signal Mountain.
And Georgia authorities say they have kept flames away from a subdivision that was evacuated Sunday on Lookout Mountain.
The Mowbray Mountain fire on Signal Mountain, which has burned some 750 acres, is more than 50 percent contained, and that number should climb by today, according to Julie Allen, public information officer with the Florida Forestry Service, which has taken over the leadership in fighting several fires in the area. "We're really excited about that one," Allen said.
A nearby wildfire at Flipper Bend is 90 percent contained, although 1,000 acres have burned, and nearby residents have been allowed back into their homes, she said.