Photo Gallery
Wildfires continue with no rain imminent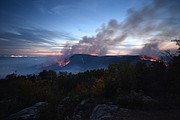 Counties under burning ban
AndersonBledsoeBlountBradleyCampbellCannonCarterClaiborneClayCockeCoffeeCumberlandDekalbFentressFranklinGraingerGreeneGrundyHamblenHamiltonHancockHawkinsJacksonJeffersonJohnsonKnoxLoudonMaconMarionMcMinnMeigsMonroeMorganOvertonPickettPolkPutnamRheaRoaneScottSequatchieSevierSmithSullivanTrousdaleUnicoiUnionVan BurenWarrenWashingtonWhite
With help from crews from as far away as California and Oregon, firefighters are making progress in containing three wildfires on Signal Mountain.
And Georgia authorities say they have kept flames away from a subdivision that was evacuated Sunday on Lookout Mountain.
The Mowbray Mountain fire on Signal Mountain, which has burned some 750 acres, is more than 50 percent contained, and that number should climb by today, according to Julie Allen, public information officer with the Florida Forestry Service, which has taken over the leadership in fighting several fires in the area. "We're really excited about that one," Allen said.
A nearby wildfire at Flipper Bend is 90 percent contained, although 1,000 acres have burned, and nearby residents have been allowed back into their homes, she said. Volunteer firefighters have been using a portable pump to fill their tender trucks, which carry water, from a nearby lake to fight that fire. Firefighters then use hoses to extinguish hot spots that remain after most of the flames have been knocked down.
"The one we are working hard on right now, at Poe Road, started late Thursday or Friday morning," Allen said, between the Mowbray Mountain and Flipper Bend fires. That fire has burned about 550 acres in very difficult terrain and is about 40 percent contained. "Poe Road is so remote that we can't get to it," she said. "The terrain is very difficult, but we have the Nevada crew on that fire, because they are trained for that type of terrain."
The smoky conditions have limited the use of helicopters to drop water, Allen said. Instead, crews from around the Southeast, plus California, Texas, Oregon and Nevada, are using hand tools and bulldozers to create fire breaks that will prevent the flames from spreading, she said.
Georgia firefighters have two of the three fires in their area under control, according to Georgia Forestry Commission spokesman Seth Hawkins.
About 50 families were still in shelters or staying with friends or relatives after the Lookout Highlands subdivision, on Highway 157 near the west side of the mountain, was evacuated Sunday afternoon. But Forestry Commission spokesman Hawkins said Monday evening that firefighters had been able to push back the flames along the bluff below their homes all day and no structures had been damaged.
Firefighters were "having to work house by house" to battle the flames, Hawkins said. He said they cleared leaves and underbrush away from the homes and then burned or cut down wooded areas between the houses.
The other end of the fire, at Tatum Gulf, may take some time to get under control because of the difficult terrain, Hawkins said. That fire has burned more then 1,300 acres.
On the north end of the mountain, near Creek Road, a fire that has burned about 150 acres has been contained. "There is some terrain we can't get to, and that one will have to burn itself out," Hawkins said.
The third fire is the most visible, right off Interstate 75 near Rocky Face, just north of Dalton. Hawkins said firefighters were confident they had it cut off and now were monitoring the situation, while allowing the middle of the fire to burn itself out. All weekend the flames had sent up a thick column of smoke that drifted over the expressway and nearby Dalton.
Tennessee Gov. Bill Haslam Monday issued a ban on open air fires for 51 counties that includes all of East Tennessee and much of Middle Tennessee. Firefighters are currently trying to control some 67 wildfires burning on 16,000 acres across that region, state officials said. Any open air burning, including camp fires, and burning of brush or garbage, is prohibited until Dec. 15.
Violating the ban can carry a fine of $2,500 and up to 11 months and 29 days in jail.
A Catholic mass will be held today at the Basilica of Sts. Peter and Paul seeking relief from the wildfires that have plagued the Chattanooga area, according to church spokesman Jim Wogan.
Contact staff writer Steve Johnson at 423-757-6673, sjohnson@timesfreepress.com, on Twitter @stevejohnsonTFP, and on Facebook at noogahealth.
Photo Gallery
Arkansas Symphony Orchestra @ Robinson Center Music Hall — 09/22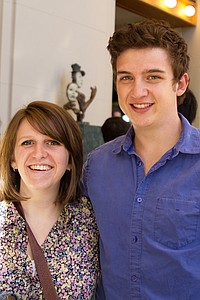 09/22 — The Arkansas Symphony Orchestra kicked off its 2013-14 season with Tchaikovsky & Rite of Spring, with Philip Mann conducting and Martina Filjak on piano.