Photo Gallery
Arkansas Symphony Orchestra @ Robinson Center Music Hall — 09/22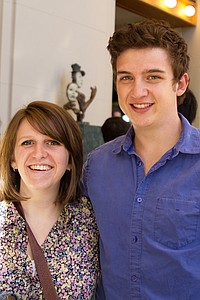 09/22 — The Arkansas Symphony Orchestra kicked off its 2013-14 season with Tchaikovsky & Rite of Spring, with Philip Mann conducting and Martina Filjak on piano.
Major Tennessee fires:
Flipper Bend (Hamilton) 1,000 acres, 95 percent containedPoe Road (Hamilton) 686 acres, 60 percent containedMowbray (Hamilton) 830 acres, 70 percent containedHobbstown (Sequatchie) 65 acres/100 percent containedSunshine (Sequatchie) 65 acres/100 percent containedBench Bluff (Bledsoe) 1,400 acres, 100 percent containedSoutheast Tennessee overview:Bledsoe County: 4 fires, 2,047 acresGrundy County: 8 fires, 153 acresHamilton County: 4 fires, 1,847 acresMarion County: 5 fires, 1,025 acresMcMinn County: 3 fires, 25 acresMonroe County: 2 fires, 226 acresRhea County: 1 fire, 1 acreSequatchie County: 5 fires, 1,056 acresPolk County [not including Cherokee National Forest]: 1 fire, 20 acresMajor Georgia fires:Fox Mountain (Dade) 2,039 acres, 100 percent containedRocky Face (Whitfield) 590 acres, 99 percent containedRough Ridge (Fannin) 23,000 acres, 30 percent containedTatum Gulf (Dade) 1,600 acres, 15 percent containedLookout Mountain/Sulfur Springs (Dade) 500 acres, 100 percent containedTreat Mountain (Polk/Haralson) 583 acres, 99 percent containedRock Mountain Fire (Rabun) 5,484 acres, 10 percent containedFlat Branch (Rabun/Towns) 600 acres, 4 percent containedCreek Road (Dade) 100 acres, 98 percent containedTimber Bluff (Rabun) 850 acres, 15 percent contained
An expected weekend cold front could bring enough precipitation to break a streak of 27 consecutive days without registered rainfall in Chattanooga.
But it is unlikely to quench a wildfire outbreak sweeping the Southeast.
National Weather Service meteorologist Jeremy Buckles estimated Wednesday afternoon that a Friday night weather front could bring a brief rain, as temperatures drop from a projected high of 75 on Friday to the mid-50s on Saturday.
"But the best chances for rain are probably going to be north of Chattanooga, closer to Knoxville and as you get into Kentucky," Buckles said.
WRCB-TV chief meteorologist Paul Barys had a similar forecast Wednesday.
"Saturday, the winds will start to pick up and a morning shower is possible," Barys said. He said there is a better chance for substantive rainfall next week, the day before Thanksgiving.
Wednesday lengthened the drought, but strong wind helped improve air quality after the day began under a Code Red air quality alert. The National Weather Service recommended residents stay indoors or limit their time outside.
Air quality in Chattanooga was considered "good" by mid-afternoon, which made work easier for those with no choice but to be outside.
"I might get a little bit of a sinus problem, but the smoke doesn't affect me too much" said Chattanooga Public Works employee Sterling Lund as he and a team of co-workers toiled to pave a stretch of Brainerd Road near the airport in the middle of the day. "I don't reckon any of us have had any problems."
Public works crews and Chattanooga police officers were given masks to wear, if needed, on Wednesday. Of 176 respondents to a Times Free Press poll, 118 indicated Wednesday they were having health problems from the smoke.
Area hospitals have seen dozens of patients with smoke-related issues, but workers at the Brainerd Road project and at a concrete job at a new firehall on Hixson Pike said they deal with dust, exhaust and smoke on a regular basis anyway.
"It has bothered my wife some for three or four days," added Jesse Harvey, with the Public Works department. "She's one who works in an office and isn't out as much."
Buckles, from the National Weather Service, said much of the area's smoke blew into Georgia and South Carolina on Wednesday.
Today's air quality was projected to be "moderate" in Chattanooga, which is two levels below Wednesday morning's Code Red status.
Chattanooga Zoo spokeswoman Hannah Hammon said zoo employees have been monitoring a pair of young red panda cubs to ensure they're handling the conditions well. Otherwise, she said, it's been business as usual for the zoo animals, all of whom can be brought inside if needed.
"We're keeping an eye out, though," she said, "just to make sure respiration is great with all of our animals."
Contact staff writer David Cobb at dcobb@timesfreepress.com or 423-757-6249.