Photo Gallery
Photos of the year, Gallery 1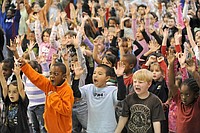 NWA Media staff photographers picked their favorite images from 2012. They will be presented on NWAonline in four galleries, in no particular order.
The 3 Sisters Bluegrass Festival entered the double digits in age this weekend and after a decade of good food, music and beer, the event has as much steam as ever.
Ross's Landing was a sea of excited people early Saturday evening. Young families mingled with much older music fans, all nestled contentedly between rows of food trucks on either side and watched the main stage at the riverfront.
The free festival, sponsored by the Fletcher Bright Co., attracts people from far and wide who come year after year for what the Great American Country network named one of the five best bluegrass festivals in the nation.
Blake