Photo Gallery
Byrd upsets; two council seats in runoff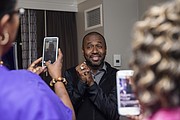 In an upset, Anthony Byrd unseated Moses Freeman tonight on the Chattanooga City Council, and two other council races are headed to runoffs.
Byrd said he is eager to be a voice for District 8, which includes the neighborhoods of Eastside, Amnicola, Avondale and Bushtown.
"For a while, the community has felt like they had no one at the table speaking for them," he said tonight. "I'm excited to speak for them."

Byrd, who works for Hamilton County's Criminal Court, took 741 votes in the unofficial total. Freeman claimed 544.
Voters elected Freeman to the seat in 2013, and he has been a strong activist and leader in Chattanooga for decades. He said his opponent ran a great race, and he called Byrd tonight to congratulate him and offer support moving forward.
Two races will go to runoffs April 11.
Chris Anderson will face Erskine Oglesby for District 7. And long-serving Councilman Yusuf Hakeem will face Demetrus Coonrod for District 9.
Hakeem took 954 votes and faced three challengers in the race, including Coonrod, who claimed 600 votes.
Hakeem won five elections between 1990 and 2006 and won a tight race for the post in 2013. In the weeks leading up to the runoff, he said he planned to continue telling his district how "we get things done."
Coonrod said she was hoping to take the race to the runoff and is going "full force ahead."
John Kerns and Pat Benson Jr. received 491 and 262 votes, respectively, in the District 9 race, which includes East Chattanooga, Eastdale, Glenwood, Missionary Ridge and Ridgedale.
In District 7, Anderson claimed 810 votes and Oglesby took 630. In 2013, Anderson unseated Manny Rico, who attempted to retake the seat this year. He claimed just 260 votes.
District 7 includes Alton Park, Downtown, East Lake and St. Elmo.
Anderson said he knew the race was going to be tight, but he was honored to claim the most votes in the three-way race.
"I'm looking forward to building on that momentum in the weeks ahead as we work toward continuing a vision of a better Chattanooga," he said.
Oglesby simply said he is looking forward to the runoff.
Three candidates won their races unopposed: Ken Smith in District 3, Darrin Ledford in District 4 and Carol Berz in District 6.
Meanwhile, incumbents Chip Henderson, Jerry Mitchell and Russell Gilbert all held their seats in contested races.
"I'm really overwhelmed," said Henderson, who took the three-candidate District 1 race with 66.8 percent of the vote. "I'm humbled by their support. We've worked hard over the past four years. And District 1 voters have rewarded us with a big victory tonight. I appreciate all their support."
District 1 covers Lookout Valley, Moccasin Bend and Mountain Creek, as well as parts of Hixson and North Chattanooga.

Of the incumbent victors, Gilbert's election was the most closely contested. With 1,450 votes, he retained representation of District 5 with 58.3 percent of the vote. Cynthia Stanley-Cash came in second in the three-person race with 831 votes.
District 5 includes Bonny Oaks, Dalewood, Eastgate, Woodmore and Lake Hills.
In District 2, Mitchell defeated Mickey McCamish, 1,837-964. The district covers from North Shore to Northgate, as well as the precincts of Lupton City, Riverview and Stuart Heights.
Mitchell said he wants to pave more roads in Chattanooga and fix the Lupton City mill site. Asked why he is popular in his district, he said voters appreciate that he is not controversial. If he has a problem with the mayor, he goes to the mayor's office instead of publicly airing grievances, Mitchell said.
He said other members of the council chose to hold press conferences about problems with Berke during the campaign. Asked if he was referring to Larry Grohn, the District 4 councilman who vacated his seat to run against Berke, Mitchell said, "Larry who?"
"I had a great time working with Larry Grohn for four years," he added. "But I'm not working with him anymore."
City Council members earn an annual salary of $23,797, according to the city's Human Resources Department. The body's chair and vice chair earn an extra $5,000 and $2,500 in annual compensation.
Contact staff writer Kendi A. Rainwater at 423-757-6592 or krainwater@timesfreepress.com. Follow on Twitter @kendi_and.
Contact staff writer Tyler Jett at 423-757-6476 or tjett@timesfreepress.com. Follow him on Twitter @LetsJett.