Note to readers: Every month state and local governments award Tennessee companies millions of dollars in taxpayer subsidies to create long-lasting jobs. More than $2.5 billion in grants, tax breaks and tax credits are given to businesses in the state each year, according to one estimate.
A partnership of the largest media companies in the state examined those subsidies to answer a simple question: Are they good investments?
The data proved elusive. It took 10 months to gather information from state and local government agencies, including the number of jobs each company created and the value of incentives or tax breaks each company received.
Some agencies didn't track the information. Others reported contradictory data. The lack of consistent, accurate records makes it difficult for the public and officials to evaluate whether Tennesseans are getting what they paid for.
This project was produced in partnership with the Ravitch Fiscal Reporting Program at the CUNY Graduate School of Journalism.
Top companies by amount of subsidies received
$800 million: VolkswagenChattanooga's Volkswagen plant has received more than $800 million in federal, state and local incentives in the past decade, making it the most richly awarded business ever in Tennessee and one of the most subsidized among U.S. automakers.$600 million: NissanNissan has been awarded at least $600 million in government subsidies in Tennessee since 2000. Its Smyrna plant, for instance, received a $98.3 million property tax abatement by Rutherford County in 2010.$400 million: Hemlock SemiconductorThe solar materials manufacturer was awarded more than $400 million for its failed Clarksville plant, including roughly $245 million in cash and infrastructure bonds. The plant shuttered in 2014.
Clarksville, a military hub north of Nashville with 150,000 residents, has awarded multimillion-dollar property tax breaks to large corporations, including Google, without publicly disclosing the value of the subsidies or tracking hiring at those companies.
"It's a verbal check," said Mike Evans, executive director of the Clarksville-Montgomery County Industrial Development Board. "Do we have a piece of paper or a form filled out? We don't. But it's a system."
More than $2.5 billion in subsidies such as grants, tax breaks and tax credits are given to businesses in the state each year, according to an analysis by the W.E. Upjohn Institute for Employment Research.
An investigation by the largest four media organizations in Tennessee - The Tennessean, The Commercial Appeal, Knoxville News Sentinel and the Chattanooga Times Free Press - found statewide that many officials and agencies do not track or disclose the number of jobs created by subsidy deals.
That lack of accountability means taxpayers and leaders can't effectively decide whether individual subsidy deals are a good investment or if the money would be better spent on education, infrastructure or another jobs program.
After reviewing hundreds of pages of records, the findings show:
-It is impossible to gauge whether some of the deals were a good value because local agencies awarded businesses multimillion-dollar property tax breaks without calculating the actual loss of tax income to government coffers.
-There is no accountability for some companies that received incentives but don't report their hiring progress to local economic development boards or the state Department of Economic and Community Development.
-A group of companies getting subsidies from Tennessee's main grant program, FastTrack, fulfilled about 80 percent of all jobs committed. Some exceeded their hiring expectations, but nearly 40 percent said in 2016 they had fewer than half of the jobs promised.
"It is our job and responsibility to make sure these businesses succeed," said Ted Townsend, chief operating officer of the Department of Economic and Community Development, "that they uphold to the commitments that they're making to the state, that they adhere to the contracts that we put in place, and that if they are struggling to meet job fulfillment, there's a reason why."
Gov. Bill Haslam made economic development one of his key priorities, increasing spending by 80 percent from 2011 to 2017. He also moved the department from a lower-level floor in the William R. Snodgrass Tennessee Tower to the 27th floor, providing company executives being courted sweeping views of Nashville.
Tennessee's economy has added 390,000 new jobs since January 2011. Employment grew by nearly 15 percent, fourth among states in the Southeast and 12th nationwide, according to state figures.
___
Local officials celebrate when businesses announce they're coming to town but often fail to hold the companies accountable for their promises.
"How do you expect the cheerleaders to be the cops?" said Greg LeRoy, executive director of Good Jobs First, a Washington-based liberal watchdog group that advocates for more economic development accountability. "Political value is right here, right now. Why would I spend time on tracking outcomes?"
In the deals known as PILOTs, or payments in lieu of taxes, companies agree to create a certain number of jobs or invest capital in a building in exchange for a waiver of most or all property taxes. The businesses pay governments a nominal fee instead of taxes. PILOTs can last up to 20 years after construction concludes, or longer with a special state waiver.
Google's parent company, Alphabet, the nation's second most valuable business, will not pay taxes for 20 years on the land at its new data center in Clarksville, or on its equipment and buildings for four years.
While the county's announcement of the deal said Google would create 70 jobs, the contract states that is only a "target." Google committed to hiring 34 direct employees, plus an additional 15 contract or temporary hires. It plans to invest $600 million at the site, which formerly housed Hemlock Semiconductor, a solar materials manufacturer.
The Google deal did not include a cost analysis, according to records obtained only after news organizations threatened to sue. The Clarksville-Montgomery County Industrial Development Board did not have a calculation of the projected forgone property taxes, according to the records.
The county also stands out for its secrecy. In its PILOT contract, Google negotiated an unusually strict confidentiality agreement.
"We're not going to spend our time and money answering your questions," said Dick Batson, the lawyer for the Clarksville-Montgomery Industrial Development Board, when asked about the Google deal. Google did not respond to a request for comment.
A lack of analysis can be found at agencies across the state, particularly in smaller governments. A review of state-mandated "cost-benefit" forms showed that most included no information about costs. In a review of projects by nearly 20 local economic development boards, about half did not require companies to regularly report job creation.
Sometimes the risks are high. In the most egregious example in recent history, Hemlock was awarded more than $400 million in state, local and other incentives to open a manufacturing plant for polysilicon in Montgomery County. But the facility never opened and the state lost more than $100 million. That collapse prompted the state to institute "clawbacks" to recover funds for failed projects. But the clawbacks apply only to a small portion of the projects.
Some agencies - especially those in major metropolitan areas - track and publish the number of jobs created from subsidy deals. The Economic Development Growth Engine for Memphis and Shelby County (EDGE), for instance, makes progress reports for hiring, capital investment and projected amount of forgone property tax amounts available to the public online.
___
Photo Gallery
Amazon filling nearly 1,000 jobs in Southeast Tennessee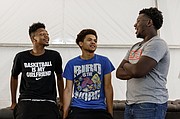 For three generations, Scott Troglen's family worked at the same Nashville windshield manufacturing plant. But the streak nearly ended.
Troglen credits state subsidies for keeping the glass furnaces burning.
The plant sat neglected and for sale in 2011, its three brick smokestacks signaling a bygone era. But Japanese-owned Carlex saw potential in the dusty building and friendly state and local governments.
Tennessee and Nashville offered more than $3.6 million in subsidies to save 400 jobs and add 50 more.
"It's a really good income for people who work here, and for their families, too," Troglen said. The average pay for factory workers is about $18 an hour. "If this place were to go away the general public doesn't realize what kind of impact that would have."
The company is one of many economic development successes along Tennessee's road to a record-low unemployment rate, but the public has no way to tell how many jobs were created at Carlex or if the deal was a good investment. The state and county do not publish the figures.
Both at the local and state level, officials rely on companies' self-reported job figures, which aren't always accurate. The Tennessee Comptroller of the Treasury criticized the state grant program's record keeping and evaluation in a 2016 audit.
"The FastTrack program has not enforced reporting requirements from grantees regarding annual employment data," the comptroller report said. "We found no evidence that FastTrack staff verify self-reported data or compare it with prior reporting to track trends."
Turnover within companies sometimes makes it difficult to get responses to annual employment surveys, said Townsend from the state Department of Economic and Community Development. "It's not through lack of effort or inquiry."
The state Department of Economic and Community Development this year began requiring more companies to submit jobs data as part of their grant contract.
Other states, such as Virginia, use federal employment and wage information to verify whether companies meet their commitments.
___
Tracking hiring can help officials decide if they should expand a subsidy program or provide incentives to the same company in the future.
Video Gaming Technologies received more than $500,000 in state grants in 2012 to train employees and retrofit its offices. It consolidated its Virginia and Nashville sites in Franklin and has since grown from 48 workers in Tennessee to about 200. About 100 moved from Virginia.
"There's a loss to a community when jobs are moved. There's no question about it," VGT President Jay Sevigny said. "But it's been a boon to this area." Company salaries range from the $40,000s to the high six figures, according to Sevigny.
In 2014, an Australian company purchased VGT, which by then had cemented its headquarters in Franklin, thanks in part to the subsidies. The new company probably would have closed the Franklin office if it was not so established, Sevigny said: "All of these jobs would be gone."
But some companies have lost jobs after receiving state grants. The news organizations' database analysis showed 39 percent of projects reported fewer than half of their promised jobs.
Perdue Farms, at its chicken packing plant in Monterey, received $3.7 million in training grant funds for a 2010 expansion. It also received a 20-year property tax break from the county initially valued at $3.2 million.
At the time the subsidies were awarded, the company added a state-of-the-art production line and improved efficiency. One local official said his agency was compelled to offer incentives because it determined that Perdue might close the factory. Perdue was expected to save about 1,150 jobs, but it laid off 142 workers in 2012 and today has 972 workers.
"The good news is they're good-paying jobs, the company is still here, and they're doing well," said George Halford, president of the Cookeville-Putnam County Chamber of Commerce.
That sentiment is echoed around the town of Monterey. Perdue is the largest employer, and nearly everyone in the town of 2,800 either used to work at the plant or knows someone who does. Perdue also helps the community through civic involvement. The company donated more than $120,000 to local causes, a spokeswoman said, including the Cookeville Rescue Mission and Relay for Life.
The waitresses at the Cup & Saucer, a Monterey diner open since the late 1940s, notice when Perdue cuts back. Fewer managers take their associates out to lunch. Co-owner Clarice Weist, in an interview before she died in August, said the town depends on the business.
"If they pulled out it would be devastating," said Weist, who was surprised to learn that Perdue had cut jobs after receiving millions of dollars in subsidies.
New Perdue factory workers also buy steel-toed boots at Phillips Shoe Store, just across Commercial Avenue from the diner. Some buy secondhand boots; others spend up to $159 for Western-styled work boots. Owner Jeannie Templeton, 58, who once worked at the chicken plant, says her business relies on local shoppers like the factory workers.
"It's not right," she said after learning about the subsidies and layoffs. "We pay taxes all over. Don't get me started on taxes."
___
Overall, companies fulfilled 80 percent of their job promises, according to the news organizations' database analysis from the state's internal spreadsheets and handwritten records.
The analysis focused on FastTrack grants with contracts ending December 2016 or those that already had five years to create the promised jobs.
Take, for example, Bank of New York Mellon's data center in northeast Nashville. It was awarded more than $850,000 in grants for power infrastructure and job training in 2011, but according to state records the company has lost 21 jobs since then. A spokeswoman for the Fortune 500 company declined to comment.
The Tennessee Department of Economic and Community Development touts a "job fulfillment" rate of 113 percent for incentives from 2011 - the first awarded under the Haslam administration.
The data behind this online "dashboard" tells a more nuanced story. Out of 79 projects from 2011, 28 reported fewer than half of their targeted jobs. Also, some of the listed companies didn't receive state grants but were still listed. The website refers to job "commitments" made by individual companies but does not list the number of jobs actually created.
"You can demonstrate the job fulfillment, creation a lot of different ways," said Townsend from the Department of Economic and Community Development, "but the fact of the matter is that no dollars go out of this office unless those costs have been incurred or those jobs have been fulfilled."
The 327 grants that completed their contracts or their five-year job creation window by the end of 2016 generated 33,843 jobs. The state gave those companies $52 million in subsidies as of March, for a cost per job of about $1,500.
Programs that average a cost per job of $30,000 are considered effective for economic development, said Tim Bartik, a senior economist at the Upjohn Institute. But the cost per job isn't the only measure. Incentives, he said, can be structured so companies hold onto jobs for years.
"Are these programs being evaluated?" Bartik said. "People should be demanding accountability and transparency."
Contact Mike Reicher at mreicher@tennessean.com or 615-259-8228 and on Twitter @mreicher.